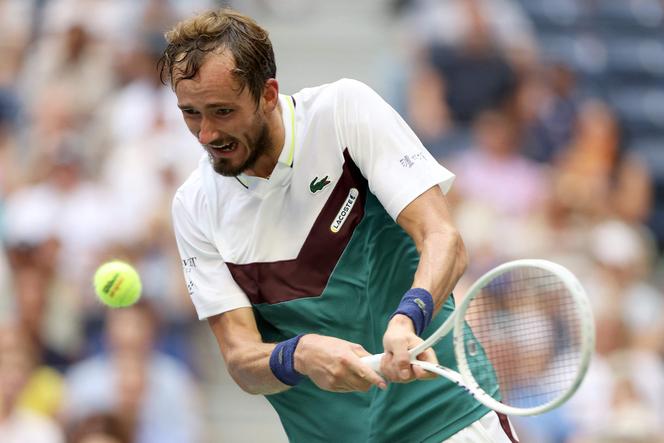 Daniil Medvedev, 3ᵉ world player in the ATP ranking, qualified Wednesday September 6 for the semi-finals of the US Open by beating his Russian compatriot Andrey Rublev (8ᵉ) – 6-4, 6-3, 6-4 – after a grueling duel.
"At the end of the second set, I could hardly see the ball and I was playing, like him, on instinct. He never lets go… but he knows that neither do I"commented the former world number one who noted his level of play of the day: " 10 of 10 ".
Medvedev warned of the dangers of playing a match in the sweltering heat that currently reigns over New York, wondering about the possibility of "play the best of three sets when the conditions are those". "I have no solution, recognized the Russian after the match, but I think it's good to talk about it before something happens. »
physical alert
Medvedev had a small physical alert in the middle of the second set. When he changed sides, he called the doctor who checked him out before giving him an inhaler. The player called the doctor again after being broken (1-2) in the third set and again resorted to the inhaler. This did not prevent him from dominating his opponent.
At 27, the Russian, who lost in the round of 16 last year, will face defending champion Carlos Alcaraz (1er) or the 2020 finalist Alexander Zverev (12ᵉ).
Medvedev has already won the US Open in 2021. With 54 wins since the start of the season, the Russian is the second most successful player in 2023, behind Alcaraz who has won 57 matches before his evening quarter-final against Zverev.
On hard courts, so far no one has done better this season than Medvedev and his 37 victories (4 titles in Rotterdam, Doha, Dubai, and Miami). Since 2018, he has been the most rewarded player on this surface with 18 titles including the US Open 2021, 27 finals including the US Open 2019 and the Australian Open 2021 and 2022, and 233 matches won.