Death of François Corteggiani, one of the authors of Pif the dog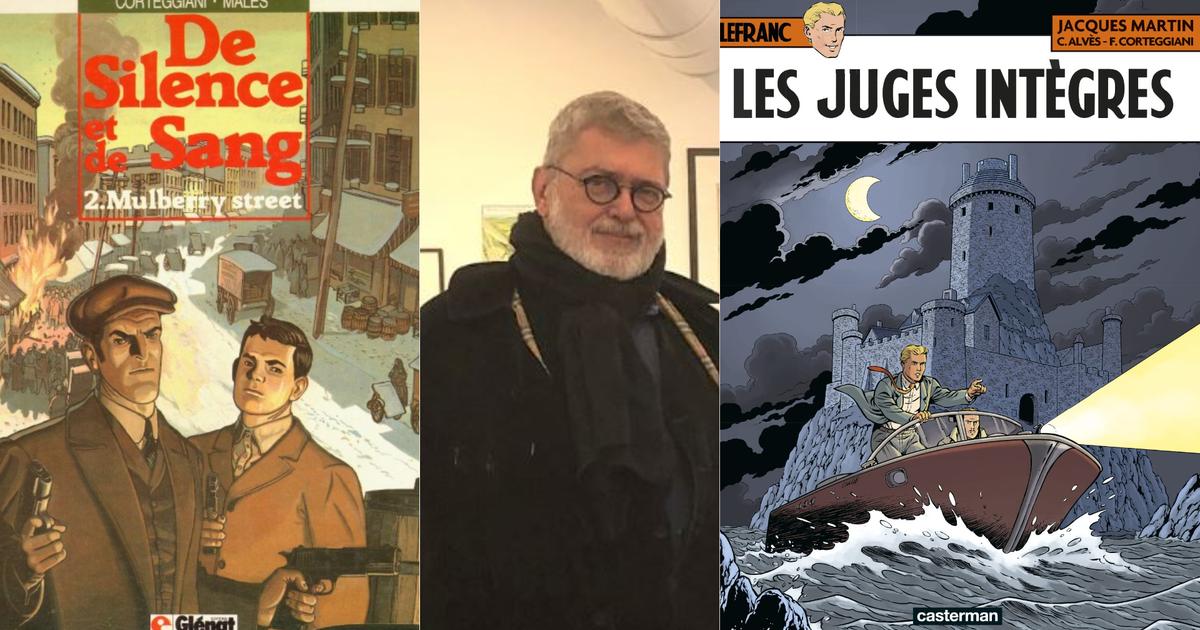 DISAPPEARANCE - Draftsman, screenwriter, passionate about comics, the author of numerous series such as "Blueberry's Youth", "Of Silence and Blood" or even "Pip the dog"the last taker of the adventures of "The franc" died suddenly at the age of 69.
He was a real comic book lover. A pure and hard. It is with great sadness that the comics community learned of the death of designer and screenwriter François Corteggiani, on September 21, 2022, the very day of his 69th birthday.
Read alsoThe Serpent and the Coyote, by Xavier and Matz: the pitiless solitude of the penitent
"I heard he died at his drawing table, surrounded by all his characters, testifies his first publisher and friend Jacques Glénat. After all, isn't that the most beautiful way to leave the stage? I will long remember this very nice and friendly colossus, appreciated by everyone in the Landerneau of the 9th art. The DNA of comics flowed through his veins..." François Corteggiani died at his home in Carpentras (Vaucluse), the city where he had chosen to settle and continue to draw.
Born on September 21, 1953 in Nice, he moved to Paris in 1972. After advertising work and a few drawings in various newspapers, he started in a small publishing house in Lyon, SEPP, for which he delivered a little over 1000 plates. In two years. After a whirlwind passage in the newspaper Spirouhe enters Pip Gadget, in which he animates the character of Pif, first in drawing and then in script, while producing the Pastis series, and writing a number of stories for François Dimberton, Giorgio Cavazzano, Louis Cance, Massimo Bonfatti, and many others. 'others. Screenwriting quickly became his specialty.
Read alsoComic strip: discover the new adventures of Michael Vaillant exclusively
"Everything that related directly or indirectly to comics was not foreign to him, continues Jacques Glénat. He was a multifaceted, earthy, warm artist. I remember that when the Glénat editions were in Paris, rue Cochin, he came to greet me in my office. I don't think he got the recognition he deserved. But it may be because he was a sharing type who did not pull the blanket to him.
From 1982, François Corteggiani worked for the Walt Disney Company in France, Italy, the Netherlands, Denmark and the United States, as well as for Mickey's Diary.
On the death of Jean-Michel Charlier, he resumed in 1990 the scenario of Blueberry Youthfirst with Colin Wilson then with Michel Blanc-Dumont from 1998.
Still with Dargaud, from 1998 to 2004, he also wrote the series Tatiana K., with Félix Meynet then Emanuele Barison and the series The Abracadabra School (created in Mickey's Diary in 1987) with Pierre Tranchand in the 1990s. He collaborated for many publishing houses including Glénat by writing Bastos and Zakousky (again with Pierre Tranchand) or Of silence and blood. In 2004, he was editor-in-chief of the revival of Pip Gadget until 2008.
Impossible to sum up such a busy career, François was a screenwriter as talented as he was prolific, at ease in all styles. His knowledge of comics and its history made him an even more respected figure in the profession.
A debonair giant, François Corteggiani leaves behind him numerous works, witnesses of his great talent. "I remember, for example, his wonderful series De silence et de sang, note Glénat. In 1985, it was a pioneering series in its field which for the first time tackled the mafia and the world of organized crime head-on. It was so successful that we created a "Police Series" label in its wake..."
Read alsoSqueezie shakes up the comic book market
Writer of numerous albums by Peep the dogand comics editor-in-chief of a short-lived cover of the magazine Pip Gadget (from 2004 to 2009), he drew this character, created in 1948, since 2011 in Humanity. The daily paid tribute to its "multi-talented".
In recent years, Corteggiani had also taken over the character of Lefranc, this phlegmatic investigative journalist created by Jacques Martin, Alix's father. "For the covers of statutory characters such as Lefranc, he knew how to respect the universe of the creator while bringing continuity and freshness to it, concludes Jacques Glénat. This is a talent that was not given to everyone.
SEE ALSO - Death of French cartoonist Jean-Jacques Sempé at the age of 89