Death of Indian architect Balkrishna Doshi, Pritzker Prize winner and disciple of Le Corbusier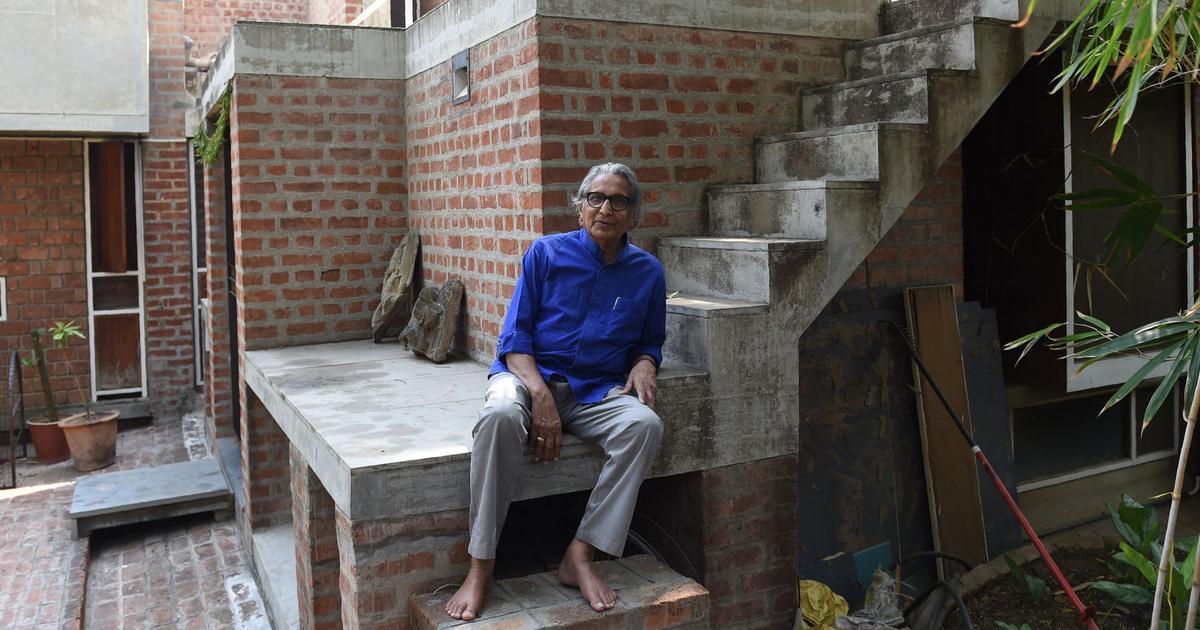 A pioneer of modernist architecture and a fervent defender of dignified housing for the lower classes, he had trained with the Franco-Swiss master.
The architect Balkrishna Vithaldas Doshi, follower of Le Corbusier and the first Indian winner of the prestigious Pritzker Prize in 2018, died at the age of 95, his relatives and the prize committee announced. He died Tuesday in Ahmedabad in his residence, a house bearing the name of his wife Kamala, whose facade is dominated by the imposing concrete formwork dear to his post-war contemporaries.
The Sangath studio, run by one of his granddaughters in Ahmedabad and which works to preserve and distribute his work, announced his death. The Pritzker committee, which awards the most prestigious architectural prize, hailed the memory of the man who "helped shape the discourse of architecture in India and around the world since the 1950s". "Through his ethical and personal approach to the built environment, he marked humanity in all socio-economic classes of his native country.", according to the Pritzker committee. Indian Prime Minister Narendra Modi paid tribute toa brilliant architect and a remarkable institution builder".
Read alsoBalkrishna Doshi becomes Dean of the Pritzker, Nobel Prize for Architects
A pioneer of modernist architecture and fervent defender of dignified housing for the lower classes, Balkrishna Doshi never obtained an official diploma in his profession, but had trained with the legendary Le Corbusier (1887-1965) whose his influence would become a lifelong inspiration. Le Corbusier, born in Switzerland then naturalized French, is best known in India for having designed the city of Chandìgarh.
Skillfully combining the canons of modernism and local forms of ancestral architecture, Doshi has distinguished himself by his commitment to sustainable and social architecture. Among his achievements is the Aranya complex (1989), in Indore in the state of Madhya Pradesh, designed for families with modest incomes. Even today, some 80,000 people live in the 6,500 housing units of the project, ranging from one rooms to large houses.
"My projects have been participatory in nature and tailored to the people they were created for", he declared in 2018 to AFP. "India is transforming rapidly and we need to develop a lot of environmentally sustainable projects". In Bangalore, its Indian Institute of Management, opened in 1977 and become the best business school in the country, is celebrated for its vast open spaces and its maze of outdoor corridors facilitating meetings between professors and students.
SEE ALSO – François Roussely, former boss of EDF, died