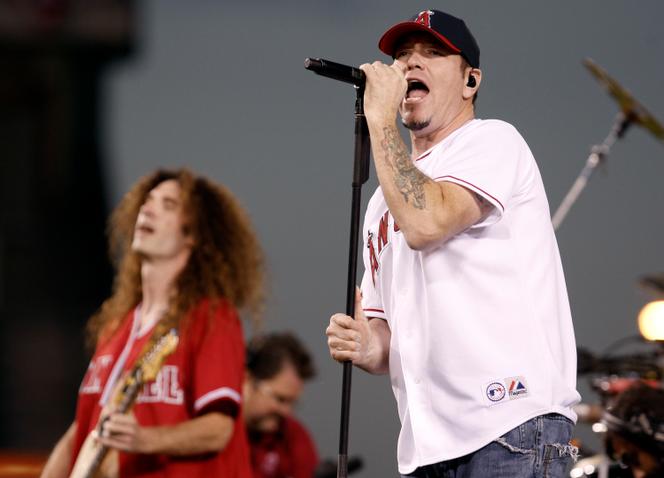 He was the singer and frontman of the rock band Smash Mouth: Steve Harwell died in Boise, Idaho, on Monday September 4. He was 56 years old. Band manager Robert Hayes said Steve Harwell died at home surrounded by family and friends. He suffered from acute liver failure. "Steve Harwell was a pure product of America. Let us remember him for his unwavering focus and pionate determination to achieve pop star status."the band wrote on Instagram.
Consecration with the soundtrack of "Shrek"
The group finds success with its first album Fush Yu Mang (1997) and the piece Walkin' on the Sun. In 2019, he told the magazine RollingStone that this piece " [avait] changed music and the way people listen to music" thanks to this " her [mélange de pop, rock, ska et punk] that we have created" and "no one could copy".
It is especially with Astro Lounge (1999) that he is recognized thanks to the piece entitled All-Star. This title is experiencing a resurgence in popularity when it appears in the opening credits of the animated film Shrek, which uses another title of the group: cover of the song I'm a Believer the Monkees, an American pop group supposed to rival the Beatles.
According to the New York Times, All-Star, which has been the subject of multiple adaptations in almost twenty-five years, has been streamed nearly a billion times on Spotify.
Pieces of the group appear in the soundtracks of many films, series or video games, such as The Werewolf of Paris, Fools of Irene with Jim Carey, Madagascar, The Jungle Book 2In gold member (Austin Powers) in Disney's Video Game Extreme Skate Adventure released in 2003, etc.
Before founding Smashmouth in 1994 (renamed Smash Mouth in 1995-1996) with Greg Camp and Paul De Lisle, Steve Harwell was a member of the rap group FOS (Freedom of Speech). In 2021, he announced he was leaving the band, which continued to perform with Zach Goode as lead vocalist.
With Steve Harvell, Smash Mouth sold ten million albums worldwide, according to Robert Hayes. Since the 2010s, Steve Harwell had experienced several health incidents in concert or in rehearsal and had advanced heart problems to justify his retirement two years ago. "Steve lived a 100% full-throttle life. It illuminated the universe before it died out"greeted Robert Hayes.