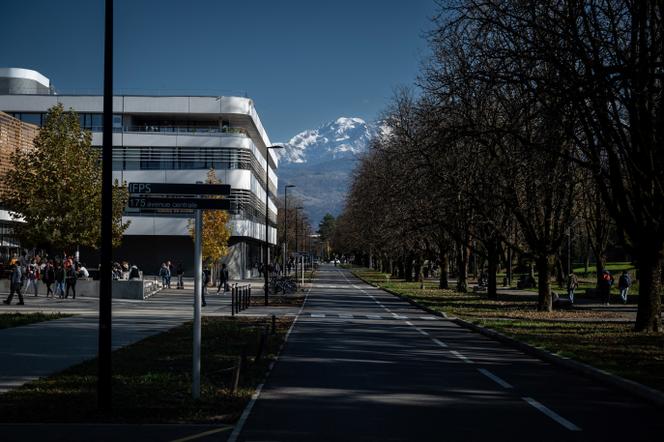 Death threats, in blue capital letters, were discovered on Friday, May 12, on a wall of the facade of the law-letters university library of the Grenoble-Alpes University (UGA), in Saint-Martin-d 'Heres (Isere). "10 improveable. Death to Yvenn. Death to Samuel": these registrations concern the two student representatives of the National Inter-University Union (UNI) in the establishment's bodies. Both immediately filed a complaint at the Grenoble police station. The UGA, in a press release, indicates that it has "undertaken legal proceedings" and reaffirms its "unfailing attachment to republican values: respect for the opinion of others, dialogue and the diversity of points of view".
Since the beginning of the mobilization against the pension reform, the establishment has been frequently blocked, "about two days a week"says Yvenn Le Coz, representative of UNI Grenoble at Crous and on the board of directors, and third-year student at Sciences Po Grenoble. "The 'improvable 10' is regularly demanded by far left movements when there are blockages and social movements and the academic right systematically opposes ithe continues. This measure consists of putting 10/20 to all students, whether they go to the partial or not, whether they return a blank sheet or not, whether they produce a suitable exam or not. »
"Very tense weeks"
Also targeted by threats, Samuel Sakpa, a first-year law student, reports having lived "very tense weeks, with the impression that we were a bit of beasts to be slaughtered". He recalls the attack on three members of his union on April 19, 2022, "beaten up" at the exit of a bar, in Grenoble. The criminal court sentenced three students to seventy hours of community service and a fine of 1,000 euros.
The two students regret "an ambient laxity" at UGA. "The university presidency issued a press release, but there are no real answers given", continues Samuel Sakpa, referring to the cancellation, on March 9, of a conference planned in an amphitheater where the mayor of Voiron (Isère), Julien Polat (various right) was to intervene. The latter had brought his sponsorship to the far-right candidate Eric Zemmour, during the presidential election. Fearing confrontations on campus after a demonstration against the event, the president of the UGA had asked the prefecture of Isère to mobilize the police.
You have 28.21% of this article left to read. The following is for subscribers only.