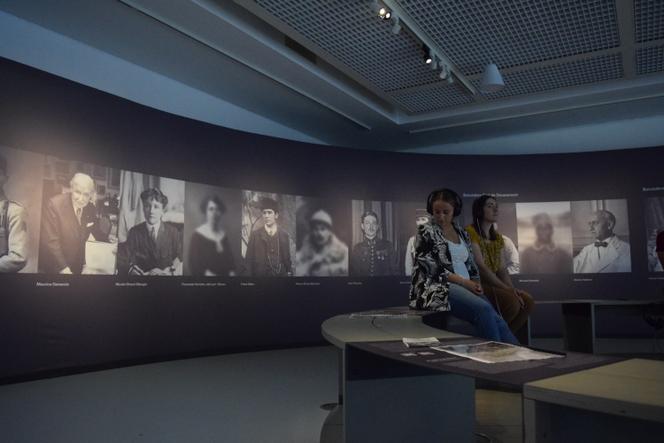 Two million. This is the dizzying number of soldiers who participated in the Battle of Verdun, the devastating battles that the French and Germans fought during the First World War. The exhibition " Fates of Verdun », open since May 24 at the Verdun Memorial, aims to explore the lives of some of them, often little-known, through a series of portraits. Twenty of these destinies were selected by the two curators of the exhibition, Florence Guionneau-Joie and Nicolas Czubak. French or German, women or men, elevator operator or doctor: they form a kaleidoscope of the society of the time.
The building which houses the exhibition is located on the front of the Battle of Verdun, transformed a few years after the war of 14-18 into a memorial forest. Beneath the trees, the ground is still littered with bones, inactive shells and gas masks. Here more than 300,000 lives were lost, 400,000 men were injured and thousands of souls were left haunted by the memory of " the hell of Verdun ». While military advances have been minimal.
This museum was erected to honor the memory of these men, whom the poilus sought to keep alive after the end of the Second World War, when the memory of the "der des ders" began to fade. Mobilized on the front in 1914, the writer Maurice Genevoix was the voice of these veterans keen to p on their story. Known for his stories of the Great War, grouped in Those of 14 (Flammarion, 1949, last reissue in 2013), he chairs the National Committee for the Remembrance of Verdun, which works to create the Verdun Memorial. Inaugurated in 1967, the building carries a unifying vision of the memory of Verdun, freed from its patriotic component. The handshake between President François Mitterrand and German Chancellor Helmut Kohl, on September 22, 1984, in front of the Douaumont ossuary, became the symbol of this Franco-German reconciliation.
Educational and immersive device
Thirty-two years later, François Hollande and Angela Merkel continued this gesture, by jointly commemorating the centenary of the battle, on May 29, 2016. For the occasion, the memorial had a makeover: the building had been renovated and enlarged after three years of work. The establishment also had a scientific committee, led by the historian Antoine Prost, which modernized the museum and made it possible to tell the story of the Battle of Verdun in situ, through an educational and sometimes immersive system.
You have 65% of this article left to read. The rest is reserved for subscribers.