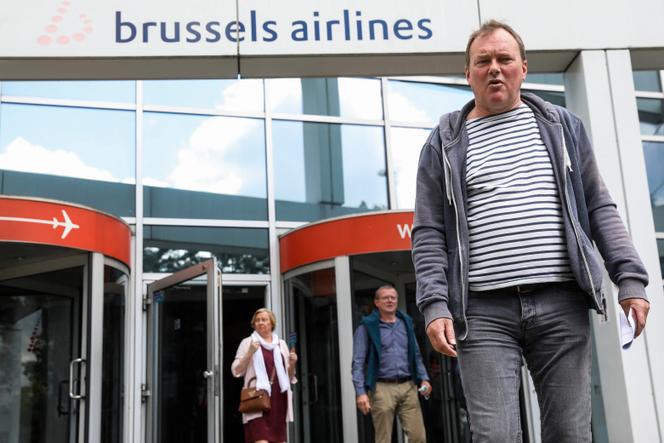 An interview interspersed with calls from other journalists on his cell phone, a visit to the RTBF studios before another in a commercial radio station and a temperature check on the ground, at Charleroi-Brussels-South airport: disheveled hair and sailor sweater, Didier Lebbe, doped with caffeine, carries his large frame everywhere to explain and justify the new strike that the Belgian pilots of Ryanair were to lead, Thursday September 14 and Friday September 15. Fifty-eight flights canceled out of the two hundred and eighty-eight planned for this hub where the Irish company would make 12% of its gigantic profits (663 million euros during the first quarter of 2023).
This is the fourth time this year that the pilots, exasperated by the refusal of any dialogue displayed by the Irish management, have crossed their arms. And this is the twenty-fourth strike experienced by trade unionist Didier Lebbe, responsible for the transport sector of the National Central of Employees, a branch of the Confederation of Christian Unions. Since 2018, he has been the pet peeve of Michael O'Leary, the boss of the company that he does not hesitate to call a " clown ".
The Irishman, in response, says he makes great fun of the Belgian trade unionists but this are indeed the strikes, and an appeal brought before the Court of Justice of the European Union, which notably forced management to admit, in 2019, that it was Belgian law, and not Irish, which applied to staff cabin based in Charleroi. This workforce, overwhelmingly from southern or eastern Europe, was previously considered Irish, subject to a temporary employment company.
Minimum salary
Movements carried out jointly with Spanish, Portuguese and Italian organizations also resulted in the signing of collective agreements for pilots and cabin crew with, as a result, the establishment of a minimum salary – some 2,000 euros gross today. 'today − for the latter.
This time, it is the pilots who are demanding the restoration of their salaries, after the 20% they gave up during the Covid-19 pandemic. Their remuneration should, in addition, be increased, under the automatic indexation system which adapts income to inflation (i.e. 17% increase since 2019), but, for the Irish management, there is no question of give in, even if it means breaking Belgian legislation.
The pilots are also protesting against a plan to reorganize their rest periods and denounce the " blackmail " which the company would engage in, promising the negotiation of a new employment agreement – the current one expires in 2024 – in exchange for stopping the legal actions that have been launched.
You have 50.73% of this article left to read. The rest is reserved for subscribers.