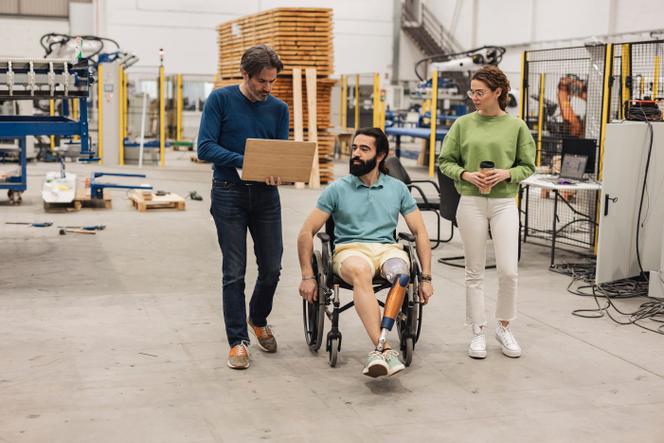 Ssubtitles, voice synthesis, visual controls… Digital compensation tools make the daily lives of people with disabilities easier. Thanks to applications or software, they can now read, watch a film, move around and communicate. But when it comes to digital services offered by businesses and administrations, the level of accessibility is "deplorable" in France, notes Luce Carevic, from Access42 officewhich has supported them for ten years in the implementation and monitoring of their accessibility policy.
As a result, it remains difficult for people with disabilities to integrate into the job market. "Digital tools have not made it possible to develop our professional integration as much as we hoped, due to the lack of accessibility of digital content and services. We are excluded from entire sections of society," deplores Manuel Pereira, blind, head of the accessibility center at the Valentin-Haüy ociation, which works to promote the autonomy of visually impaired people.
Indeed, in France, if 1.1 million disabled people work, more than Another 450,000 remain unemployed. Their unemployment rate is almost twice as high as that of the general population (12% compared to 7%). They are also more concerned by electronicism, which affected 15.4% of the population in 2021 according to INSEE, and many of them come up against the dematerialization of public services. A situation that hinders their path to employment.
An absurd situation
However, certain digital professions, which are in tension, offer numerous possibilities. Cybersecurity manager, traffic analyst, SEO manager, cloud and network engineer… By 2027, 230,000 positions will be available in this field. "Most end up with a permanent contract, the working conditions are attractive, and yet, last year, 85,000 remained vacant ", regrets Françoise Farag. The president of the inclusion commission Numeumone of the professional unions in the sector, underlines: "The situation is absurd: two worlds rub shoulders without meeting each other or very little, when they could enrich each other. That must change ! »
The solutions are plural. First, it is essential to increase the level of training of people with disabilities. "They tend to self-censor, because the sector requires a bac + 2 to bac + 5 level, or even higher. We must therefore help them to dare to pursue these studies," urges Françoise Descamps-Crosnier, president of the Fund for the integration of disabled people into the public service (FIPHFP). The challenge is all the more important as even traditional professions – such as mechanic, printer or forklift operator – require mastery of digital tools.
You have 45% of this article left to read. The rest is reserved for subscribers.