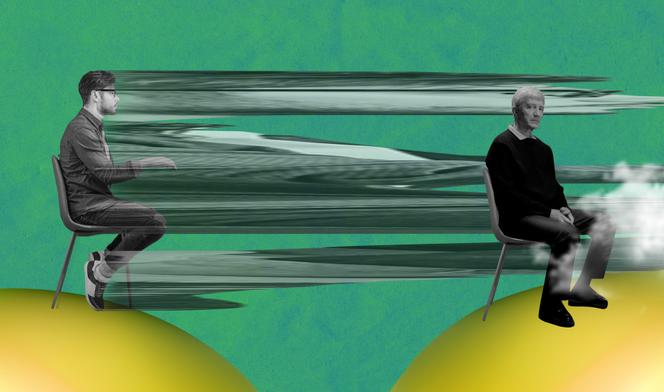 Code, web development, office software: after digital training, these three people removed from employment succeeded in their professional reintegration.
Fanny Codecco-Grando, 46 ​​years old: "I'm discovering what it's like to be integrated into a team"
"Four years ago, I didn't know how to type a line of code," confides Fanny Codecco-Grando, now a developer full stack at Société Générale, in La Défense (Hauts-de-Seine). She is both capable of designing a site or a web application (front end) and code its operation (back end). Work-study for another year, this former illustrator, holder of a master's degree in Russian literature and civilization, discovered late, after years of discomfort and burn-out, that she suffered from autistic and dyslexic disorders. It was a teacher, during a computer training course that she was following to retrain in Web development, who pointed out characteristic symptoms in her. "Collapsed, but aware that it hit home," she undergoes medical examinations which confirm the suppositions. She obtained recognition as a disabled worker (RQTH), left her training and registered with OpenClrooms. This mission-driven company, created in 2013, aims to make education accessible to all. The school offers numerous open and free access courses, as well as certification programs for digital professions, 100% online. Fanny finds the ideal formula. Registered with Pôle emploi, she has access to coaching sessions and job dating sessions organized by the ociation for Executive Employment (Apec). It is thanks to the latter's disability mission that she applied to Société Générale for her current position. With success. "For the first time in my professional life, I am discovering what it is like to be integrated into a team, not to be hared or sidelined. It's pretty cool, I enjoy it," she smiled.
Yine Hadjel, 24 years old: "AI tools are a real blessing for me"
"Computers have always allowed me to compensate for my major writing and reading difficulties. But even machines don't accept spelling mistakes, says Yine Hadjel, 24, suffering from dyslexia and dysorthography. Artificial intelligence tools such as chatbots or ChatGPT are a real blessing for me: they finally allow me to write documents without mistakes. » Holder of a craftsmanship certificate in graphics and decorations, he continued with a bachelor's degree in web developer at the Multimedia School in Paris, before obtaining a free one-year training course as a senior services and networks technician. within the Konexio ociation. The latter helps people in vulnerable situations to appropriate digital tools, from the familiarization phase to learning a profession. Yine Hadjel is now working as a network technician at Infodis, a Paris-based digital services company, until July 2024.
You have 35% of this article left to read. The rest is reserved for subscribers.