Doncic torpedoes, Philadelphia squanders, Golden State scrounges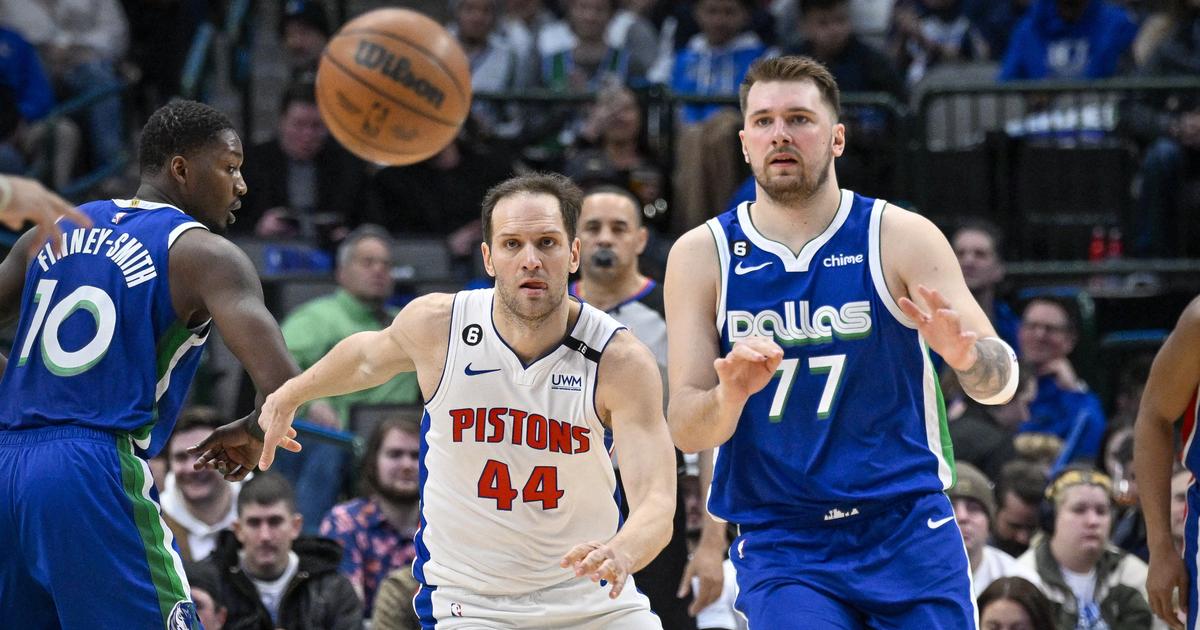 Luka Doncic, untenable with 53 points, still played Superman for Dallas in Detroit (111-105).
Philadelphia was scuttled against the poorly ranked Orlando, (119-109).
Ruthless Donkic
What to do when he plays at this level? Not much. And the problem for his opponents is that the phenomenon is happening more and more often. It is indeed the 4th time this season that Doncic has scored at least 50 points in a match. And he is the only one in this case.
Facing the catchy Pistons, some of whose members tried, in vain, to destabilize him verbally at the end of the game, his address was formidable (17/24, 8 rebounds, 5 assists, 2 interceptions), for his return after a slight sprain to an ankle that caused him to miss a game.
Dallas remains in 6th position in the West, behind defending champion Golden State, which confirmed its current recovery in Oklahoma City (128-120).
A third consecutive success mainly due to the inevitable Stephen Curry, close to a big triple-double (38 pts, 12 assists, 8 rebounds) with a great success behind the arc (8/14). His "splash brother" Klay Thompson was not left out (28 pts).
A bridge too far
The Sixers had the wind in their sails in January, carried by Joel Embiid aligning stats worthy of an "MVP". So the reception of the Magic, 13th in the East, was bound to lead to an eighth victory in a row. Except that the forward march of these ambitious people has come to a halt.
Philly, which at the same time gives up its 3rd place to Milwaukee, can nevertheless blame itself, since it squandered a lead of 21 units in the first period, seeming to lack the energy or even the desire to do the job until at the end, apart from Embiid still at 30 points (11 rebounds).
Making the most of the clumsiness of their opponents guilty of 19 stray bullets, Orlando was able to count on a remarkable performance from Paolo Banchero, his N.1 rookie from the last draft, author of 29 points (9 rebounds), well helped by Moritz Wagner (22 pts).
secret talk
In Brooklyn, during a somewhat soporific match, the cameras were often trained on LeBron James in civilian clothes, talking, hand in front of his mouth, with several people seated near him, including Anthony Davis, also spared and therefore absent. debates, which turned to the advantage of the Nets (121-104).
Reduced, the Californians were still in the game after three quarters, guided by Russell Westbrook (17 pts, 8 rebounds) who became the 10th best passer in history with his 10 evening offerings.
But they cracked in the last, Kyrie Irving (26 pts) and his teammates managing to accelerate the pace for Brooklyn (4th), yet they too were deprived of the best of them, Kevin Durant.
This second defeat in a row obviously did not affect James's good mood, often seen laughing. LA is however far from the play-offs, 13th in the West behind Portland, winner of Toronto (129-125) thanks to 42 points from Damian Lillard and despite 40 others from Dejounte Murray.
The substitutes
They are sometimes the ones who rock a meeting. Demonstration made in Minnesota by Trey Lyles author of 8 of the 15 points of the Kings, in the extension having led to their victory (118-111). Taking over from De'Aaron Fox, excellent throughout (32 pts), the pivot thus brilliantly replaced Domantas Sabonis (17 pts, 13 rebounds) excluded for six faults – the result of an intense duel with Rudy Gobert (19 pts 14 rbds).
In San Antonio, where Washington had not won since December 11, 1999, it was another man from the bench who proved decisive: Deni Avdija beat his personal best points (25) to allow the Wizards, now 9th in the East with this sixth success in a row, to break the curse (127-106).
Monday's results:
Dallas-Detroit 111-105
Brooklyn – LA Lakers 121 – 104
Portland-Atlanta 129-125
Phoenix – Toronto 114 – 106
Minnesota – Sacramento 111 – 118 (ap)
Oklahoma City – Golden State 120 – 128
San Antonio – Washington 106 – 127
Philadelphia – Orlando 109 – 119