Dua Lipa, Lebron James, Ronaldo… the sneakers of the stars customized by an artist from Skopje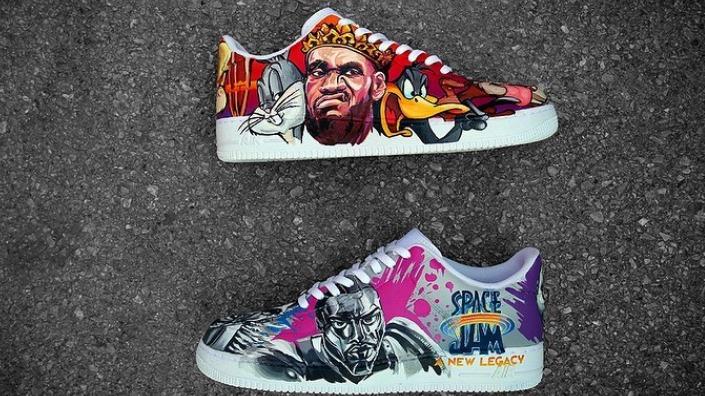 In North Macedonia, Satja Grabuloski and her team of seven artists turn ordinary sneakers into works of art, which feature portraits of celebrities, movie characters and athletes.
His workshop is rudimentary but his clients prestigious. From a tiny apartment in Skopje, North Macedonia, Satja Grabuloski decorates sneakers. lebron jamesCristiano Ronaldo, Justin Bieber, Dua Lipa… In total, more than 300 celebrities, NBA idols, football stars, actors and musicians call on the talents of this 30-year-old, who has become a world leader in his art.
Using a palette of colors that he has had specially made in Turkey, Satja Grabuloski and her team of seven artists transform ordinary sneakers into works of art, which feature portraits of celebrities, movie characters and athletes. "Sometimes people call with a specific idea in mind. Other times they say "I have no idea, make me a nice design". So we do everything to ensure that the customer is satisfied.Satja Grabuloski, 31, told AFP while preparing custom football boots for the Brazilian Vinicius Juniorthe star winger of Real Madrid.
Immediate success
The first prize for a pair of sneakers redecorated by the Swithadot StudioS team is around a thousand euros. The small business was born from a hobby of its boss, who says he used a box of colors brought back from Paris by his mother to decorate a pair of shoes at the age of 12.
More than a decade later, Satja Grabuloski was drawing on sneakers with permanent markers. The success was immediate, his first series were snapped up in a few hours. "It showed me (…) that it was a potential track that I am still building and developing today", he continues. Armed with his marketing degree and his smartphone, he bet on word of mouth and his relationships with social media influencers to promote their brand.
For athletes
He also targeted athletes, initially landing contracts with popular handball or soccer players. "I knocked on a thousand doors, some opened"explains Satja Grabuloski. "I used the players who bought us boots, one by one, as a starting point to contact their friends, teammates and national team".
All designs created at Swithadot StudioS are unique, he assures. Customers receive certificates of authenticity along with a brief note detailing the ideas behind the designs. "Each project represents up to 80 hours of work but some drawings like those made for Lebron James took more than 300 hours of work" if only because of his impressive size, he laughs.
Read alsoDrawing in all its states in Paris
For the time being, the young entrepreneur wants to stay in North Macedonia despite the delivery problems due to the fact that the small Balkan country is poorly served by air transport. Despite everything, he is setting up a showroom in New York, with other projects elsewhere on the planet. Between day-to-day management, networking and the search for new markets, Satja hardly has time to indulge in her favorite activity: drawing. "I miss it a lot"he said.