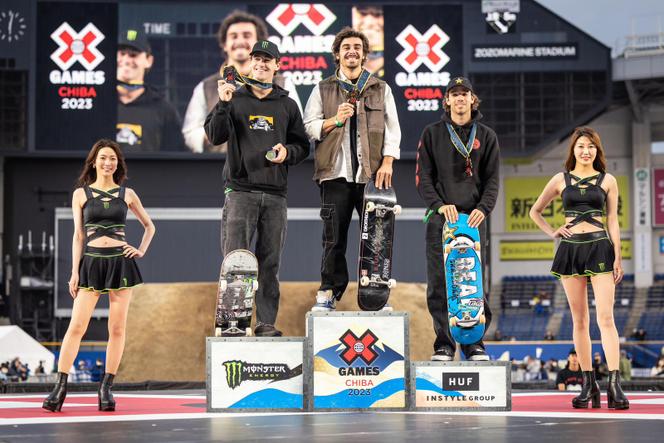 This is the first French gold medal in "Green" skateboarding in the history of the X Games, the world benchmark competition for extreme sports. Edouard Damestoy won this event on Sunday May 14 in Chiba, Japan. Thanks to his victory, the skater makes an impression one year before the Paris 2024 Olympic Games, in which he aspires to participate.
"Vert" skateboarding – for vertical – is practiced on a large 4-meter U-shaped ramp, allowing skaters to pick up speed to perform tricks in the air, scored by a jury. The 25-year-old Frenchman, double world champion, is a specialist in the field.
"I got back into skating two weeks before the X Games, said Edouard Damestoy in a press release. I had to think carefully about what I was going to offer, how I was going to place my tricks during my run to highlight them as much as possible. »
The "park" in Paris in 2024
To win the gold medal, the skater chained the big tricks during his first p, rated 90 (out of 100) by the judges. No other skater has done better. Edouard Damestoy is ahead of two Americans, Tom Schaar and Jimmy Wilkins. "I stayed focused on my goal without looking too much at what the others were doing. I wanted to stay consistent and it paid off.welcomed the skater from Bordeaux, winner in "megapark" – another discipline of skateboarding – at the X Games in Los Angeles, in 2022.
Edouard Damestoy could be a medal chance for France at the next Olympic Games, but not in this discipline. Indeed, "Green" skateboarding – Damestoy's specialty – is not part of the Games programme. Only two events are: the "street" and the "park". The new skate champion "Vert" from the X Games, more comfortable in the "park", will be able to compete in this discipline in Paris, in 2024. It is similar to the "Vert" except for a few differences, the "park" practicing on a track mixing bumps and curbs to jump and perform tricks on his board. In 2021, the Girondin was injured in training and could not participate in the Tokyo Olympics.