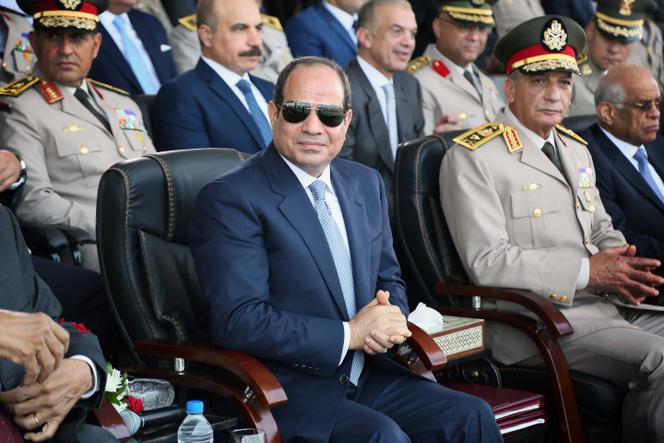 Within the vast empire that the army has built in Egypt, two companies are supposed to open up to private investors. The company Wataniya, which operates more than 250 petrol stations, and the mineral water bottling company Safi, are among the first privatizations the government hopes to conclude. "They have been promising it for years, they are delaying and will delay againnuance, skeptical, Yezid Sayigh, director of the program on military-civilian relations in the Arab world at the Carnegie Center in Beirut. The main reason is the military's reluctance to give up anything they see as a cash cow. Officers or entities may have a direct interest in keeping companies, even unprofitable ones, in order to derive profits, bribes…"
The military's appetite has sharpened under the presidency of Marshal Abdel Fattah Al-Sissi. Backbone of the state since 1952, the army has become the spearhead of the policy of megaprojects of the former head of military intelligence, brought to power by the Egyptian counter-revolution of 2013. The tradition of remunerating the retired officers with positions in high administration, state enterprises and local authorities in exchange for their loyalty was perpetuated. The ascendancy of the military over the major economic orientations, the allocation of budgets and public contracts has increased. Coming out of its historic backyard, which runs from the Suez Canal to hydrocarbons, via transport and telecommunications, the army has extended its empire.
Fish farms, the pharmaceutical industry, the media…: military entryism has spread to new sectors, at the risk of destabilizing whole sections of the economy. Veritable black boxes, the seventy-two companies placed under the supervision of the ministries of military production and defence, as well as the Arab Organization for Industrialization, work in perfect financial opacity, without control over their accounts or their performance. They do not pay taxes or taxes. Conscripts serve as cheap labor. The military arrogate public contracts and dispose of state lands as they see fit. The banks can refuse them nothing, no more than private sector entrepreneurs, forced to deal with unfair competition from the military.
Flight of foreign investors
"The army is a coercive actor that scares away foreign investors. This makes the economy less and less attractive in many areas", laments Timothy Kaldas, deputy director of the Tahrir Institute for Middle East Policy. According to him, the International Monetary Fund (IMF) and Egypt's major donors, such as the United Arab Emirates and Saudi Arabia, have turned a blind eye to this phenomenon for too long. The tone changed with the collapse of the Egyptian economy in the wake of the war in Ukraine. Reducing the footprint of the state and the army in the economy is now a priority for the IMF, which granted a third loan to Egypt in December. The Gulf sponsors are working behind the scenes to ensure that no more concessions are made in Cairo.
You have 42.51% of this article left to read. The following is for subscribers only.