Elizabeth II and Philip, a marriage to get through the trials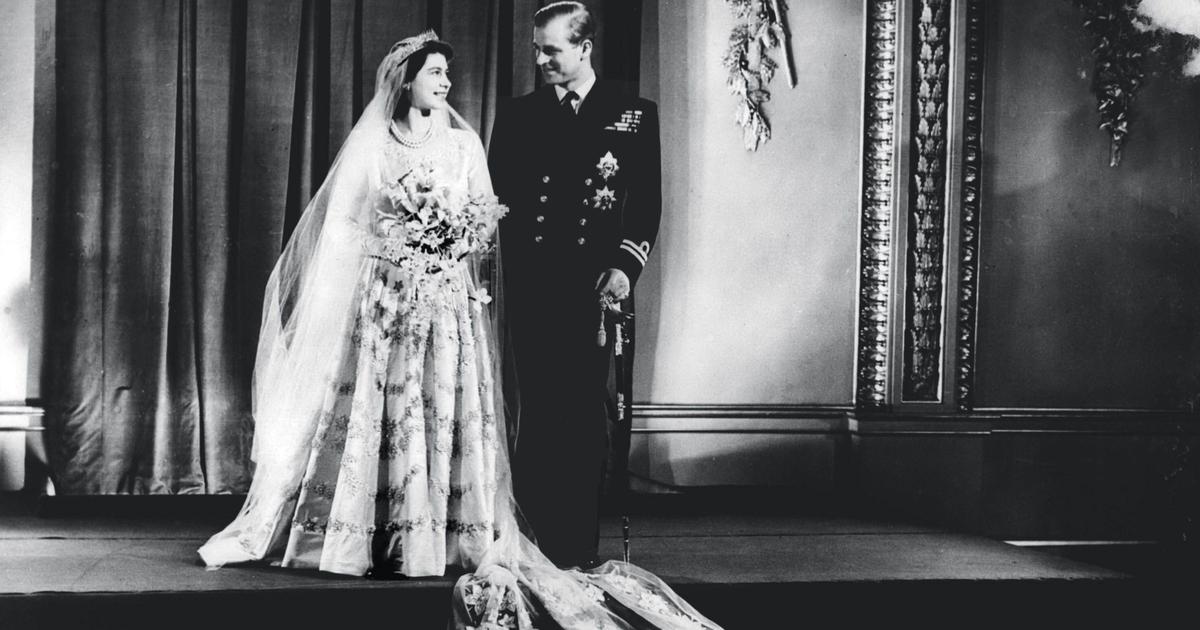 SPECIAL (2/9) - Le Figaro Special Edition, which devotes an exceptional issue to the queen, tells you about nine crucial days in the life of the sovereign. Today, November 20, 1947, the day of marriage to Philip.
Leaving Westminster Abbey, she beams on the arm of her Viking. Philip and Elizabeth sealed their union according to the Anglican rite. The Crown Princess was only thirteen when she met the Prince of Schleswig-Holstein, son of Andrew of Greece. Through his mother, Alice of Battenberg, he is a great-great-grandson of Queen Victoria, as is Elizabeth through his father. The two cousins ​​had no doubt crossed paths during family reunions, but it was at the naval base in Dartmouth, where Philip was a cadet, that they looked at each other. The nephew and protege of Louis Mountbatten, cousin of George VI, was not yet eighteen years old. While playing croquet with Elizabeth and Margaret, then tennis, the young man played the peacock. Lilibet found it very handsome.
Read alsoDeath of Elizabeth II: the Queen's funeral program
During the war, withdrawn with her sister to Windsor Castle while their parents faced the Blitz at Buckingham Palace which was bombed several times, Elizabeth corresponded with the young man, who was at the front. Unlike his wife, King George VI did not take too badly of this beginning of an idyll, but his daughter was still so young! She knew nothing about life, about men. As for Philip, he found him too attractive and above all a little too virile to settle for second place if he were to marry the Crown Princess.
Nevertheless, the royal couple invited the young prince, from his first leave, in 1946, to spend three weeks in Buckingham, then to stay during the summer at Balmoral Castle, in Scotland. Elizabeth has a particular predilection for this house, bought by Queen Victoria in 1852. She devotes a real cult to her grandmother.
Dashing, full of cavalier humor which he doesn't dislike, Philip drives Elizabeth away in his green MG. He drives fast. He makes her laugh. Often, they also gallop through the countryside, get lost, or pretend, and return, drunk with freedom to attend dinner to the sound of bagpipes. The men are in compulsory kilts. Elizabeth giggles when Philip clowns around with his.
READ THE FILE: Death of Queen Elizabeth II, a rock and a symbol for England
One day, at the edge of a lake, the lieutenant of the Royal Navy declares himself. Lilibet wants to clap her hands. But she knows she will have to fight to convince her parents. Not for a moment does she doubt that she has won her case. Philip had to renounce his titles, his name – he adopts that of his uncle Lord Mountbatten – and the Orthodox religion in which he was baptized. But the new Duke of Edinburgh urges the king to continue his career in the navy. Philip gets a job at the Admiralty. Elizabeth is expecting her first child. Charles was born on November 14, 1948. His father found him a little too chubby. Soon he will nickname it "Plum Pudding". Philip is especially eager to leave for Malta, where he has been appointed second in command of the destroyer HMS Checkers. Leaving her son in the care of nurses under the supervision of her mother and Queen Mary, Elizabeth hastens to join her husband.
How happy life is! As Lilibet feels free in the Guardamangia villa where the Mountbattens reside. There are only sea trips, dinners, polo matches, dances, giggles. Philip soon takes command of a frigate. As for Elizabeth, she is expecting a child again. It was in London that she gave birth to little Anne on August 15, 1950, to leave as quickly as possible for the sunny island.
Read alsoElizabeth II, the model little girl that no one imagined on the throne
Did Elizabeth even notice her father's ash complexion? His breath getting shorter and shorter? Probably not. She is only twenty-four years old. She is in love. Happy. And existence in Malta is so delicious! But in July 1951, the duke and the crown princess were recalled to England. The state of health of George VI is more and more worrying.
Elizabeth replaces her father in most official events. With Philip, she goes to Canada, then the couple leaves for a tour through the Commonwealth. It was in Kenya, while observing wild animals from the top of a fig tree, that she learned that King George VI died at Sandringham on February 6, 1952. On the plane taking her back to London, Elizabeth isolates herself with Philip. No one but him should see her cry.
This article is taken from Figaro Special Edition "Elisabeth II, The Last Queen".