Elizabeth II: family secrets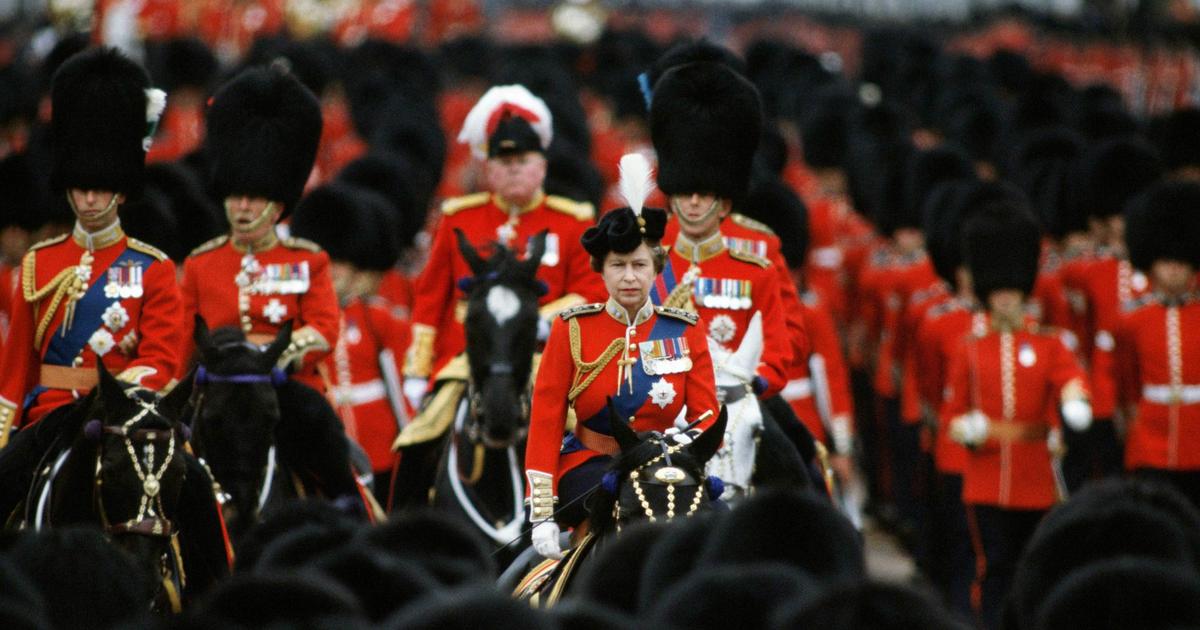 Special Edition (6/9) - Some members of the royal family give the queen a lot of trouble. And now a stranger sat on the edge of his bed...
July 9, 1982, the queen wakes up a little earlier than usual and discovers an unknown young man sitting on the edge of her bed. Michael Fagan climbed the gutter, stepped over the balustrade and, as the window was ajar, he slipped noiselessly into Her Majesty's bedroom. He wanted to talk to her about her problems. Without losing her phlegm, Elizabeth engages in conversation while ringing the alarm bell, then the one that should call the maid. But nothing seems to work on this beautiful July morning. Michael is only a year older than Charles and he has a lot of problems with his family. The queen empathizes without specifying that she herself is not much better off.
Margaret, who divorced in 1978, behaves like a street kid. Anne and her husband, Mark Phillips, are drifting apart. Andrew, just returned from the Falklands war, where he behaved like a worthy Navy officer, started his escapades with starlets again. Finally, there is Diana. What a desappointment ! True, a month ago the Princess of Wales gave birth to a son, William, and it was happiness for Elizabeth. But this little one is unbearable! Always tearful, going from a period of bulimia to a crisis of anorexia. Sometimes she faints, sometimes she simpers in front of the photographers. And she knows how to do it! Diana has become a star. All the young Englishwomen imitate her hairstyle, her veils, her glances from below. Charles, exasperated, reconnected with his old mistress, Camilla.
Read THE FILE : Death of Queen Elizabeth II, a rock and a symbol for England
Michael Fagan would like to smoke a cigarette. Elizabeth smiled at him. She doesn't have any in her bedside table, but she offers to go get a package and Michael thanks her. In the hallway, Elizabeth finally meets a maid. The alert is given. For the queen, the incident is closed. Similarly, in 1981, she refused to dwell on the fact that a seventeen-year-old boy had fired six pistol shots at her as she rode side-saddle up the Mall on her mare. black after attending the traditional Trooping the Color. " Everything is fine but Burmese almost got scared ", she had said to Prince Philip and Charles who had immediately gone to his side.
These incidents are trivial. When you think of everything that is happening in the world, the Commonwealth or even in Poland with this Solidarnosc movement which, undoubtedly, is a thorn in the Soviet boot. What a pity that Margaret Thatcher, who became Prime Minister in 1979, is so uncooperative! Oh ! to be deferential, she is, to excess, but she does not share all her information with the queen and Elizabeth gets irritated. One evening, during a dinner, she amused herself by imitating the leader of the Conservatives. Elizabeth has a real gift for mimicking politicians or taking on the accent of the different counties of the kingdom. Philip and his children are still laughing out loud. But it has become increasingly rare that they all find themselves as a family. Otherwise for Christmas at Sandringham or in the summer at Balmoral in the Highlands.
Read alsoElizabeth II, the model little girl that no one imagined on the throne
It is in this vast domain surrounded by twenty thousand hectares of land and woods that Elizabeth is truly happy. Wearing boots, an old raincoat on her back, a scarf tied under her chin, she takes her corgis for walks there, boldly takes part in the hunts or takes the wheel of her Land Rover and rushes off, foot to the floor, through paths and ruts. " Whoeeee! She loves to drive. And how she loves the ball of the Gillies, those Scottish gamekeepers! Neighbors and servants are invited. Jumble.
Diana, from her first stay at Balmoral, stood out among the Windsors. She likes neither the countryside, nor horses, nor dogs, nor hunting and even less fishing in the River Dee. Refusing to participate in board games, the Princess of Wales longs for London, shopping, her friends who chatter like magpies. In summary, Diana, like many young women of her time, did not know how to behave.
The Queen now recognizes that she did not make the right choice in pushing Charles to marry Lord Spencer's daughter. But against bad luck… as the French say… And Elizabeth hopes that the couple will find a gentleman's agreement. Each leaving a space of freedom to the other but assuming, together, the duties that are theirs.
This article is taken from Figaro Special Edition "Elisabeth II, The Last Queen".