Elizabeth II: My son, my crown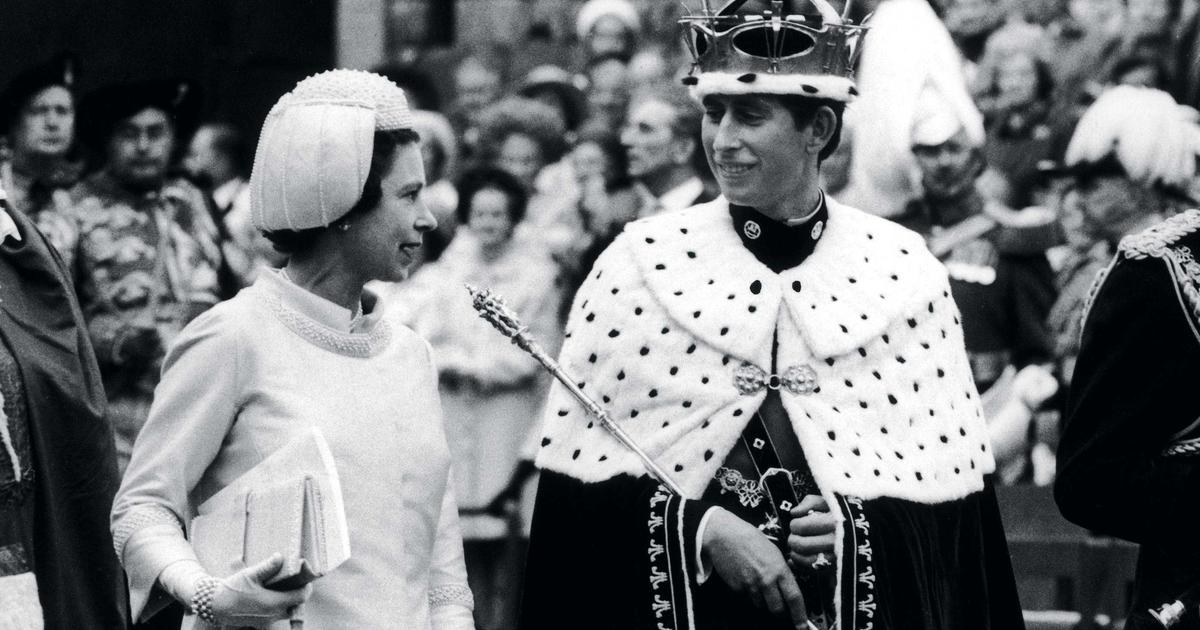 Special Edition (5/9) - The queen can rest easy. His succession is assured. After Charles, his heir, and Anne, Andrew and Edward came to enlarge the family.
Nothing, not even the wave of attacks launched by Welsh separatists, could have dissuaded the Queen from proceeding with the investiture of her eldest son, Charles, as Prince of Wales at Caernarfon Castle. Thousands of police and military have been mobilized to provide security around the old 13th century citadel, one hundred and eighty kilometers north of Cardiff. Two terrorists were killed by priming their bomb on the passing royal train and Charles' carriage was sprayed with rotten eggs, but no member of the Windsor family blinked.
In the courtyard of the fortress, whose construction was started in 1283 by Edward I, the queen wears a pale yellow ensemble. Queen Mum is in green. Margaret in coral and Princess Anne in turquoise blue. The men of " the firm as George VI called the royal household, are in uniform. Only Lord Anthony Snowdon is in civilian clothes. Margaret's husband was put in charge of organizing the ceremony. He gave free rein to his imagination as an artist, photographer, director. But he spared Charles the ridiculousness of wearing French-style white breeches as David, the short-lived Edward VIII, had to do before him.
READ THE FILE : Death of Queen Elizabeth II, a rock and a symbol for England
Kneeling before his mother, the Prince of Wales takes the oath of allegiance: I, Charles, proclaim myself your man of soul and body... When the queen picks him up, her son wears a disarming smile. He is a young man of twenty with large protruding ears which earned him many jokes in the schools where he was boarding. With an excessive sensitivity, Charles was never very happy there, but he himself admits to having become seasoned there. The prince has a deep affection for his mother, but his friend, his confidante, has always been his grandmother. It was she who consoled him, cajoled him when he felt too alone.
The ceremony, which takes place in the main courtyard of Caernarfon, is televised. Cameras became a must and the Queen decided it was best to work with the BBC. For a whole year, the British Broadcasting Corporation has filmed a documentary on the intimate life of the Windsors in Buckingham but also in Balmoral where the family resides every summer. The English have discovered the woman hiding behind the queen. Cheerful, playful, laughing, full of typically British humor, recounting comical scenes and confident that she often has to stiffen up not to giggle. The success was stunning, but the reviews were quick to come. All repeated the same refrain: if the queen is a woman like the others, why is she a queen?
Elizabeth, as always, did not react. She sticks to her motto: Never complain, never explain. She understood long ago that the press, especially those dreadful tabloids like the Sun, would seize on the slightest flaw. The Snowdons know that. They are harassed by the newspapers. All their gestures are commented on, dissected. Elizabeth had been relieved when her sister, after years of drifting, met Anthony Armstrong-Jones and decided to marry him. The couple had two children. But he's starting to falter. To pitch.
Read alsoElizabeth II, the model little girl that no one imagined on the throne
Elizabeth too had a difficult time with Philip. After a first escapade in 1957, he left again in 1959 through Pakistan, India, Burma and he had let his beard grow. The duke knew very well that the queen has a holy horror of hairy chins. It was a sign of rebellion. But she didn't protest. She just put on a fake beard when she found him. They both burst out laughing. Shortly after Andrew was born. Then Edward. They are now nine and five years old. Andrew is an imp. Edward is wise as a picture.
How to protect Charles and Anne from the insatiable curiosity of the press? How to raise Andrew and Edward in the sense of traditions in the age of Beatles, hippies, and pop culture? Elizabeth is a pragmatic woman. For her, it is by forging that one becomes a blacksmith. At the time of Swinging London, the oath of allegiance that Charles has just taken to the queen may seem from another age, outdated. But he will oblige. His whole life. Elizabeth wants to believe him.
This article is taken from Figaro Special Edition "Elisabeth II, The Last Queen".