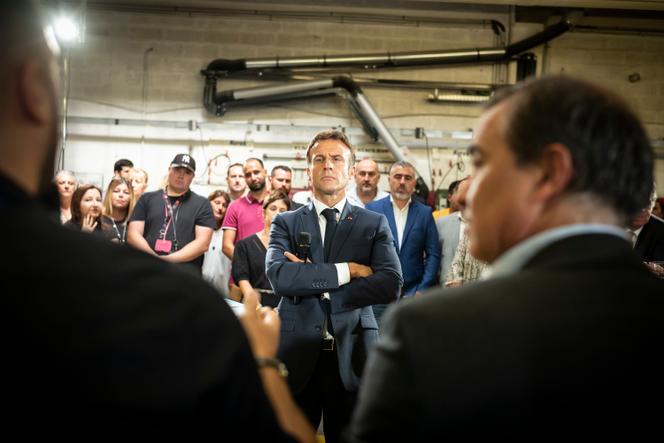 What was said in Saint-Denis (Seine-Saint-Denis) on August 30 must remain in Saint-Denis. This is, according to the Elysée, the state of mind of Emmanuel Macron, a week later his advisory marathon with the party leaders in the former royal abbey. Also the government seminar during which the Head of State was to, Wednesday, September 6, "to restore" the exchanges with his opponents were brief. Summoned to the Elysée at 10 a.m. for a council of ministers, the government team was able to leave the presidential buffet at 1:30 p.m.
"It was hyper calibrated, without unnecessary chatter", says Sabrina Agresti-Roubache, Secretary of State for the City. Leaving the floor to the ministers of weight, evoking inflation, security or ecological planning, Emmanuel Macron abundantly relaunched Gabriel Attal, in charge of education, confirming the importance he attaches to this portfolio. "You are lucky ministers, in a country that is neither in recession nor in austerity"underlined the President of the Republic.
The report of the Saint-Denis meetings, an unprecedented event in the Fifth Republic, is limited to a few general considerations. Satisfied to see that his most indomitable opponents have played the game, Emmanuel Macron believes he can change the climate of the country. "I want peaceful pluralism", he launched. With the party leaders, the president intends to work "sincerely and with commitment" on ecology, housing, the referendum, decentralization. "There is a way"he said.
The skepticism of the opposition
"The initiative has proven that the opposition cannot refuse the outstretched hand en bloc, abounded the Prime Minister, Elisabeth Borne. Everyone can then comment, but this illustrates their collective awareness that it is not possible to oppose systematically on everything, always, all the time, and that the French condemn the postures and the supporters of the blockage. »
The fifteen participants in the meetings of Saint-Denis were to receive on Wednesday evening a letter from the president supposed "summarize faithfully" exchanges of August 30 and on which they can "propose corrective measures before considering future meetings"according to government spokesman Olivier Véran.
The Elysian satisfaction does not however prevent the skepticism of the oppositions. "Be careful that this again does not lead to anything"warned the president (Les Républicains) of the Senate, Gérard Larcher, on Sunday. "We are not on rails but on an uncleared path, recognizes Marc Ferracci, vice-president of the Renaissance group at the National embly. It is an unprecedented political method. »
You have 65.26% of this article left to read. The following is for subscribers only.