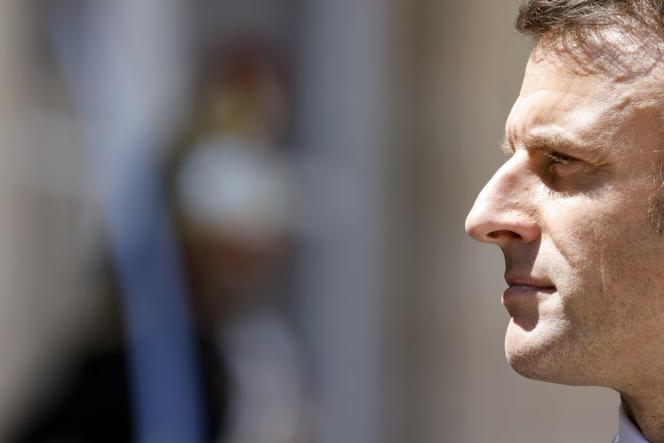 The President of the Republic will go, Thursday, May 25, to Roubaix (North), where he must participate in a tribute to the three police officers killed Sunday in intervention, in a collision with a vehicle traveling in the opposite direction. Emmanuel Macron must meet the families and colleagues of these three young police officers and preside, from noon, on a ceremony at the national police school in Roubaix.
The Head of State is due to speak during the ceremony, which will also be attended by the Minister of the Interior, Gérald Darmanin. "This accident took place during a rescue intervention for victims, which illustrates the heart of the mission incumbent on them. An everyday mission where the police intervene to protect the French people"said the presidency on Wednesday.
During questions to the government on Wednesday in the Senate, Mr. Darmanin described as"murderer" the driver of the car that hit the police vehicle, himself dead in the accident. "This killer (…) – because you have to use the words that matter – killed not only three destinies but injured the entirety of the national police"launched the Minister. "Too many drivers, too many murderers kill on the roads under the influence of narcotics and alcohol"he added.
Posthumously decorated police officers
The facts date back to Sunday morning, when an Alfa Romeo traveling in the wrong direction hit the police car who was transporting, in addition to the three young police officers, a 16-year-old girl whom they were taking to see a doctor after violence which she had denounced during the night. The girl was seriously injured in the accident. The 23-year-old Alfa Romeo penger was seriously injured.
The three police officers killed, Paul and Steven, 25, and Manon, 24, will receive the insignia of the Legion of Honor posthumously. Twelve members of the police have died over the past fifteen years in multi-murderous accidents for the police, the last of which, which occurred on April 11 in the Landes, cost the lives of two gendarmes who were trying to control a vehicle traveling dangerously at high speed.