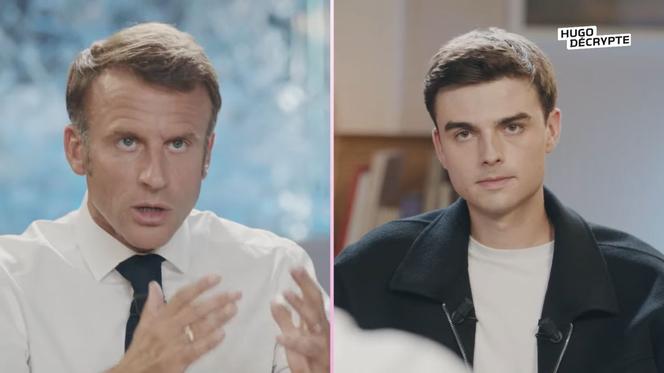 Emmanuel Macron is questioned, Monday, September 4, the day of the start of the school year, by the journalist and youtubeur Hugo Travers, the host of the channel "Hugo decrypts". In this live interview on YouTube and TikTok dedicated to "the future of young people" the President of the Republic was questioned in particular on mental health, the environment, inequalities and even education.
During the interview, the Head of State notably "bliss" the Minister of Education, Gabriel Attal, for the announcement of the ban on wearing the abaya at school, a week before the start of the school year and said don't stigmatize anyone. "It's a subject where you have to be intractable and clear and we will be now"he continued, adding "That's not the most important subject"as denounced by trade unions in public education.
"Experiments" on the wearing of the uniform
He positioned himself " instead " in favor of "experiments" and one " essment " the wearing of the uniform at school, the outlines of which will be specified " in autumn "as announced by Gabriel Attal on Monday morning.
"I am in favor of the experimentation, evaluation approach"he said, after recalling that originally he was "rather so that each establishment manages the thing" but that the question now took on "crazy proportions" in public debate.
"There is the uniform and there is also the unique outfit. Without having a uniform, we can say "you put on jeans, a t-shirt and a jacket""he argued. "The issue of unique dress is in my opinion more acceptable, may seem a little less strict from a disciplinary point of view"he added. "She settles a lot of things (…) 1/ secularism and 2/ a bit of the idea we have of decency, that is to say, we don't want outfits that are too eccentric"he further emphasized.
About designated anti-harment "great cause of the 2023-2024 school year" by the Ministry of Education, "we are in the process of ping a law which this autumn will be voted on (…) which will make it possible to keep cyber-stalkers away online by banning them from networks for six months…"he said during the interview.
Asked about the climate emergency, Mr. Macron confirmed the presentation of his strategy "ecological planning" by Elisabeth Borne in " A few days " and the announcement " tomorrow " of a school renovation plan. The President also said "favorable" a measure facilitating access to trains similar to the German model, which offers unlimited access to public transport for 49 euros in order to encourage users to abandon more polluting individual transport.
More information to come.