Extinction Rebellion organizes an action in front of Rembrandt's The Night Watch at the Rijksmuseum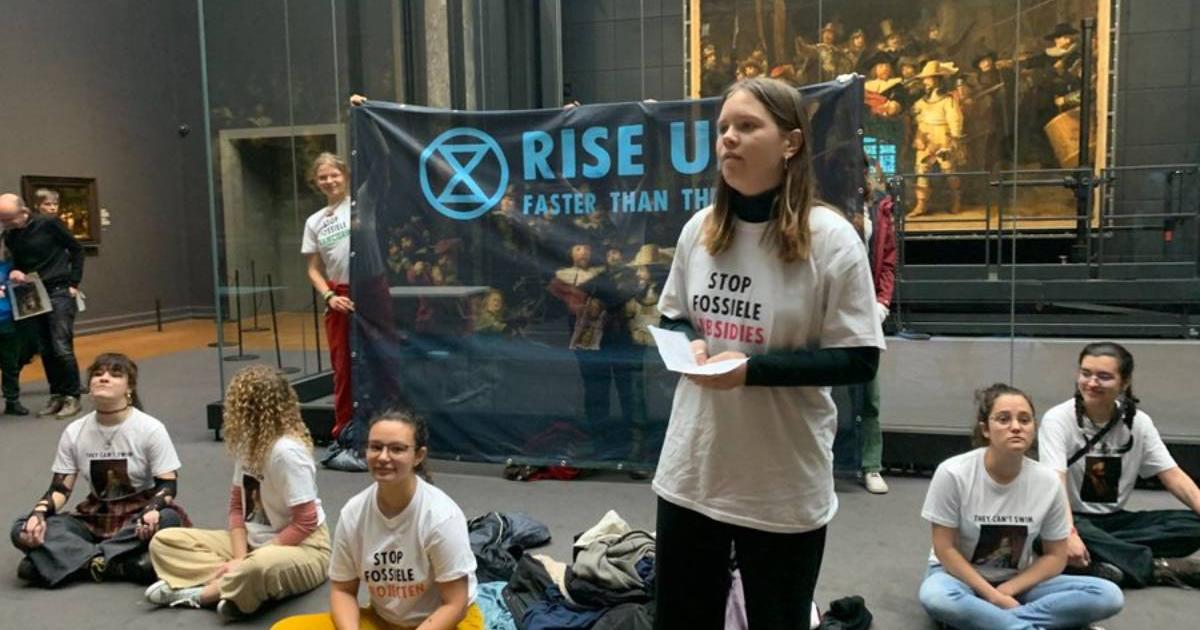 The environmental movement carried out an action on Sunday March 5 in front of The Night Watch by Rembrandt at the Rijksmuseum in Amsterdam.
A dozen environmental activists carried out an action in Amsterdam Rijksmuseum, a little before 1 p.m. this Sunday, March 5. Ages 15-22, depending on movement Extinction Rebellion to which they belong, the activists sat in front The Night Watch by Rembrandt.
Taken aback, the museum tried to conceal the action of the activists with a tarp. Without much success according to the Dutch branch of Extinction Rebellion. Two of the protesters, dressed in T-shirts emblazoned with climate slogans, held up a replica of the famous painting in which night watchmen are submerged in water, referencing their slogan "There is no art on a flooded planet".
Read alsoCésar: the world of cinema, including Juliette Binoche and Gilles Lellouche, deplores the censorship of the environmental activist
On its Twitter account, the environmental movement asks the museum to "cut its ties with companies that exploit fossil fuels like KLM". The international airline is one of the partners of the Rijksmuseum in Amsterdam. Contacted by Reutersthe Dutch museum declined to comment.
Environmental activists are stepping up actions in Europe. In France, the latest action, signed by the collective Last Renovationdisrupted the Caesar ceremony, Friday, February 24. An activist, dressed in a t-shirt on which was written "We have 761 days left" ("761 days left"), went on stage at the Olympia. The movement then warned: "This event marks the resumption of action for the civil resistance campaign."
TO HAVE ALSO – Ecology: is the rhetoric of catastrophism effective?