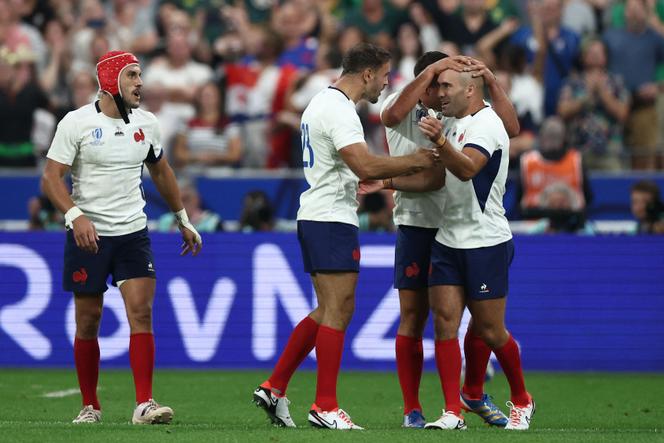 We are in the 78th minute of the opening match of the Rugby World Cup between France and New Zealand, Friday September 8. The replacement center of the XV of France Arthur Vincent, who had entered the field twenty minutes earlier, managed to recover the ball from the arms of a New Zealand player in a grouping. On the following ruck, Maxime Lucu, Antoine Dupont's official understudy, sends a candle into the sky of the Stade de France.
At this moment, the XV of France did the hard part. Two minutes from the end of their inaugural clash against the All Blacks, the Blues lead by nine points, out of reach of a potential final converted try from their opponents. The French are installed in the New Zealand camp of their opponents and their defense now thwarts the offensive plans of the men in black. Was it because the match started badly for the Tricolores? Or because the score was tight throughout the game? The fact remains that the Stade de France needed a final flick to definitively shift into joy.
It took the form of a capricious rebound. Lucu's shot landed in the New Zealand 22 yards, his bounce deceiving the All Blacks defenders. Melvyn Jaminet, who came into play a few seconds earlier, managed to catch the ball and flattened it into the New Zealand goal. Victory, at this moment, can no longer escape the Blues and the Stade de France exults (27-13).
Three substitutes maneuvering to complete the victory, as a symbol of a match that was initially delicate, then unlocked in the second half thanks, in particular, to the players on the bench, those that the French staff refers to as "finishers".
The precious interim of Peato Mauvaka
This contribution was necessary very early in the match, and in an unexpected way: hooker Peato Mauvaka actually entered the field in the 12th minute. The fault is an injury – the fourth affecting the French camp. After Romain Ntamack, Cyril Baille and Jonathan Danty, this time it concerns Toulouse Julien Marchand, one of the pillars of the French XV pack. Peato Mauvaka, already used to replacing him at the club, had to act as interim for almost seventy minutes.
Impressive when the victory of November 2021 against these same All Blacks, the replacement hooker fulfilled his role perfectly. Three minutes after his entry and following a combination in touch with Antoine Dupont, forward Mauvaka escaped like a winger and narrowly failed to score a try. He also delivered a top-notch performance in scrum, touchline and defense, with ten tackles (two missed). "Peato made a big comeback and seventy minutes of high level. This shows how both [Julien Marchand et lui] to complement each other. This is also the strength of our team"confirmed, after the match, full-back Thomas Ramos, also the author of a great match.
You have 38.37% of this article left to read. The following is for subscribers only.