Fauthoux, Williams, Rupert, the new faces of Les Bleues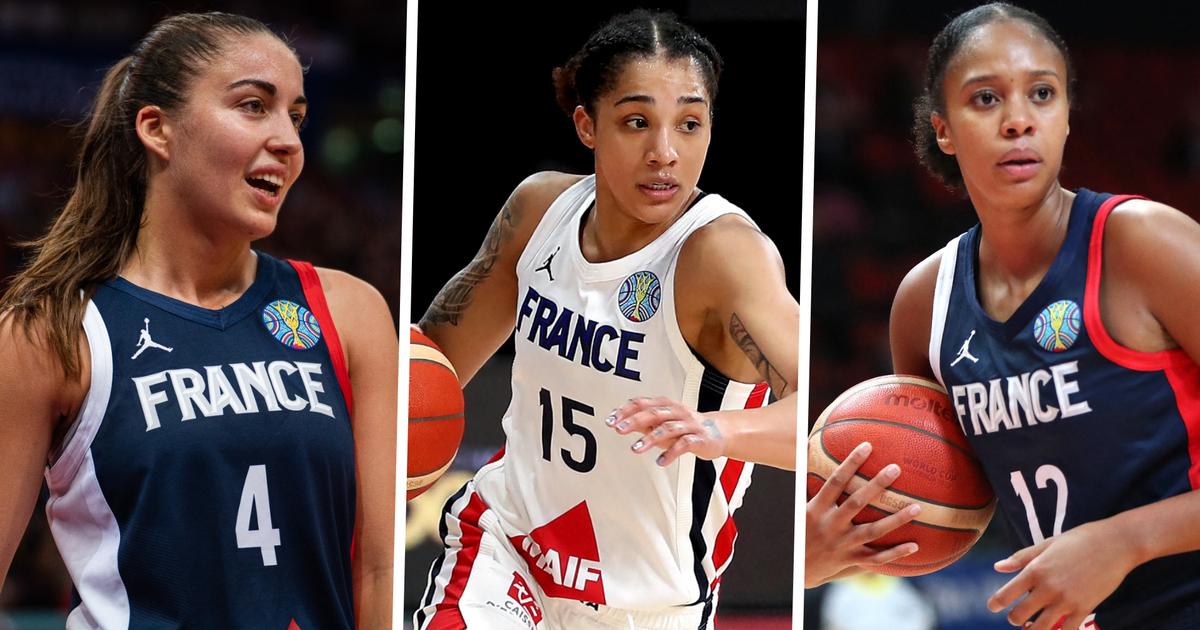 DECRYPTION – Under the leadership of Jean-Aimé Toupane and in the absence of executives, the France team attacks the quarter-finals of the World Cup with new leaders.
Les Bleues are in the quarter-finals of the World Cup, and that's already very good. If the France team has won bronze at the Tokyo Olympics last year, and silver in the last five European championships, she lowered her ambition under duress, at the start of the Australian World Cup last Thursday. Four potential holders had withdrawn due to injury: Olivia Epoupa, Bria Hartley, Marine Johannès and, especially, Sandrine Grudatop scorer in the history of Les Bleues (2,784 points in 215 caps).
It was with relative pressure that Jean-Aimé Toupane (64), successor to Valérie Garnier (2013-2021), entered his first competition, he who had no experience of women's basketball. But who benefits from a workforce with "beautiful talents, freshness and youth», Judge Audrey Sauret, consultant for bein Sports, broadcaster of the World Cup. The coach of Les Bleues was the first witness to the takeover of Marine Fauthoux, Gabby Williams and, to a lesser extent, Iliana Rupert, who will be expected in the quarter this Thursday (10 a.m.) against one of the favorites, China .
Marine Fauthoux, fiery temper
She is indeed the daughter of her father, also a leader, who will be mentioned less and less as Marine Fauthoux has made a name for herself. With 41 selections, she will soon exceed her dad, Frédéric, 47 caps. Except that Marine is only 21 years old. From 12 minutes/game at the Tokyo Olympics, it rose to 27 minutes/game in this World Cup. "She fully assumes her role and shows great maturity.", Admires Audrey Sauret, former leader-back to 202 selections for the Blue. Against Japan (10 pts, 8 assists) and Serbia (11 pts, 4 assists, 3 interceptions), she alternated aggressiveness in the circle and creating the ball in hand for the others. "She is very strong on game readings, on pick & roll", emphasizes Audrey Sauret.
Fauthoux also shone by… his awkwardness at 3 pts (4/19 on the competition). A parameter to be corrected, which is not the case with his rough defense despite his height (1.74 m). "She has a temper observes Audrey Sauret. Someone can make her 20 cm apart, it won't destabilize her.The leader of Basket Landes savored the victory against the Japanese who had beaten them in the semi-finals of the Games in Tokyo. "I wanted my revenge. It wasn't going to be like that today", she whistled after the meeting, delighted to have"truck keysin the absence of the executives.
Gabby Williams, the go-to girl
The boss is her. At the World Cup, only 4 players scored more than Gabby Williams (15.6 pts, 5 rebounds and 2.8 assists/game). She is the "go-to girl", the one to whom we turn when the attack is at half mast. The one who, on a dribble, an acceleration, a shot or a finish while touching, will unlock the Blues. Like Fauthoux, the 1.80m winger "takes responsibility", points out Audrey Sauret, resting on a fort"basketball IQand outstanding athletic qualities. The 26-year-old Franco-American, naturalized a year ago, had already weighed heavily at the Euros and the Olympics. From now on, "she is our leader"Confirmed Jean-Aimé Toupane after his points record in Bleues against Australia (23 units).
"He is a leader, not vocal, but exemplary and efficient, with a very good state of mind, analyzes Audrey Sauret. What she gives off are only positive vibes. And even in her speeches when she is interviewed.Williams is only in the continuity of his Euroleague, won with the Hungarian club Sopron Basket. She was voted Most Valuable Player in the Final Four, a year after being voted Most Valuable Defenseman of the regular season. Because its impact is not only in attack.
Read alsoWomen's Basketball World Cup: Gabby Williams, a Frenchwoman who "exhales the desire to win"
Her regularity and her ability to weigh in all the compartments of the game make her essential to the Tricolores. But she is not without flaws. "Physically, she's a player who I think can't play consecutive 12-14 minute streaks because she leaves so much energy in everything she does, fears Audrey Sauret. Even his jumpshot, he's got energy. And for having been a little bit this game profile, when you are like that in 2 pt shots which are in energy, inevitably, the address escapes a little bit with fatigue.So far, Williams is 58% on 2-point shooting, but has posted a sad 3/15 at 3 pts.
Iliana Rupert, back to earth
Like Marine Fauthoux, Iliana Rupert inherited a surname, that of Thierry, ex-French international (35 selections) died suddenly in 2013 of a heart problem. It is also for him that she wears the number 12, with which she has aroused immense promises (47 selections at only 21 years old). But, for the time being, she is missing out on her World Cup. "Everyone was expecting it 300% because Iliana, everything she touches turns into a trophysmiles Audrey Sauret.
For six months, Rupert has been close to perfection: champion of France and Eurocup winner with Bourges, then WNBA champion with Las Vegas September 18. While being elected MVP of the French championship and MVP of the Final Four of the Eurocup. "These are very strong emotions, you have to come down very quicklyexplains Audrey Sauret. Transition too brutal for the young native of Sèvres (Hauts-de-Seine)? "I took 17 hours jet lag", she had fun with The Team .
Tall (1.91 m), Rupert showed little of his technical qualities, at the top or bottom of the racket, and did not impose his physique in defense. His performance against Japan (15 pts, 12 rebounds) seemed to have launched. But Tuesday's loss to Serbia (62-68), where she signed a 0/5 on shots and took only 2 rebounds, called her back to earth. "It will be useful for us on the rest of the competition"Promised Jean-Aimé Toupane after his painful start against Australia (4 pts, 5 rebounds). In the quarter-finals this Thursday (10 a.m.) against China, which relies on a strong domestic sector, it will be expected at the turn.