Fifa 22 overlooks the best sales of 2021 in France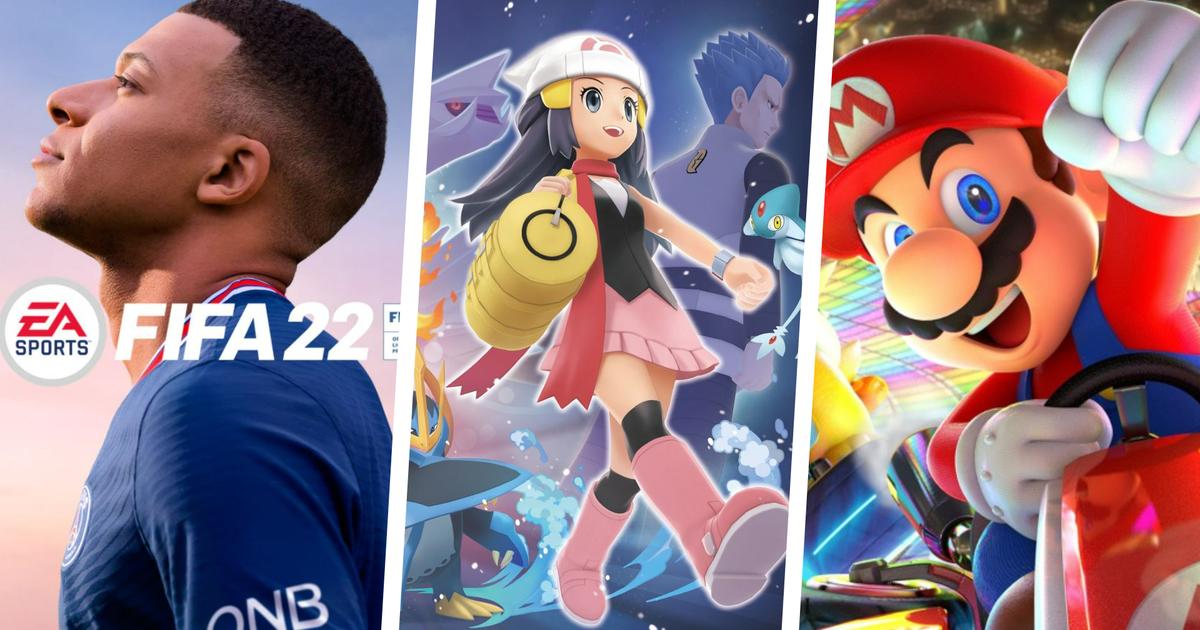 With 1.6 million sales, the football game clearly outpaces Pokemon Pearl and Diamond and Mario Kart 8. Aftermath of the Covid, 2021 was marked by a low number of new products and a decline in sales.
Who can dethrone King Fifa? Once again, the football game is at the top of the annual ranking of best-selling video games in France published by Sell (union of leisure software publishers). With 1.6 million copies sold, it does much better than FIFA 21 last year (1.3 million sales as of December 31, 2020). Above all, it clearly outdistances the competition: number 2, Pokémon Sparkling Diamond and Pokémon Sparkling Pearlis close to 600,000 cumulative sales.
Since 2020, the Sell rankings have included sales in digital format on the PlayStation Store and the Microsoft Store, which weigh increasingly heavily in the results. For FIFA 22, a third of sales, or 500,000 copies, come from digital. For call of duty vanguardthis represents 200,000 of the 487,000 sales of the game. And for a title as old as GTA Vdigital is by far the majority: 328,000 sales, compared to 168,000 in physical format!
Only Nintendo refuses to communicate the sales of its virtual store eShop to the rest of the industry. It is therefore impossible to know the actual performance of its licenses. But even without this sales channel, eight Nintendo games entered the top 20 of the year, 4 of which made it into the top 10...
Declining sales
The past year is mixed. Compared to the exceptional financial year 2020, when the French threw themselves on their consoles to occupy their confinements and curfews, sales of video games in physical format fell by 10% and those in digital format by 7%, for a total value of 1.1 billion euros.
At the same time, 2.37 million consoles were sold, i.e. +2.4% more than in 2020. The Switch alone represents 1.3 million sales, as Nintendo told Le Figaro. According to the well-informed Ludostrie site, Sony's PS5 achieved 600,000 sales and Microsoft's Xbox Series 215,000 sales. The remainder represents sales of PlayStation 4 and Xbox One.
Read also2020, exceptional vintage for the video game market in France
The market is suffering the repercussions of the Covid-19 pandemic. The difficulties encountered by Sony, Microsoft and Nintendo on the production lines of their new consoles with the shortage of semiconductors means that supply is well below consumer demand. The production of games within the studios has been turned upside down by teleworking, and many titles have been postponed to 2022. As a result, the 2021 release schedule has been bleak to say the least... which is reflected in the top of the Bestsellers.
Read also2021, a gloomy year for video games
Thereby, Mario Kart 8 Deluxe, yet released in 2017, comes third with no less than 503,000 sales. He is closely followed by FIFA 21 (released in September 2020), 501,000 copies sold, and the stainless GTA V (2013), which shows 469,000 additional sales. Phenomenon of 2020 with more than one million sales, Animal Crossing New Horizons hangs 433,000 more in 2021.
A loaded 2022
On the news side, in addition to FIFA 22 and Pokemon, call of duty vanguard (Activision) did worse than usual with only 487,000 sales. His rival Battlefield 2042 (EA), slammed by critics for its lack of finishes, signs a poor performance with only 161,000 sales.
The horror game Resident Evil Village (Capcom) does a little better (173,000), while far cry 6, Ubisoft's big year-end game, posted 215,000 sales. This is lower than the launch of Far Cry 5 in 2018. Nintendo, on the other hand, sold 437,000 copies of its game Super Mario 3D World and 276,000 from Mario Party Superstars. Another example of the power of the Mario license.
If 2021 was poor in novelties, 2022 is overflowing with them. The year got off to a flying start with the releases of Pokemon Arceus (Nintendo) in January, then Horizon: Forbidden West (Sony) and Elden Ring (Bandai-Namco) in early March. The latter has already established itself as one of the great commercial successes of the last twelve months. Are expected towards the end of the year the blockbusters God of War Ragnarok (Sony), Zelda Breath of the Wild 2 (Nintendo) and Starfield (Microsoft Bethesda). It is safe to bet that game sales in 2022 will be on the rise.
---
The 20 best-selling video games in 2021
1- Novelty : FIFA 22 (EA), 1.59 million sales
2- Mario Kart 8 Deluxe (Nintendo), 503,150 sales excluding digital
3- FIFA 21 (EA), 501,483 sales
4- Novelty Call of Duty: Vanguard (Activision), 486,957 sales
5- GTA V (Take-Two), 469,634 sales
6- Novelty Super Mario 3D World (Nintendo), 437,432 sales excluding digital
7- Animal Crossing New Horizons (Nintendo), 433,286 sales excluding digital
8- Novelty Pokémon Sparkling Diamond (Nintendo); 375,371 sales excluding digital
9- Minecraft Nintendo Switch Edition (Microsoft), 301,907 sales excluding digital
10- Call of Duty: Black Ops Cold War (Activision), 287,912 sales
11- Novelty Mario Party Superstars (Nintendo), 276,632 sales excluding digital
12- Ring Fit Adventure (Nintendo), 259,379 sales excluding digital
13- Novelty Pokémon Sparkling Pearl (Nintendo), 221,879 sales excluding digital
14- Spider-Man: Miles Morales (Sony), 220,349 sales
15- Novelty far cry 6 (Ubisoft), 215,356 sales
16- Assassin's Creed Valhalla (Ubisoft), 214,369 sales
17- Novelty The Legend of Zelda: Skyward Sword HD (Nintendo), 209,444 sales excluding digital
18- Novelty Resident Evil Village (Capcom), 173,893 sales
19- Novelty Battlefield 2042 (EA), 161,797 sales
20- Zelda: Breath of the Wild (Nintendo), 161,470 sales excluding digital.
---
SEE ALSO - Mike Hessabi: "Online video games are virtuous for businesses"