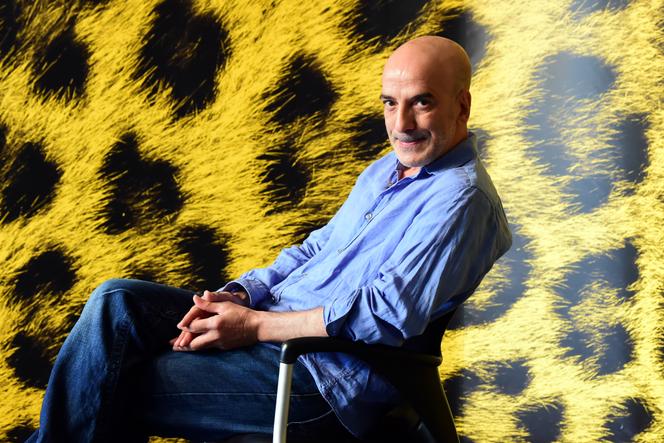 Born in 1966 in Beni Zid in Algeria, arriving two years later in the city of Bosquets in Montfermeil, in Seine-Saint-Denis, Rabah Ameur-Zaïmeche emerged in French cinema in the early 2000s without asking permission, with a clear observation on the malaise of the suburbs (Wesh wesh, what's going on?, 2001). Portable camera, range of jazzman open to improvisations, combined powers of fiction and reality, certified independent and artisanal production, his unclifiable cinema has, in twenty years, looked at France from every angle, from corporate life (Last maquis2008) until his smuggling epic (Mandrin Songs, 2012). His seventh feature film, The Temple Wood Gangreturns to the suburbs for a crime thriller involving an organized gang and a tale of a cursed hold-up, à la Jean-Pierre Melville.
The film opens with a landscape of France seen from the tower of a dormitory town…
The neighborhood scenes were filmed in the Grand Parc city in Bordeaux, protected by UNESCO. There was a renovation campaign: they preserved lawns and century-old trees. Above all, they did something incredible: take out the elevators on the exterior facade. Thus, each inhabitant, as he goes up to his house, sees his city expand, take on another amplitude, touch the sky. This is what I wanted in this opening pan: to move from the blocked horizon of the towers to the poetic dimension of the sky.
What made you want to move into genre cinema and shoot a thriller?
I grew up in a housing project, and when we met as kids in the morning, in the stairwell, we talked about the film that had been shown on TV the day before, and it was often a gangster film. I loved westerns and noir films, especially when a group or an individual decided to change the course of their destiny. Certainly by committing a crime, but which was also an act of defiance. In The gang…, there is undoubtedly something left, but the characters who do the deed are part of social relationships: they are kids who come from the neighborhoods.
Where does this story of city friends robbing the convoy of a wealthy oil prince come from?
This is a news item, which occurred in 2014, that I had kept in my pocket for a long time. Guys from the town of Bois du Temple, in Clichy-sous-Bois (Seine-Seint-Denis), disguised with a Gypsy from Val-d'Oise, robbed a Saudi prince's van on the A1 motorway to crazy amounts of money. They had a contact who worked at a luxury car agency. Against all odds, it worked. Except they were so happy that they started squandering the money haphazardly. And they got burned.
You have 46.31% of this article left to read. The following is for subscribers only.