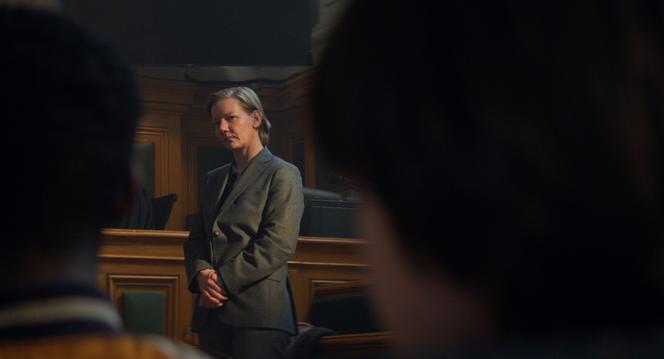 THE OPINION OF THE "WORLD" – NOT TO BE MISSED
Remarkable writing, perfect actors, a well-kept secret and a poisonous atmosphere. Yes, everything is there, but there is something more in this Anatomy of a fallwhich earned its director, Justine Triet, 45, the Palme d'or, at the end of the seventy-sixth edition of the Cannes Film Festival. His fourth feature examines the horrors of a couple of writers, one of whom dies. Suicide, murder? We'll never know, but the path that leads to this mystery is a thrilling movie tale.
Before the jurors of the ize Court, the accused, Sandra (Sandra Hüller), reveals the intricacies of her intimacy with her companion, Samuel, before he died – Samuel Theis, who remains off-screen, except in a few scenes crucial. written with Arthur Hararithe director of Black Diamond (2016)ofOnoda, 10,000 nights in the jungle (2021)and companion of Justine Triet, the story condenses the filmmaker's obsessions while injecting them into a story as minimal as it is terrifying: living as a couple kills.
The films of Justine Triet – The Battle of Solferino (2013), Victoria (2016) and Sibyl (2019) – are whirlwinds challenging actresses to play impure beings, when the private and professional lives of their characters collide with a crash. And, when it comes to trouble and impurity, Sandra Hüller excels.
An air of medium
Anatomy of a fall opens in the energy and confusion of a discussion that cannot take place. Here we are in a chalet on the heights of Grenoble, just before the tragedy. A wooden staircase leading to the attic, thunderous music filling the whole space…
Two women talk to each other, whose faces are filmed in close-up: Sandra, a writer, receives a student (Camille Rutherford) who has come to interview her, but the noise is such that the interview has to be interrupted. Upstairs, Samuel turned up the sound. Probably to annoy his wife. Author too, he is out of stories. Sandra says goodbye to the student, climbs the stairs. Cut. We will not see the rest.
The camera transports us outside. In the snow. Daniel (Milo Machado Graner), the couple's twelve-year-old son, has gone for a walk with his dog. The child is visually impaired, and his icy blue eyes make him look like a medium. When he comes back to the house, he finds his father lying down, inert, his blood frozen in the ice crystals. An investigation is opened and Sandra is not long in being indicted. An old friend (Swann Arlaud), a lawyer, comes to lend him a hand and defends him before the ize Court.
You have 35.41% of this article left to read. The following is for subscribers only.