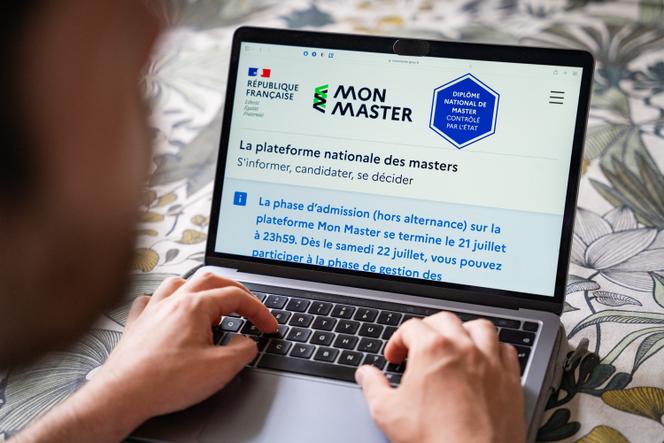 It was a trial by fire for universities. With a harmonized calendar and standardized candidate selection practices, the My Master's platform, launched in February, sounded like a fundamental reform for universities. The interface was presented by the Ministry of Higher Education and Research as a tool to facilitate the ignment of students to a master's degree. At the start of the 2022 school year, 4,300 candidates without a master's degree applied to their rectorate, which generated 73,300 new admission requests sent to universities. Only 2,600 had been accepted, as the capacity for masters was not expandable.
The platform should therefore allow license holders to consult the entire training offer and to submit their application directly, on the site, to the 3,500 training managers. But, at the time of the first essment, the result is mixed.
First of all, the platform announced in 2022 then launched at full speed for the 2023 session suffered several technical difficulties for students (disappearance of training, invalid documents, documents wrongly required, etc.), while those responsible for master pointed out difficulties in handling. The ministry, aware of these incidents, recalled that this was a year of training, and that consultations were underway in order to target possible improvements.
First general observation, the high volatility of requests during the main phase forced some universities to organize additional recruitment phases during the summer, some training courses not having selected enough candidates. In the master's degree in "private law, personal injury law course" at the University of Savoie-Mont-Blanc, for example, 133 people were clified, for 20 places. But on July 11, ten days before the end of the main phase, the waiting list had been exhausted and 8 places remained vacant.
The university then decided to reopen applications using the establishment's old internal platform, e-candidat, allowing 200 new applications. At the end of this second phase, reception capacity was reached. "We had the same number of applications in total this year as when we only operated with e-candidat", notes Laurence Clerc-Renaud, training manager. Similar results for much greater efforts, this additional phase not having been anticipated.
You have 65% of this article left to read. The rest is reserved for subscribers.