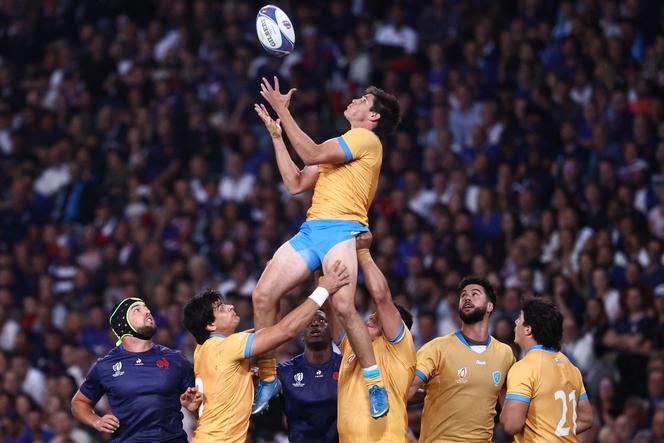 "Uruguay banged their fists on the table for their entry into the Rugby World Cup. Yes, they lost 27-12 to France, but it was the team that got applauded [jeudi 14 septembre] in Lille. » Uruguayan media El Observador can only share his "pure pride" at the end of the match of his national team, the Teros, who managed to play "on equal terms against a power" of world rugby, the XV of France.
Six days later his inaugural victory against the All Blacks in Saint-Denisthe Blues of Fabien Galthié faced a team "which has ten times less budget" and promised to a large defeat, continues the special envoy ofEl Observador in France, Ignacio Chans. "No one gave Uruguay a chance"17th nation in the world, adds The GuardianBritish daily.
"On the Lille field, in pitiful condition, with clumps of gr that stood up after each scrum," France however stammered its rugby, observe the Argentinian newspaper The Nation. The fault of a full Uruguayan opponent "aggressiveness and combativeness", precise The Guardian.
The Teros go out "with their heads held high"
The French were even reduced to 14 in the 27th minute after the yellow card inflicted on the giant second row Romain Taofifénua, guilty of a high shoulder tackle on the spinning scrum-half Santiago Arata.
"The video refereeing bunker [une nouvelle règle qui permet aux officiels derrière leurs écrans de convertir ou non un carton jaune en rouge, c'est-à-dire en expulsion définitive] rewatched the action and determined it was not worth a red. Questionable », squeaks The Nation, while the arbitration decisions raise many questions since the start of the competition.
Less than half an hour from the end of the match, the Blues had only a small point lead on the scoreboard (13-12), to everyone's surprise. "The South Americans manhandled their opponents and dominated them in many ways, scoring two tries worthy of the most accomplished teams, salutes Michael Aylwin, rugby feather of the Guardian. It was only in the last ten minutes, with an attempt at [l'ailier] Louis Bielle-Biarrey, that France was able to secure victory with a minimum of confidence. »
However, due to not having scored more than four tries, the French XV left the offensive bonus point on the way. The Blues will have to correct their indiscipline – fifteen penalties were whistled against them, even though they had made discipline one of the keys to their success – against Namibia, their next opponent, on September 21, in Marseille .
You have 15.37% of this article left to read. The rest is reserved for subscribers.