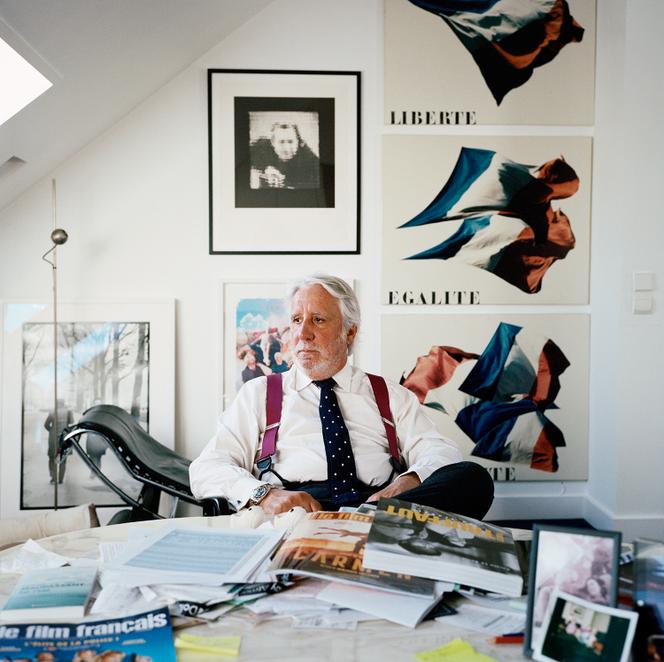 Rolex on the wrist, white shirt, plum suspenders and trimmed white beard: Hugo Rubini has the look of an ordinary insurer. Except that his vast workspace, in the attic of a building, close to the Palais-Royal, in Paris, is decorated with film images. Film clappers in his name are lined up in the library, next to photos of his two daughters, and on the marble of his office are stacked screenplays.
He is a character as they say: good-natured, joyful, emotional. He apologizes for blushing, speaks quickly, pulls himself together, worries about boring his interlocutor. The insurance complex? He quotes Woody Allen's famous line in Crooks but not too much (2000): "There are worse things than death. Have you ever spent an evening with an insurance broker? »
Except that this broker, the American director owes him a proud candle: his next feature film, Stroke of luck, shot in Paris with French funding, was provided by Rubini & ociés. "It's silly, but I take a certain pride in it, slips the sixty-something. I grew up with [les] Woody Allen movies. By working for him, I realize a somewhat childish fantasy: telling myself that the film also exists partly thanks to me. »
A guarantee against boredom
Trained to anticipate the infinite number of disasters that can occur during filming and then post-production – from bad weather to epidemics, from minor technical failures to ultimate misfortune, the death of the director or one of the main actors –, Hugo Rubini found in his profession a guarantee against boredom. And it was not won.
Born in 1961 in Boulogne-Billancourt (Hauts-de-Seine), in a family "traditional, strict", he goes to school "grey flannel breeches and big socks" at the Hattemer private course, before being sent to boarding school, after his parents' divorce, in the very formal Py Buzenval college. His maternal grandfather is an insurance broker. His father too. He prefers to party with his friends and spend his time at the movies rather than on his school books. But the family path catches up with him.
"I was not a very good student, so my father told me to come and work with him at the firm. As I obviously had no desire, I asked him to find me an internship in London. » At 25, he started at Lloyd's, the world temple of insurance. He will remain there for seven years, working in particular on the contracts kidnap and ransom ("kidnapping and ransom") for wealthy families.
You have 55.22% of this article left to read. The following is for subscribers only.