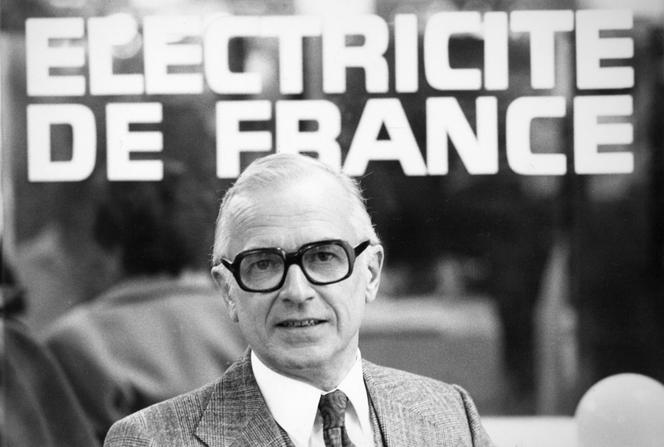 A few rare bosses leave an almost indelible imprint on the company they headed, to the point of identifying with it and remaining, decades after their departure, a reference and even an object of reverence. Marcel Boiteux, who died in Paris on September 6, at the age of 101, was one of them. He will remain "the" historical leader of Electricité de France (EDF), of which he was managing director from 1967 to 1979, during the deployment of the electro-nuclear program, then president until 1987.
Born in Niort into a family with polytechnicians and normaliens, he had naturally "fallen" into the sciences, after having distinguished himself during the Second World War. After the Ecole Normale Supérieure and the aggregation of mathematics in his pocket in 1946, the istant of the economist Maurice Allais at the Ecole des Mines de Paris wanted to pursue a career as a researcher and university. Like his clmate Gérard Debreu, he applied for a Rockefeller scholarship to complete his training in the United States. Unfortunately, there is only one and the draw favors the future Nobel Prize in Economics 1983. Mr. Boiteux will remain in France.
In 1949, he joined EDF, created three years earlier, in the direction of economic studies. In a France that is beginning its reconstruction, the new company then takes on a crucial importance: to offer a modern pricing system for many types of customers, from the electro-intensive industrialist to the individual. In 1967, Pierre Mé, ex-planning commissioner and president of EDF, pushes for the appointment of Mr. Boiteux as Chief Executive Officer. He will sign the first "program contract" with the State shareholder, which sets objectives for him, leaving him some autonomy to achieve them.
One of its missions is to develop nuclear energy, embryonic at the French electrician. In the 1960s, the "war of the sectors" raged with the atomic energy commission, and within the electricity group itself: on the one hand, the French natural uranium-graphite-gas technology, known as "UNGG » ; on the other, that of enriched uranium-pressurized water from the American company Westinghouse, which has proven its worth across the Atlantic. Mr. Boiteux was among those who convinced General de Gaulle and his prime minister, Georges Pompidou, in 1969, to abandon the UNGG in favor of American technology, which was less expensive and more efficient.
Economic vision
With him, EDF is both contracting authority, prime contractor and architect-embler of the power plants. When he left the presidency of the company after having piloted an extraordinary industrial program, the nuclear fleet had 58 reactors in service, under construction or in an advanced project. Meanwhile, it was necessary to scrap in a country where the antinuclear contestation does not cease erting itself. So much so that he will be the target, in 1977, an attack on his homeclaimed by an obscure "action committee against atomic scoundrels".
You have 35.26% of this article left to read. The following is for subscribers only.