Forty years after Indiana Jones, Ke Huy Quan's incredible revenge at the Oscars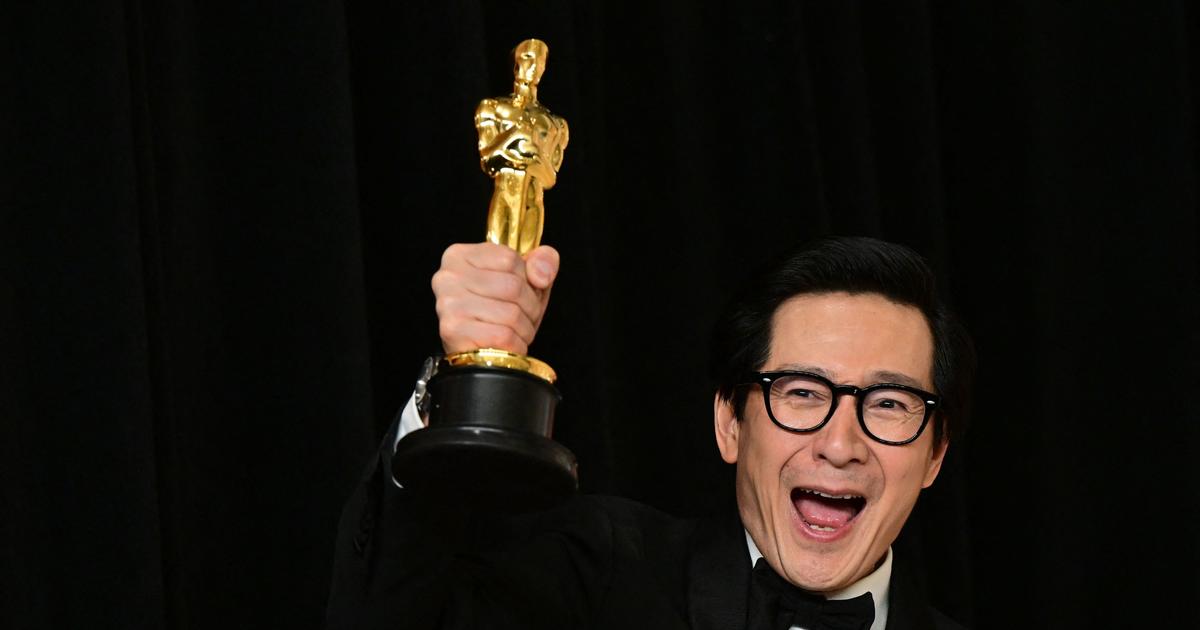 The Vietnamese-born comedian came on stage in tears and paid tribute to his 84-year-old mother. He won the statuette for best supporting role, thanks to his multi-faceted husband character in the crazy comedy Everything Everywhere All At Once.
Its story is worthy of a Hollywood script: revealed almost 40 years ago by Steven Spielberg and IndianaJones, actor Ke Huy Quan then suffered an interminable crossing of the desert, before winning an Oscar on Sunday for his big return to the screen. The Vietnamese-born actor won the statuette for best supporting role, thanks to his character as a multifaceted husband in the crazy comedy "Everything Everywhere All At Once".
Already rewarded for this performance by numerous awards, including a Golden Globe, the 51-year-old actor is taking brilliant revenge on an industry that had completely forgotten him. Incidentally, it also stands out as a symbol of Hollywood's progress in terms of diversity.
"Mom, I just won an Oscar!" he said on stage, in tears, on Sunday after receiving his Oscar.
Prior to "Everything Everywhere All At Once," Ke Huy Quan hadn't auditioned for over twenty years. But for this film with a predominantly Asian cast, directors Daniel Scheinert and Daniel Kwan believed in him.
In this completely crazy comedy, he plays Waymond, the husband of Evelyn, a Chinese immigrant played by Michelle Yeoh.
Aborted career
Owners of a laundry, the couple is on the verge of divorce, lost between the gloom of their modest daily life and their troubles with the tax authorities. But their life is suddenly turned upside down by the discovery of parallel universes, threatened by an evil force.
The wacky exploration of these different worlds, against a background of existential reflection, allows Ke Huy Quan to play an ever different character: Waymond is in turn a clumsy and clumsy father, a martial arts expert, or even a tortured romantic with an impeccable setting.
After years of scarcity, "I was so hungry to play a role like that"entrusted the actor to the New York Times last year.
Landed in the United States with his Vietnamese parents in the late 1970s, Ke Huy Quan was only 12 when he starred with Harrison Ford in Indiana Jones and the Temple of Doom by Steven Spielberg. He plays Demi-Lune, the adventurer's little sidekick, after having obtained the role by accident while accompanying his brother to an audition.
Propelled to the rank of child star, he embarks the following year on a treasure hunt that will mark an entire generation in The Goonies. But then his career slipped: after a few minor television appearances, he gave up acting. At the time, "Hollywood didn't write roles for Asian actors"he regretted to the New York Times.
Click
Film school diploma in hand, he goes behind the camera in Hollywood and in Asia: he choreographs in particular the fight scenes of the first film X-Menbefore collaborating with the Hong Konger Wong Kar-Wai on 2046the sequel to the masterful In the Mood for Love. "I guess for a long time I lied to myself trying to convince myself that I didn't like being an actor anymore, just to make it less painful," he told the magazine GQ.
But in 2018, something clicked when he discovered the film Crazy Rich Asians. "I saw my Asian colleagues on the screen and (…) I too wanted to be part of it", he explains to GQ. Ke Huy Quan then calls back an ex-comrade of the Goonies, Jeff Cohen, to ask him to be his agent. A few months later, he landed his role in Everything Everywhere All At Once.
"That phone call was one of the happiest I've ever received," the actor, for whom role proposals are now pouring in, told CBS.
"We weren't sure what he was capable of until we started working with him. (…) He constantly amazed us on the set, "director Daniel Kwan told the New York Times.
In the film, Waymond says gravely to his wife Evelyn: "Every rejection, every disappointment has brought you to this moment. Don't let anything distract you from it." At the time of uttering this line, Ke Huy Quan probably did not imagine how prescient it could turn out.
rfo-sst/dax/rle
CBS CORPORATION
THE NEW YORK TIMES COMPANY