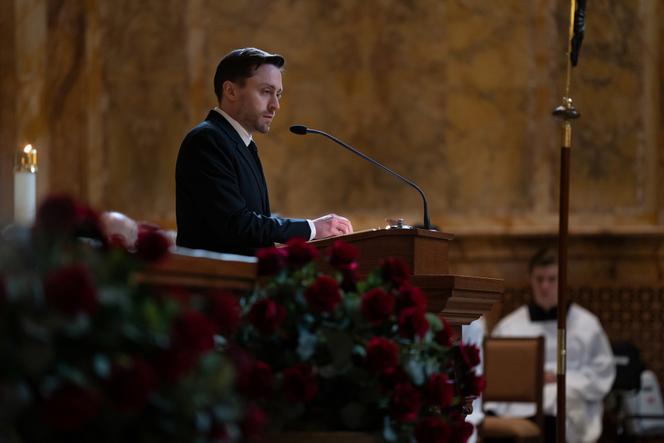 Due to the complexity of the electoral system, the American presidential election can in the worst case take several days. At the start of this ninth episode of the fourth season of Successionwhich takes place the day after the vote, the new president is therefore not yet officially appointed, even if ATN, the chain owned by the Roy family, has given a head start to the outgoing conservative, Jeryd Mencken, by declaring it winner against all journalistic ethics.
The atmosphere is electric in Manhattan, and while the Roys dress for the funeral of their father – who died six episodes earlier – the stores are boarded up and Kendall's ex-wife deprives her children of a last tribute. to their grandfather, worried about the anti-Mencken and anti-ATN protests forming in the city. Kendall, incredulous, does not want to see his responsibility in all this, even when his faithful istant, Jess, makes him understand that she no longer wants to work with him.
It is in this particular atmosphere that the farewell ceremony for Logan Roy takes place, and it is also the farewell to the series (whose final episode will be broadcast on Monday May 29) which is being prepared. Obviously nothing goes as planned in the church, because even in front of their father's coffin, the Roys do not know how to unite. Connor, as usual, tries to play solo but Logan's brother (James Cromwell, who wonderfully embodied the patriarch's bad conscience for four seasons) will be the first to play spoilsport by going up to the podium without an invitation to recall the lack of moral sense of the deceased.
Mausoleum a bit megalomaniac
Roman, responsible for pronouncing the eulogy, will only let out a trickle of voice before collapsing, paralyzed by the disappearance of this man whom he so wanted to please. True to form, Kendall takes the opportunity to take the microphone and deliver a vibrant tribute to the capitalism of his father, and his speech is addressed as much to Mencken as to Matsson, who are among the guests. Fully pumped up, he erts himself as his father's natural heir.
In the room, there is also Caroline, the mother of the Roys, the monster of coldness in which one should perhaps see the origin of the cynicism of the children, more than in the volcanic character of their father. There is also Marcia, Logan's wife, his mistress Kerry, and then Sally-Anne, another illegitimate from Caroline's time. The four women, squeezed in the same row, give a poignant image of how little Logan Roy considered those who shared his life. "He could be tough on women"testifies Shiv in his intervention, and his words of little girl are the only ones which ring true and which are sincere in this church.
You have 43.68% of this article left to read. The following is for subscribers only.