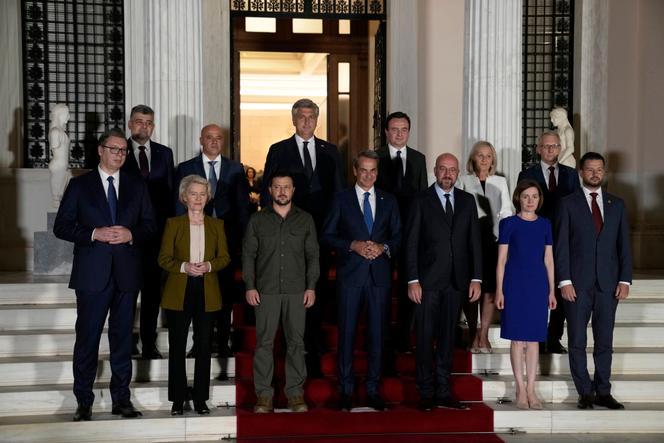 This is an important deadline: during their meeting in Brussels at the end of December, the heads of state and government of the Twenty-Seven will have to decide whether they will open accession negotiations with Ukraine and Moldova. . At the same time, they will have to make a gesture towards the countries of the Western Balkans, who have been waiting in the antechamber of the European Union (EU) for years and would look unfavorably on Kiev and Chisinau ping them by. .
Today, the Twenty-Seven are all in agreement to move forward on the path to enlargement, as the geopolitical context, with the war in Ukraine on the borders of the EU, makes it inevitable. But to the question of how to carry out this project, which will radically change the economic, social and political aspect of the Union, the answers vary greatly from one capital to another.
In this context, France and Germany asked twelve independent political scientists to work on the subject. Tuesday September 19, the two rapporteurs, Olivier Costa and Daniela Schwarzer, were to present their conclusions to the ministers of European affairs, in a report intended to explain to the Twenty-Seven how "sailing the high seas". On this occasion, the Secretary of State for Europe, Laurence Boone, and his German counterpart, Anna Lührmann, had to remind that their work does not involve Paris and Berlin.
Divergences
"The EU is not ready to welcome new members, neither institutionally nor politically"writing "the group of twelve", as the experts have called themselves. The report therefore recommends a reform of the Union which would precede enlargement, or be concomitant with it, in line, from this point of view, with what Paris and Berlin defend. "The risk would be to replicate what we have already done, that is to say, to think about enlargement without integration. I can testify quite easily that a Europe of 27 is quite complicated to make progress on essential subjects. A Europe of 32 or 35 will not be any easier to remain modest", explained Emmanuel Macron, August 28, in front of the French ambadors.
Not everyone in the EU shares this view. Moreover, another report on enlargement, written by Baltic, Polish, Nordic and Croatian political scientists, which was presented to the ministers of European affairs on Monday September 18 evening, during a dinner organized by Lithuania, recommends not making the arrival of new member states conditional on institutional reforms. These countries, traditionally more favorable to an enlarged Europe than Paris and Berlin, fear that the Franco-German dialectic will be a pretext to bury enlargement, once again.
You have 49.57% of this article left to read. The rest is reserved for subscribers.