France raises its head against Austria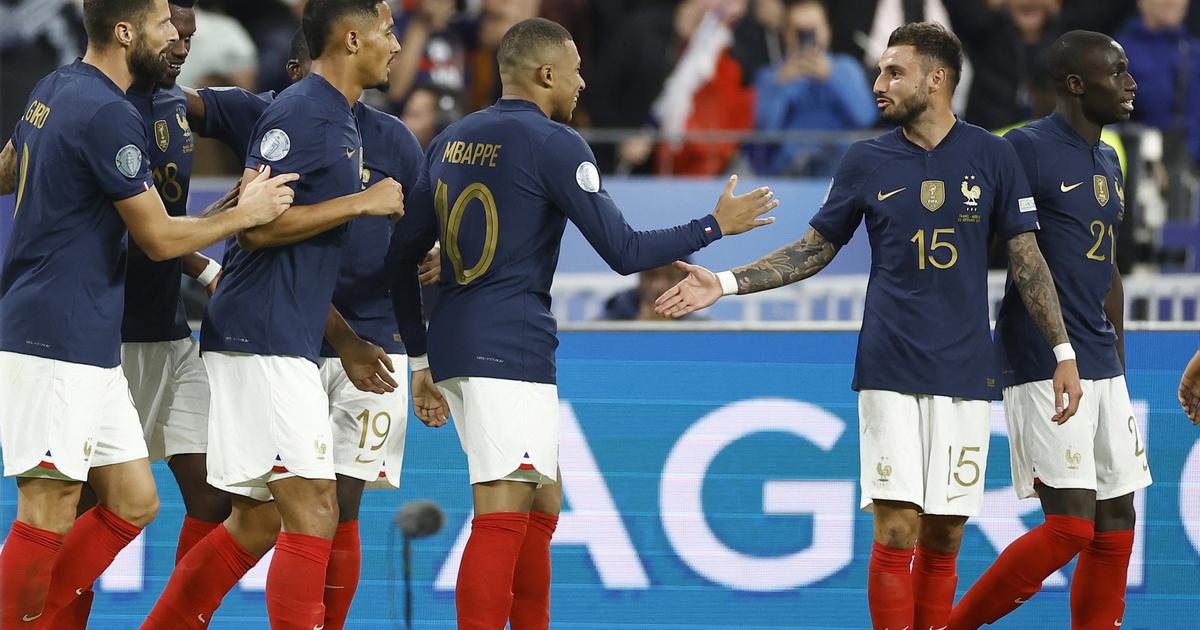 Authors of a successful performance, the world champions smiled again by disposing of Austria Thursday evening (2-0).
At the Stade de France
Reconnect with victory and seduce: mission accomplished. Suffice to say that the men of Didier Deschamps, after a streak in June unworthy of their status as world champion (2 defeats and 2 draws), brilliantly succeeded in their return to school on Thursday evening by offering themselves Austria (2-0 ) in a successful and serious Nations League match. While providing entertainment at a packed Stade de France for the last home outing of their favorite team before the World Cup (November 20-December 18). A success which allows the passage to leave the place of last of the group to the defeated of the evening. Always good to take.
The Blues smile again, Mbappé puts on a show
We had left the partners of Antoine Griezmann head down and morale reached on June 13, especially after the defeat against Croatia in Saint-Denis (0-1), to finally find them incisive and attractive three months later. Despite a redesigned team in large widths, the Blues revealed mastery, composure and address like a Kylian Mbappé (58 caps, 28 goals) monstrous on each of his ball shots and author of a goal sumptuous (56th, 1-0), a solid Raphaël Varane who has returned to his best level, or even an Aurélien Tchouaméni who is getting thicker with each of his outings with the two-star jersey. So much good news for Didier Deschamps in view of the XXL meeting scheduled within two months.
Super Giroud strikes again
The other (great) satisfaction of the evening is called Olivier Giroud. In balance for a place on the plane to Doha and summoned this week due to the absence of Karim Benzema, the Milanese, scorer with a masterful header (2-0, 65th), was able to show again why the France team needs him. In his pivotal role, his ability to play for others, to store in small spaces, the second top scorer in the history of the Blues (113 caps, 49 goals) offers solutions and guarantees to Didier Deschamps. But above all an alternative to Madrid when he is absent.
Whether with Mbappé or Griezmann, the 35-year-old striker was almost all of his team's good shots in the first act (13th, 25th, 35th, 39th) before being a decisive passer on Mbappé's goal and to register his 49th goal in selection, two units from Thierry Henry. Colossal. Enough to be at the World Cup? If he has of course not lost points, not sure that he won any either, knowing that all this is played out elsewhere. With Didier Deschamps still wondering whether Giroud will accept his replacement status in Qatar, uncertainty remains. Fully. It is up to the coach to manage management issues, but to deprive yourself of a Giroud of this caliber would be incomprehensible in two months.
The carnage continues, headache for Deschamps
The only downside in a Stade de France in heaven and which will not see the selection again before 2023, the cascade of injuries which continues among the world champions. Jules Koundé (hamstring), released in the 22nd minute of play and Mike Maignan (left calf pain) at the break, replaced by William Saliba and Alphonse Areola completed the blue infirmary already filled to the brim (Lloris, Kimpembe , the Hernandez brothers, Konaté, Digne, Pogba, Kanté, Rabiot, Kamara, Coman, Benzema). On his bench, Didier Deschamps did not hide his pout with these two new glitches which complicates his life when a trip to Denmark is presented on Sunday. But it is also proof that despite all these injuries, the French tank, like the successful performances of Benoît Badiashile and Youssouf Fofana, the two evening rookies, offers real solutions to their boss. Good news for the trip to Qatar.