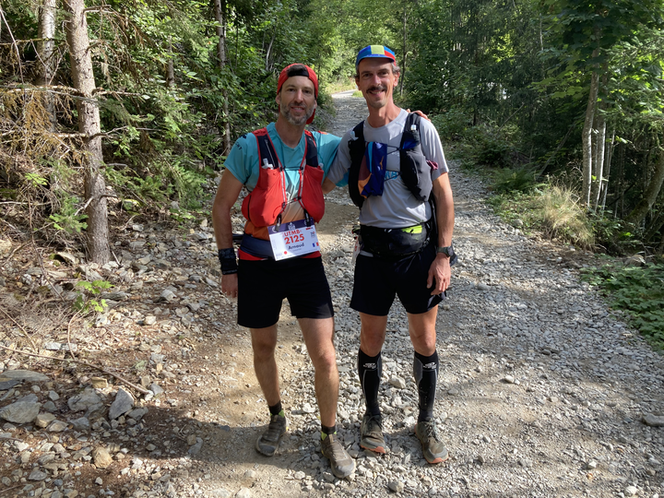 More than three kilometers. Sunday, September 3, at ten o'clock in the morning, on the forest path which descends steeply from the Flégère, they know that nothing can prevent them from reaching Chamonix, from where they left the day before, at 6 p.m., for the Ultra-Trail du Mont-Blanc (UTMB). Since then, they have traveled nearly 170 kilometers, climbed eleven pes, spent two nights advancing at all costs under the stars. Most are marked. The faces are closed. Some wince in pain on this final descent which puts their quadriceps to the test one last time.
Wrinkled forehead, frozen grin, Helena has her gaze riveted on the path where she is about to set foot. One stride after another, in the rockery and the roots that require vigilance at all times. It's not easy to concentrate after forty hours of effort without sleep, but it would be too stupid to "do a peg" NOW. "Too tired to answer, sorry", too tired to answer, she apologizes when called out, without taking her eyes off the path. Her legs are stiff, but she still "runs" intermittently.
Many others walk, but some, smiling radiantly, descend at high speed and with long strides, carried by the euphoria of the objective reached and the applause of the hikers that one hears from time to time, in the forest. Time and standings are the least of their worries. They just wanted " go to the end ". They are not the last, but there are few people left behind them. The first crossed the finish line more than twenty hours ago. They are just happy to arrive, to complete this interminable loop of 171 kilometers for 10,000 meters of elevation gain that makes most trail runners dream.
"We still look good, don't we? »
Antoine, 54 years old and a physical mover, obviously gave everything to complete it. Dangerously leaning to the side, he advances with small cautious steps, taking infinite care to place his sticks in the right place. "I hurt my lower back, but I didn't fall. It's just fatigue, lack of training, that's all. I also have pain in my legs and it's very complicated on the descent.", he says slowly, detaching each word, which he is clearly struggling to pronounce. His sentence barely finished, he begins to stagger. His gaze, as gly as at the end of a drunkenness, says a lot about his degree of exhaustion as his limping gait, but it smells of the stable. In a good half hour, his ordeal will be over.
You have 59.93% of this article left to read. The following is for subscribers only.