Garcia had the perseverance, Mannarino the consistency at Indian Wells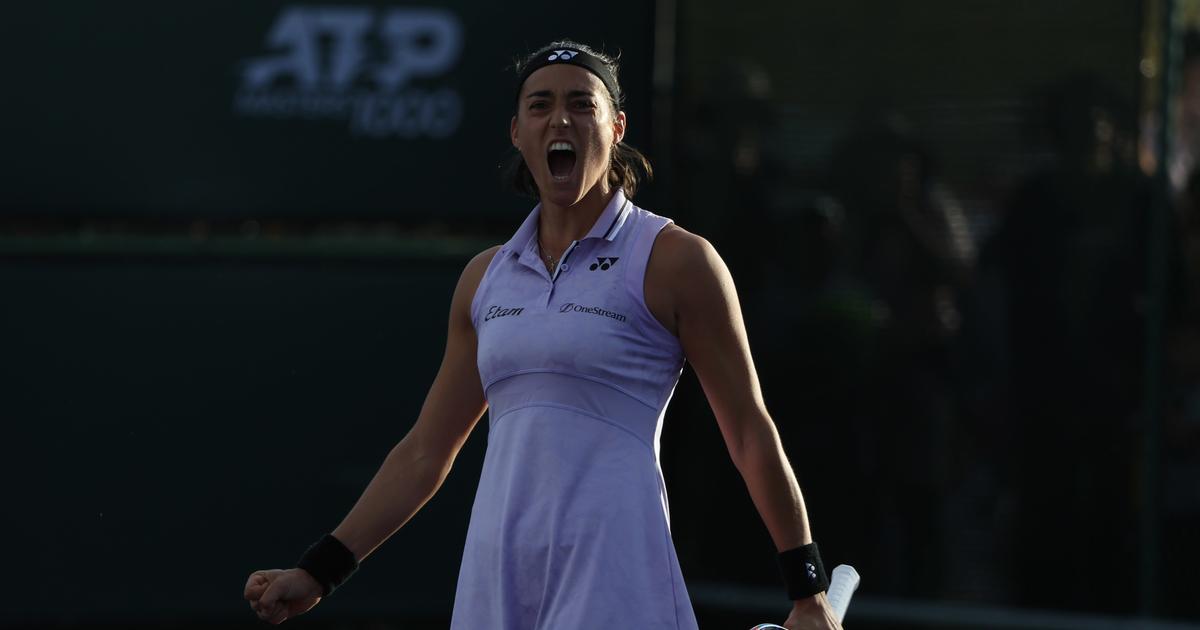 Caroline Garcia, persevering, overcame a palpable frustration on the court to get out of a trap match and advance to the 3rd round of the Indian Wells tournament, a stage also reached on Saturday by Adrian Mannarino, who will try to avenge Richard Gasquet, eliminated by Jannik Sinner.
Without ever conceding her service game, but pushed to her limits until the third set, snatched by forceps, the world N.5 ended up having the last word 6-1, 6-7 (4/7), 6- 4 against the Hungarian Dalma Galfi (80th). To say that the 29-year-old Frenchwoman, winner of the Masters last year, played at scaring herself is an understatement.
But unlike her lost final last weekend, after only materializing two of the sixteen break points she had procured, "Carolwas rewarded for her determination to keep moving forward. She was first imperial in the first set, removed in 23 minutes, attacking the ball as she knows how to do so well. What followed seemed like a formality. Except that Galfi, relying on a service found (73% of first serves passed, 14 aces in total), left only two break opportunities for the Lyonnaise, who did not convert them.
A complicated, laborious success, but perhaps also likely to reassure the semi-finalist of the last US Open, in her ability to force the decision even when things get stuck. But if she wants to finally https://twitter.com/WTA/status/1634720301727760385 go beyond the round of 16 in the Californian desert, she will have to be more realistic.
Humbert is waiting for Rublev
And this from his next match, against the 20-year-old Canadian, Leylah Fernandez (49th), finalist at Flushing Meadows in 2021. Adrian Mannarino (68th), he showed consistency and solidity to dismiss 6-4, 6-4 Lorenzo Musetti (21st), whom he met for the first time.
The 34-year-old Frenchman was simply better in key moments. He first erased a conceded break from the start, then resisted the charge of the Italian at 3-3 to keep his commitment, before delighting that of Musetti in stride.
First set in his pocket, he broke away in the next, before a less good blow which allowed his rival to return to 4-4, collecting a penalty point in passing for attacking a spectator. Italian who was looking for him a little too much. But all this had no consequence, since Mannarino tightened the noose, to finally break again at the right time and win in 2:16.
"It's good to win without drawing on physical reserves, after a first round against (Dominic) Thiem which left some traces. That's what tensed me up a bit, I felt like I couldn't last a very long match", he told L'Equipe. In Indian Wells, he too has never passed the eighth. But on his way, he will first have to dismiss in the next round Jannik Sinner (13th), who beat Richard Gasquet 6-3, 7-6 (7/2).
The 36-year-old Frenchman was not unworthy against the talented Italian, fifteen years his junior, during a match teeming with good points, which often turned to the advantage of Sinner, more enterprising and powerful. Sunday, Ugo Humbert (77th) will have a lot to do for his 3rd round, against the Russian Andrey Rublev (7th).