Georgian opposition demanded to withdraw the law on foreign agents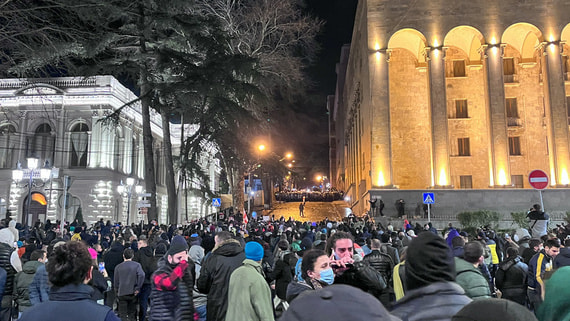 The opposition of Georgia demanded from the country's authorities to withdraw the law on foreign agents from the parliament within an hour and to release those who were detained on March 7 during the protest action. This is reported by "RIA Novosti" with reference to the statement of the opposition leader Georgy Vashadze, made at a protest in Tbilisi.
"Georgian Dream must immediately withdraw the "Russian" law from parliament and release all those illegally detained yesterday," he said and added that the country's leadership is given one hour for this, otherwise the activists "will move on to other steps."
On March 7, the Georgian parliament adopted in the first reading the draft law "On transparency of foreign influence." Against the backdrop of the vote, protests were held in Tbilisi, during which clashes between police and protesters began. The protesters opposed the adoption of one of the variants of the bill on foreign agents, which was introduced by a group of deputies close to the ruling party. 76 Georgian parliamentarians voted "for" the bill, 13 voted "against" (there are 139 deputies in the parliament). According to the project, people and organizations will be able to register as "agents of foreign influence" if their income is more than 20% received from abroad.
Georgian President Salome Zurabishvili, speaking on March 7 in New York, criticized the bill and said that it should not be adopted. After the demonstrations and clashes with the police in Tbilisi, as well as the forceful dispersal of the protesters, Zurabishvili supported the protesters in a video message to the Georgian people. According to her, the bill is allegedly adopted "under the dictation of Moscow", and she herself intends to impose a "veto" on it.
EU High Representative for Foreign Affairs and Security Policy Josep Borrell said the document contradicts Georgia's stated goal of joining the European Union and could complicate relations between Tbilisi and the bloc. Borrell, in a statement published on the website of the European External Action Service (EEAS), calls the adoption of the bill "a very bad development for Georgia and its people." The US also criticized the bill, threatening its authors with sanctions.