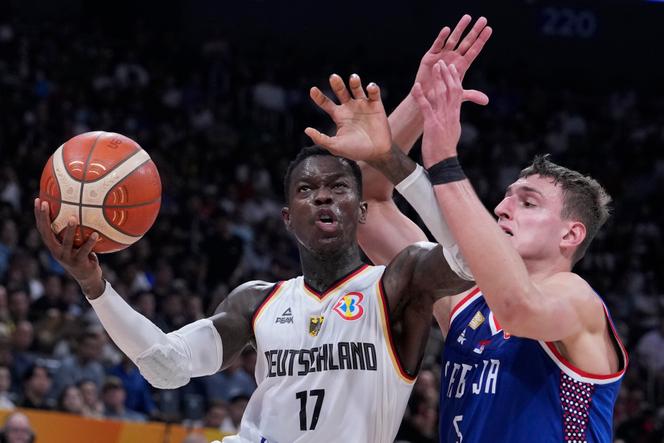 Germany was crowned basketball world champion for the first time in its history after its victory in the final against Serbia (83-77) on Sunday at the Mall of Asia Arena in Manila.
The Mannschaft, bronze medalist in 2002 with their star Dirk Nowitzki, also won their second title after Euro 1993. Led by Dennis Schröder (28 points, including his team's last five), they made the difference in the third quarter-time (won 22 to 10), at the end of which they led 69 to 57. In this 100% European final, the first since Spain-Greece in 2006, the Germans however had to resist the return of the Serbs until the last minute of the match.
Schröder, penetrating the Serbian racket 22 seconds from the buzzer then scoring his two free throws, completed the German success. The next leader of the Toronto Raptors was voted best player (MVP) of the competition.
"A three-year project"
The Mannschaft was also able to count on the 19 points of its winger Franz Wagner, relieved at the start of the match of his regular defender Ognjen Dobric (injured an ankle after 2 minutes of play).
Germany's world crowning, achieved without losing a single match, even in the group stage, confirms the reconstruction work carried out since post-Nowitzki and extends a successful Euro 2022 at home, with a third place, then Germany's best result since 2005 (Euro final).
In the semi-final, Friday in Manielle, the Germans created a sensation by eliminating the United States (113-111), favorites as in every international competition thanks to their battalion of players from the North American professional championship (NBA).
"We are committed to a three-year project. This is the second year. My players take care of each other, fight for each other. This group is special" underlined the experienced Canadian coach of Germany Gordon Herbert, 64, before the final.