Giroud "Benjamin Button", icy atmosphere… Favorites and scratches from our special correspondents after France-Australia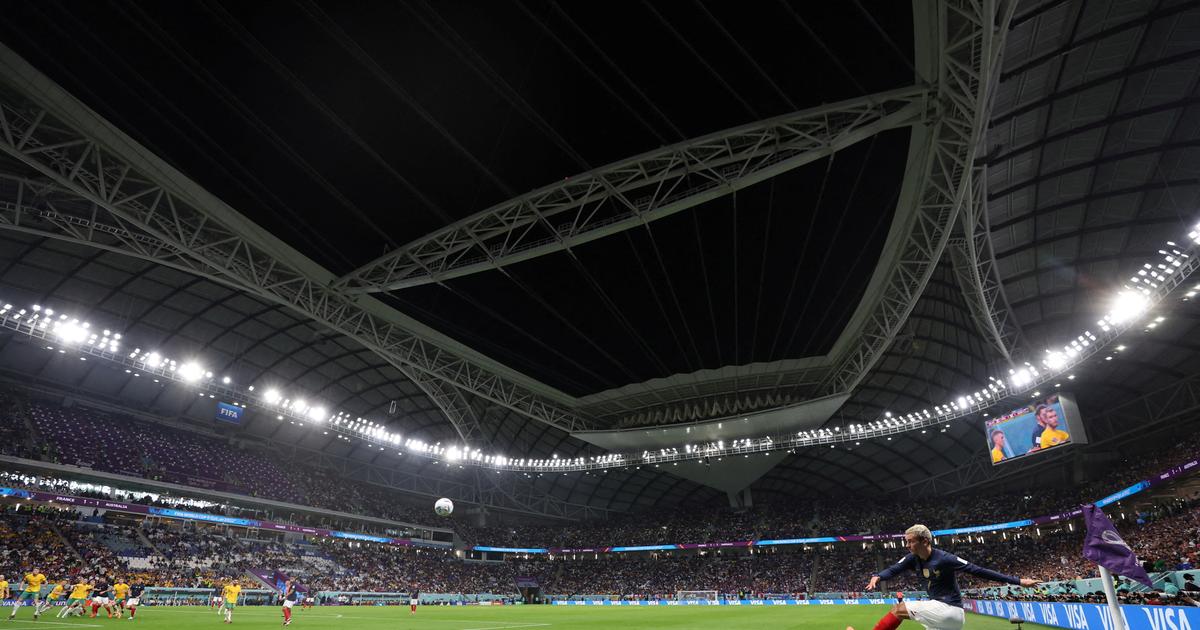 DECRYPTION – Find the impressions of our journalists, Christophe Remise and Baptiste Desprez, present Tuesday evening during the success of the Blues against Australia (4-1).
Special envoys to Al-Wakrah
FAVORITES
Mbappé assumes his status
As Olivier Giroud reminds us, "in the France team, the star is the team". Yes, but the boss is Kylian Mbappé. And even more after the packages that have been raining on the Blues for several weeks (see elsewhere). And the Parisian fully assumed his status on Tuesday at the Al-Janoub stadium, in the 4-1 win over Australia. It's not his best match, he was sometimes rough, a little too greedy or simply not successful. But the detonator is him. In all good shots, he put the Australian right-back through an ordeal. And he is involved in the last three goals of the French team, with this small heel on the second, it is he who scores the third and again he who offers the fourth to Olivier Giroud (see elsewhere). Not perfect but essential.
Read alsoThe notes of the Blues against Australia: Mbappé as boss, Giroud in history
Olivier Giroud or Benjamin Button?
What more can I say that hasn't already been written? At 36, Olivier Giroud has the physique of a 20-year-old kid, a body cut like a billhook, abs that would make any bodybuilder green and above all, a mind of madness. In three days, he went from substitute status to starter with Benzema's package, no problem. Two goals against Australia, i.e. his 50th and 51st, which bring him to the same level as Thierry Henry in the ranking of the top scorers of the selection. Prodigious. Last step before taking the throne alone on Saturday after a new achievement against Denmark? Beyond his statistics, the Milanese made Giroud in the text. Altruistic, decisive, precious. With him, the Blues know what to expect. Oliver Button. Benjamin Giroud. Younger than ever.
Read also"Titi, watch out, I'm coming!" : Giroud's nice message to Henry after equaling him against Australia
The hinge has taken its marks
They know each other by heart having played together for three years in Leipzig, but nothing replaces the high international level. Tuesday evening, even if the adversity was not there, Dayot Upamecano and Ibrahima Konaté made a clean copy. Serious. Solid. Special mention for the Bayern defender, seen in difficulty for his matches in Blue and who seems to have gained confidence. There remains one question: to confirm against a competitor of better caliber. From Saturday against Denmark?
CLAW STRIKES
The jinx of the Blues
Above all, do not try to prank Didier Deschamps on the usual pet that accompanies him, humorously, in recent years. The coach might look at you meanly. It must be said that with the "serious" injury of Lucas Hernandez, hit in the knee in the 9th minute against Australia on Tuesday evening, and package for the rest of the competition, "DD" is tired of seeing elements join a saturated infirmary. "It's starting to get a lot», plague Hugo Lloris.
Read alsoWorld Cup: Lucas Hernandez forfeits the World Cup, the slaughter continues at the Blues
After Pogba, Kanté, Maignan, Kimpembe, Nkunku and Benzema, the Munich player joins the infirmary. His brother Theo is fit to replace him, but behind there will no longer be a specialist for the position. And we saw during the last Euro (injury of Lucas and Digne) that the bad luck could continue. More than ever, with this new blow of bamboo, the world champions are engaged in a huge commando operation in Qatar. "It's a new blow but we have to keep moving forward, look ahead and this should unite us even more"Summarizes Captain Lloris.
atmosphere of death
After attending the draw between Tunisia and Denmark (0-0) earlier in the day, a match played in a boiling atmosphere with Tunisian fans on fire, hard not to be struck by the lack of atmosphere at the Al-Janoub stadium for France-Australia. A few clappings,Go Blueshere and there, "i". Nothing too fancy, nor very exciting. However, there were significantly more blue jerseys than yellow ones in the stands.
Read alsoThe Mbappé-Giroud festival, the Hernandez concern, the Australian air conditioning … Deschamps' words after the Blues card
Very low Australia
We are not going to be choosy: after all their glitches, we take a 4-1 victory for these cursed Blues. Nevertheless, it is good to note that Australia is not really a cador. Weak, very weak. This invites not to ignite after this meeting because the French will quickly be confronted with a tougher opposition. From Saturday, with this duel against Denmark. Even Tunisia seems a step above this Australian team which showed nothing after a good first quarter of an hour.