Giroud's cool message to Henry after leveling him against Australia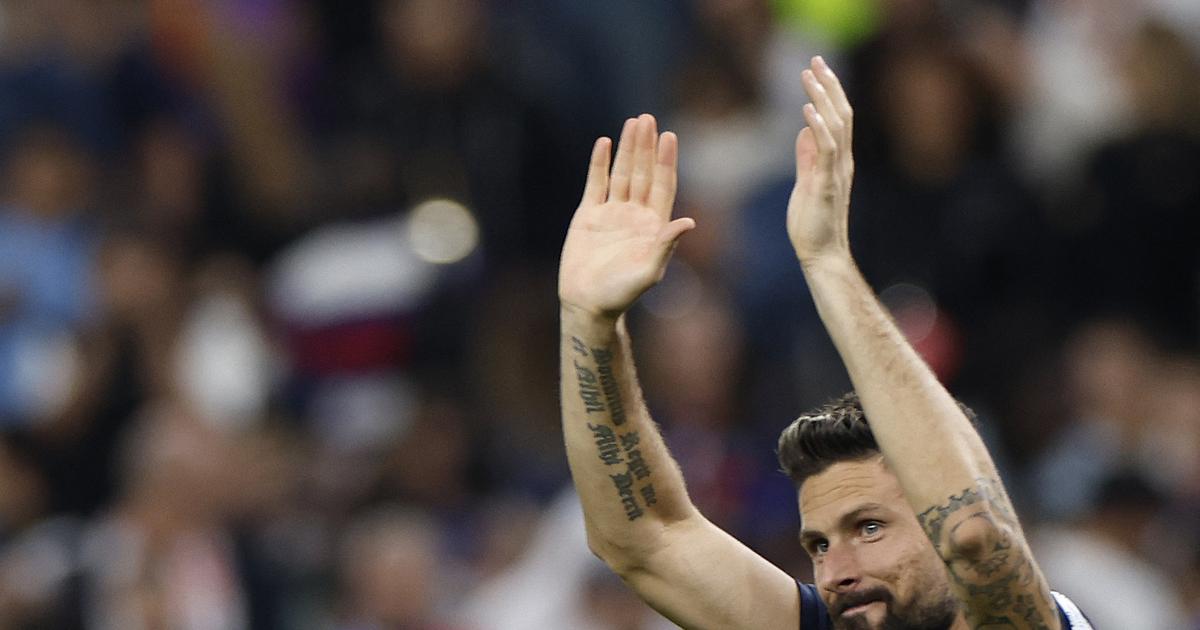 The Blues striker looks back on his double, Thierry Henry's record equaled and of course the 4-1 victory against Australia on Tuesday at the Al-Janoub stadium.
Special Envoy to Qatar,
"I don't like talking about myself". Team player par excellence, Olivier Giroud had to force his nature after his double against Australia (4-1) on Tuesday. Two goals which make him the co-top scorer of the France team tied with a certain Thierry Henry.
The game : "We started the competition very well. It was important to win that first match. We didn't start the match in the best way but we showed character. It was important. (…) We are sad for Lucas (Hernandez). He was injured on goal. We shouldn't have been surprised at the start of the match. We know the Australian players, they played well at the start. The most important thing is to have reacted immediately.»
Read alsoThe notes of the Blues against Australia: Mbappé as boss, Giroud in history
No goals in 2018, already two in 2022 : "I try to bring what I can to the team. When I have the chance, I try to shake the nets. This time I couldn't miss because I had great balls. In 2018, I didn't have as many chances as I could hope for. It was a different game in that sense. It's good for the confidence for the next game."
Thierry Henry's record equaled : "It is a great pride, an honor. Being at his side in the France team, after these 11 years, I measure all the work done and the superb teams in which I played in the France team. It's a collective work, I try to finish the work of the guys and tonight, we found each other well. (…) Honestly, it's a goal that I keep in the back of my mind but that doesn't inhibit him in the field. I think above all about what I have to do and help the team win matches. My personal case goes after. When I receive good balls in the area I try to put them into practice as I know how to do. Tonight, I had the opportunity. It's good for me and for the team.»
Five goals since March in Blue : "Since I was called back, I had a strong desire to show that I am 200% with the France team. The coach gave me this opportunity and I took it. It's important to be present in the important moments and that's part of it. I hope we will continue like this all together.»
Message to Thierry Henry : "I'm sure he's already written to me, we like to sleep. Titi, watch out, I'm coming!»
Read alsoWorld Cup: no heat stroke for the Blues, easy winners of Australia
Antoine Griezmann and his positioning : "It was different, that's for sure. We had to find our bearings without the ball. These are automatisms to find, communicate well to hinder the opponents' ball exits. When you have the ball it doesn't change much from before, it wanders on the front of the attack and in the middle. These are above all automatisms to be found without the ball. At the start of the match, we were out of step and that allowed the Australians to find passes between the lines a little more easily. These are small things to adjust but Antoine is a midfielder at heart, with a sense of sacrifice and a high volume of play. It's a position he can take on completely.."
The star in the France team is the team, our solidarity, our cohesion.

Olivier Giroud
From substitute at the start of the rally to potential holder and savior : "I don't have this idea of ​​a savior. The star in the France team is the team, our solidarity, our cohesion. If I can bring my stone to the building, it is with great pleasure! When you are a competitor, you are very happy in a group like this but even more so when you are on the field. And when you have the chance to be on the pitch, the minimum is to show your satisfaction and give everything for this team.»
pivot gang : "What is that ? (He is reminded of this term used by Kylian Mbappé on social networks in order to mark his dissatisfaction with his use at PSG) I did not know. Excuse me (smile) I am an attacker who plays pivot, deflection, fulcrum. A "target man" as they say in England. Kylian knows the qualities I know his. Everyone has their role. Pivot gang, let's go!»
Comments collected in the mixed zone
World Cup: strong images of France-Australia