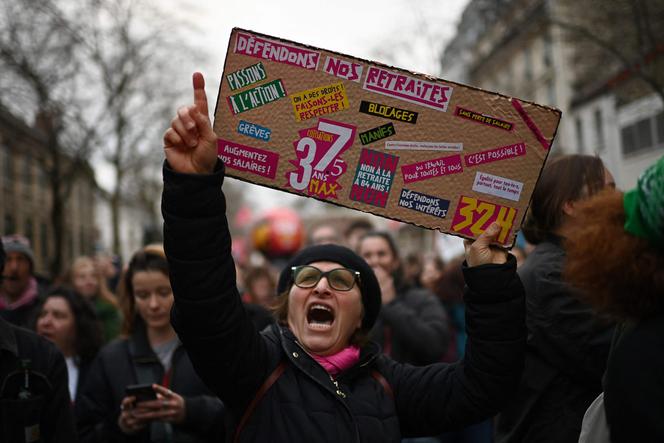 The authorities counted 368,000 demonstrators (more than a million according to the unions) marching against the pension reform on Saturday March 11. four days later the record attendance recorded on Tuesday in mainland France, where the various processions had gathered between 1.28 million and 3.5 million people, this seventh day of mobilization will therefore have had one of the lowest turnouts since the beginning of the movement. On the eve of a new social round, should we see a loss of breath in the protest against a government deaf to the demands of the street? Or the announcement of a metamorphosis in the expression of discontent? Without excluding a rebound in mobilization, Karel Yon, sociologist and researcher at the CNRS, is considering a "diversification of the forms of protest, with actions punches, symbolic, which rely on small handfuls of activists more committed than the others. »
How to interpret the significant drop in mobilization on Saturday, a few days after the record figures recorded on Tuesday?
We actually observed a very significant drop in mobilization on Saturday. No doubt that a lot of hopes were placed around the slogan of the intersyndicale which was to "bring France to a standstill". Even if the strike movement was very clear in certain sectors (where it is sometimes still in progress), one can imagine that there was a little disappointment among some of the demonstrators who had been able to have a maximalist reading of this word of order. There was indeed an ambiguity between those who interpreted it as a call to "block the country" and generalize the strike and others who saw it above all as a symbolic protest, for example by inviting shopkeepers to lower their curtains during a demonstration.
The strength and intelligence of the intersyndicale so far have been to keep its unity, and to allow two visions to coexist harmoniously. We have, on the one hand, a tactic of calling for citizen mobilization, with the questioning of the public authorities, which involves major demonstrations. Saturday's day of action falls within this framework. And a trade union tactic, of more wage mobilization, which is based on the ability to block the country economically. Finally, the citizen tactic works well to show that there are people in the street. It made it possible to win the battle of opinion. But the wage battle depends on the movement in companies which is proving more difficult to register over time.
You have 64.14% of this article left to read. The following is for subscribers only.