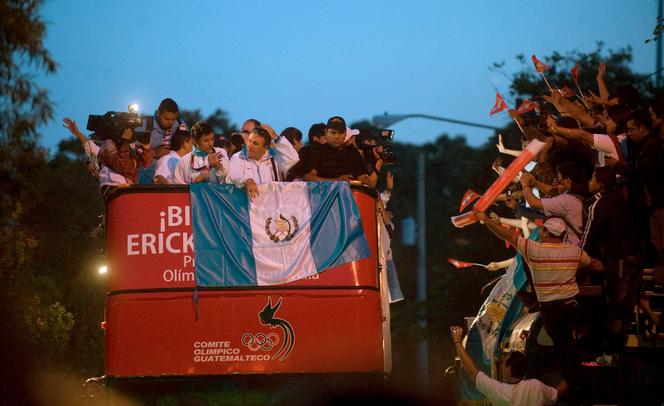 Returning to his country after winning the silver medal in the 20 km at the London Olympic Games in 2012, walker Erick Barrondo was taken aback: of the 17 million inhabitants of Guatemala, almost one million people came to cheer him in the streets of the capital. Finding its way with difficulty through the compact crowd, the convoy of the Olympic delegation had taken six hours to cover the nine kilometers which separate the airport from Place de la Constitution. "People had a reason to be proud of being Guatemalans"he remembers.
His podium in the United Kingdom also marked his revenge on a youth harmed by poverty, which he spent in the Mayan community of Alta Verapaz (in the north of the country). "My life was extremely limited, we often only ate twice a day. During qualifying for the 2011 World Championships in Korea, I slept under a bridge for five days"he says. "Here, if you want to change your life, get out of poverty, help your family and write your name in history, sport is one of the only paths"supports Erick Barrondo, who is, to date, the only Olympic medalist from Guatemala.
And it risks remaining that way for a little longer… Like Russia and Belarus, the small Central American country was not invited by the International Olympic Committee (IOC) to participate in the Paris 2024 Games. But unlike the latter, ostracized due to the war in Ukrainehis case has nothing geopolitical: it is only the consequence of a grotesque legal battle between two former athletes for the presidency of the Guatemalan national Olympic committee (COG).
A hammer blow for athletes
The case dates back to 2021, when the Electoral Court of Federated Sport – the judicial body responsible for elections in the sporting sector – refused Gerardo Aguirre, ex-softball player, to run for a third consecutive term at the head of the COG. The footballer Jorge Rodas, alone in the running after his rival was sidelined, ended up being designated president but obtaining only nine votes out of forty-eight. Gerardo Aguirre, determined to keep his position, voted for a modification of the statutes of the national committee in order to remain in power. After two years of legal action, the country's Constitutional Court annulled the said statutes and validated the election of Jorge Rodas.
The former softball player then contacted the IOC, accusing the government of having violated the principle of autonomy of sport and, in doing so, of having flouted the Olympic charter. After two warnings, the body based in Lausanne (Switzerland) suspended the COG on October 15, 2022. The Guatemalan delegations were then deprived of the Central American, Pan American and Olympic Games. And the international committee stops granting its funding to the national committee (to the tune of 1.2 million dollars annually, approximately 1.1 million euros), until "the parties find an acceptable solution".
You have 52.79% of this article left to read. The rest is reserved for subscribers.