Hannah O'Neill and Marc Moreau, two new stars at the Paris Opera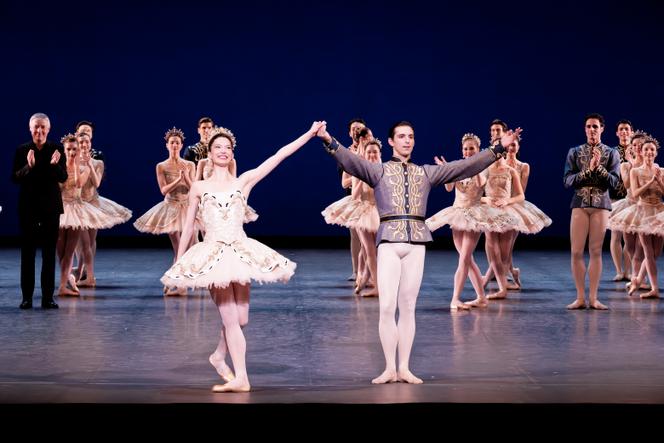 And one, and two! Astral Doublette, Thursday March 2, at the Palais Garnier, in Paris. Distributed in imperial ballet, by George Balanchine, principal dancers Hannah O'Neill and Marc Moreau were crowned stars of the Paris Opera together. A rarity in a context where, with a few exceptions, appointment to the institution's highest rank distinguishes a single performer. And that's what viewers first believed.
When Alexander Neef, house manager, and José Martinez, dance director, emerged from the wings at the end of the play as is tradition, they first announced that Hannah O'Neill, 30 , had taken down her tiara, to the applause of the public. And it was in a second salvo that Marc Moreau, 36, was also crowned. Emotional overdose for a special evening that salutes the talent and perseverance of these two remarkable artists.
"I no longer believed in it too much and was beginning to make up my mind, says Marc Moreau. But becoming a star is the goal of a lifetime and I kept this idea in the back of my mind. I put a lot of pressure on myself to achieve this goal. I feel happy and relieved. » As for Hannah O'Neill, who had accepted, at the request of José Martinez, to replace an interpreter who had gone on tour in Korea, she also waited for this moment. Promoted to first dancer in 2016, here she is finally seven years later – a fairly long period of time in the context – who joins the starred female team. "It was a total surprise, she exclaims. I had less frustration than when I was younger but I've been dreaming about it for so long…"
Rich and varied course
Of Japanese origin by her mother and New Zealander by her father, Hannah O'Neill, born in 1973 in Tokyo, took her first lessons very young, at the age of 3. She then studied at the Kishibe Ballet Studio, from 1998 to 2007, then at the Australian Ballet School, in 2008. A year later, she won the Prix de Lausanne, then the Youth America Grand Prix. She passes the competition to enter the corps de ballet of the Parisian troupe, where she is hired in 2013. She is 20 years old and quickly climbs in the hierarchy. His career, rich and varied, swings between classic and contemporary, Swan Lakeby Rudolf Nureyev, body and soulCanadian Crystal Pite, or The Art of Not Looking Backby Hofesh Shechter.
A honed talent who knows how to chisel the slightest of his appearances. Remembering his masterful presence in the 2022 revival of Carmen, by Mats Ek, where she took on with determination the role, difficult because constrained and hard, of M., the fiancée of Don José, whose silhouette, broken in two, tried to counter fate. "Mats Ek taught me that it is truth and simplicity that count in an interpretation, she says. It's something I will never forget. »
You have 27.49% of this article left to read. The following is for subscribers only.