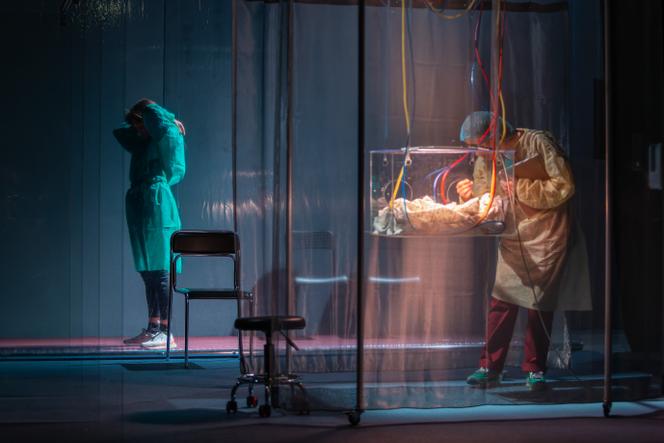 This is the story of Mona, who returns to the place where her son, Solal, was saved. A pediatric intensive care unit after heart surgery. It is no coincidence that she is sitting in the middle of the audience at the start of the show when she says to Selma, the nurse on duty – during a break, she is having dinner: "How do you experience your work? » The viewer is already on board.
Daniela Labbé Cabrera, author and director of Heart lung, also delves into his past through Mona. At birth, her little boy had to undergo open heart surgery which saved his life. So she experienced this "world apart"she says, "the limbo where the duel between life and death is played out, a reign of suffering but also of victories, a space of care and repair". That was in 2018. A few years later, she decided to return to this service and conduct a survey of caregivers and families and then write a play on repair.
On the border between documentary and fiction, between past and present, it mixes the words of caregivers and parents to the rhythm of sounds, machines and heartbeats. And to the rhythm of his meetings with the nurses, the cardiologist, the anesthesiologist, without forgetting the surgeon, music lover and a little gruff. We see the "caregiver ballet"who p the baton, attempt to repair hearts – projected elsewhere on screens – as organs, but also as "symbolic places of love and courage", describes Daniela Labbé Cabrera. Those of patients, of course, children, but also those of parents and caregivers.
Fifteen characters
They work day and night around a sleeping child, fighting for his life, just like his parents, who want at all costs to bring their child back from limbo. There is little room for joy. Fortunately, Solal's grandmother, incredible Anne-Elodie Sorlin, a ball of energy, improvises as a magician, gospel singer… "One of the most beautiful things in life is musicshe said to her grandson, you don't speak yet, but you understand music. »
In this separate world, outside of time, where death rubs shoulders with life, music emerges, and acts as much as words, as a sort of repair of hearts. We hear Violaine, the nurse, playing a prelude by Johann Sebastian Bach on the piano. A suspended moment.
Apart from the surgeon, played by a single actor, the four others exchange their roles, sometimes Solal's family, sometimes caregivers. In total, they play fifteen characters. Daniela Labbé Cabrera does not omit the hospital crisis, the lack of beds, and the strategies for not refusing a baby who needs emergency surgery. Written with the playwright Youness Anzane, the direction by Daniela Labbé Cabrera is moving, because this show, a sort of waking dream, places humans at the center.
You have 5% of this article left to read. The rest is reserved for subscribers.