How pedestrians invade cities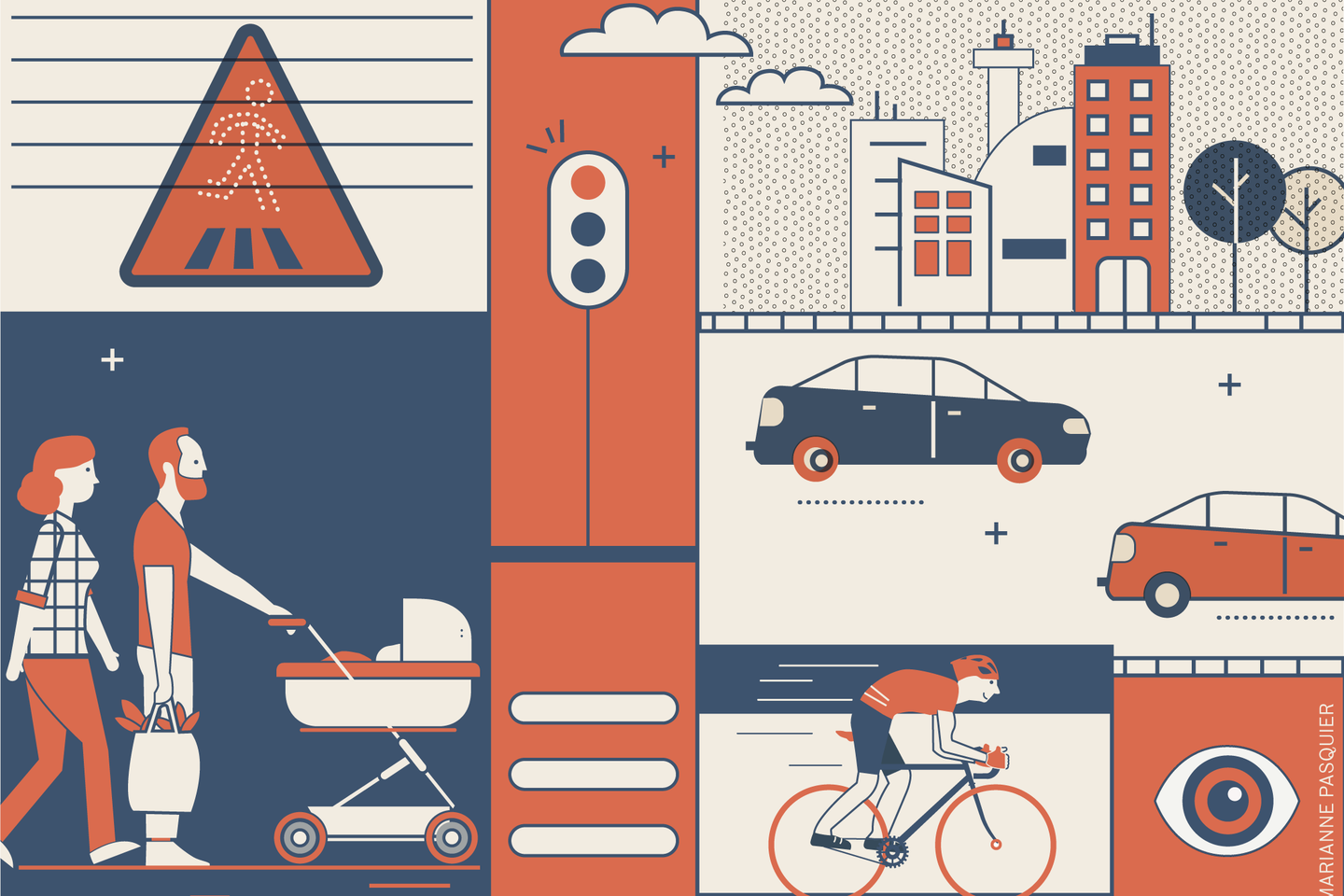 On foot, by bike, by public transport, by car or by train. What does French mobility look like? And what can they do fifteen minutes from home? On the occasion of European Mobility Week, "The World Cities" went out into the field to meet users and experts. Reports and investigations to be found in podcast and in writing in the series "A quarter of an hour in town". First episode of this dossier: walking.
"A bakery, a grocery store, a medical analysis laboratory, pharmacies, the train station, and above all my workplace! » Within a fifteen-minute walk around his home, Julien Serrano finds just about everything he needs. "In each of the cities in which I have lived, Avignon, Montpellier, Nice and now Besançon, I have always worked fifteen or twenty minutes from home. » This proximity has a price, which this man in his forties, long time department manager at Virgin Megastore, gladly accepts: everywhere, we had to live in an apartment, and not in a house.
Traveling on foot has one advantage: "I use my car very little. It only serves me for shopping at the hypermarket, cheaper than convenience stores. Even before fuel prices rose, I only filled up once every three months. »
In Besançon, like others in Lyon or Bordeaux, Julien Serrano enjoys the "quarter-hour city", term imagined from the beginning of the XXe century by American urban planners to define a city in which most of the urban functions would be accessible without constraint. The concept, brought up to date, now appeals to elected officials in large cities, promising them services and local shops and social interactions. The quarter-hour city projects a reassuring image of quiet, village existence, far removed from the traits usually associated with megalopolises – frenzy, noise, hours lost in traffic jams.
Anxiogenic crossroads
Despite the obvious advantages of walking in terms of public health and its remarkable energy efficiency, pedestrians are confronted with numerous obstacles, especially when holding a stroller or pulling a suitcase. Everyone has experienced the narrow sidewalk, privatized by terraces, amputated by an advertising sign, diminished by an electrical cabinet or a charging station, squatted by parked scooters. There are countless anxiety-provoking intersections to be crossed twice, poorly lit passages, the untimely honking of motorists, cyclists riding on the sidewalk.
Women, who walk more than men, feel more vulnerable
These difficulties accentuate gender inequalities. Women, who walk more than men, feel more vulnerable. "In the evening, in town, you sometimes have to make long detours, not rely on shortcuts and avoid waiting at bus stops. All of this involves an exhausting series of decisions.says Leslie Kern in Feminist city. Field Notes (Les Editions du Remue-ménage, 250 pages, 16 euros).
Municipalities can no longer remain indifferent. Since the creation of the first pedestrian way in France, rue du Gros-Horloge in Rouen, narrated by The world in September 1971, the walker gains a few steps each year. With the first confinement, the movement accelerated. In Nantes, the summer pedestrianization of certain streets in the city center has become permanent, and other lanes are reserved for pedestrians in the evening. Montpellier has widened its pedestrian core and limited crossing traffic. Paris multiplies the "school streets" in order to secure the path of children. Lyon is preparing to create an entirely pedestrian axis on the left bank of the Rhône. Grenoble has set up a "limited traffic zone" on a central boulevard, where the only motorized vehicles authorized are those of residents, traders and delivery people. This summer, for a few weeks, Strasbourg transformed its Place du Temple-Neuf, a stone's throw from the cathedral, into a cultural place, while Toulouse pedestrianized the Saint-Pierre bridge over the Garonne.
Battle around the sidewalks
But, apart from the historic hearts of the metropolises, and the summer period, the walker still struggles to be heard. "It's impractical! »plague Félix Martin-Moral, who lives in the Lalande district, north of Toulouse. "A few months ago, along a wide avenue where cars drive very fast, the sidewalks were even leveled to create a bus lane! », he laments. In Besançon, testifies Julien Serrano, " [s]his father, who has vision problems, avoids bumpy sidewalks and prefers the pavement, because it is smoother".
The march remains nonetheless, according to the data and statistical studies department of the Ministry of Ecological Transition, "the second mode of travel" in France, behind the car and in front of public transport. In large cities, 26% of trips, all journeys combined, are made on foot and, in Ile-de-France, this proportion reaches 38%. Walking even breaks records in Paris, an extremely dense city, where 79% of trips for shopping are made on foot, according to the city's travel report.
Are we going to let ourselves be pushed around for much longer? In Orléans, rue Landreloup, in a residential area, "had been redeveloped in 2019. But local residents complained about the removal of parking spaces"testifies Annick Loschetter, of the association Law accessibility mobility metropolis Orléans (Dammo). "The city of Orléans hastened to scrap the brand new development and reduce the width of the sidewalks. We immediately filed an appeal., recalling the law: since a decree of January 2007, the width of a sidewalk must not be less than 140 centimeters. The appeal bore fruit sooner than expected: "Now, when a motorist asks the city to facilitate the parking of his vehicle at the expense of a sidewalk, the elected officials answer that they risk legal action"relates Annick Loschetter.
"In residential neighborhoods, people are rebelling, residents are coalescing, especially around schools" Anne Faure, president of Rue de l'avenir
"Now, in residential areas, people are rising up, residents are uniting, especially around schools"comments Anne Faure, president of the association Rue de l'avenir, which promotes, at the national level, "a city that is safer, more united and more pleasant to live in".
Until now, two species of pedestrians cohabited: lovers of hiking, especially gray heads who discover country lanes in groups, and militant city dwellers, quite a few gray heads too, but clearers of sidewalks, keen on urban planning, members of Rue de l'avenir or the Parisian association 60 million pedestrians.
For the first time, in 2020, these two worlds came together in a collective, called Place aux pedestrians, to launch a "Walkable Cities Barometer", an online survey in which everyone was asked to rate the level of comfort of walking. Among the cities with the worst ratings by their inhabitants were the metropolises of the South, as well as Paris and its inner suburbs. The quarter-hour city still has to prove itself.
"A quarter of an hour in town" is a series of World, produced with the support of Toyota on the occasion of European Mobility Week. Article: Olivier Razemon. Podcast: Marjolaine Koch. Computer graphics: Mathilde Costil, Eugénie Dumas, Sylvie Gittus-Pourrias, Marianne Pasquier. Voice-over: Emmanuel Davidenkoff. Directed by: Josefa Lopez, Eyeshot. Proofreading: Isabelle Hennebelle, Laëtitia Van Eeckhout. Publisher: Guillemette Echalier. Correction: Lemonde.fr. Graphic identity: Marianne Pasquier, Mélina Zerbib. Partnership: Sonia Jouneau, Marianne Wachowiak.