How the bicycle becomes the winning asset of medium-sized cities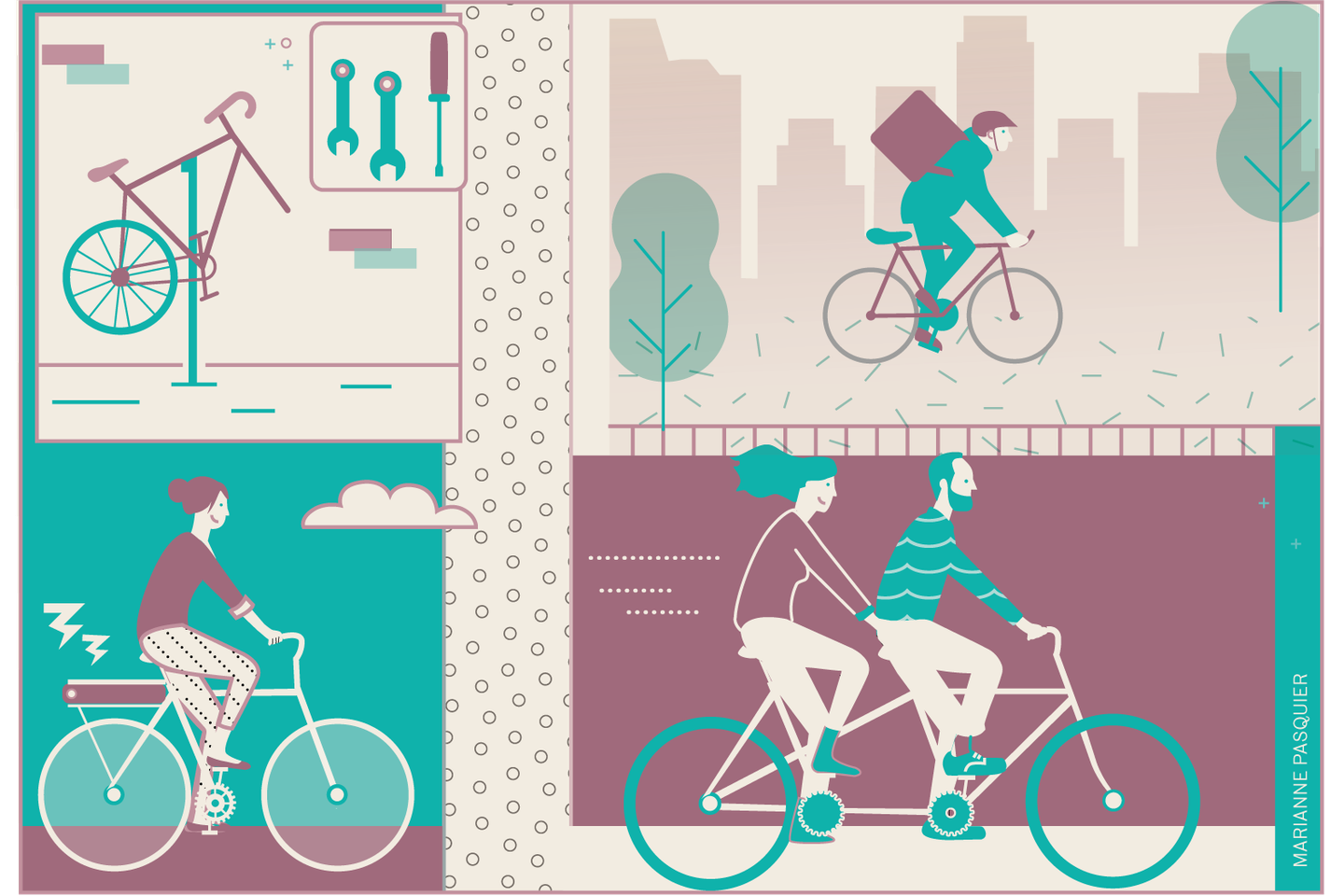 On foot, by bike, by public transport, by car or by train. What does French mobility look like? And what can they do fifteen minutes from home? On the occasion of European Mobility Week, "The World Cities" went out into the field to meet users and experts. Reports and investigations to be found in podcast and in writing in the series "A quarter of an hour in town". Second episode of this dossier: the bicycle.
This is "out of ecological conscience" that, in April 2021, Soizic (who did not wish to give his surname) decided to cycle to work. Eight kilometers morning and evening, twenty-five minutes between his house in Vern-sur-Seiche (Ille-et-Vilaine) and the Sud hospital, in Rennes, "almost every day, summer and winter, often very early in the morning". After a year and a half of this regime, the daily journey has become a pleasure, the one "to be outside, in nature, and to disconnect in the evening"before returning to family life.
Inside the hospital, the electrically assisted bicycle, acquired after a period of rental from the Star bicycle service offered by the metropolis of Rennes, awaits him in "parking secured by video surveillance". And, to explore his residential town of 8,000 inhabitants, Soizic and his family "everything on foot, or with our two classic, non-electric bicycles".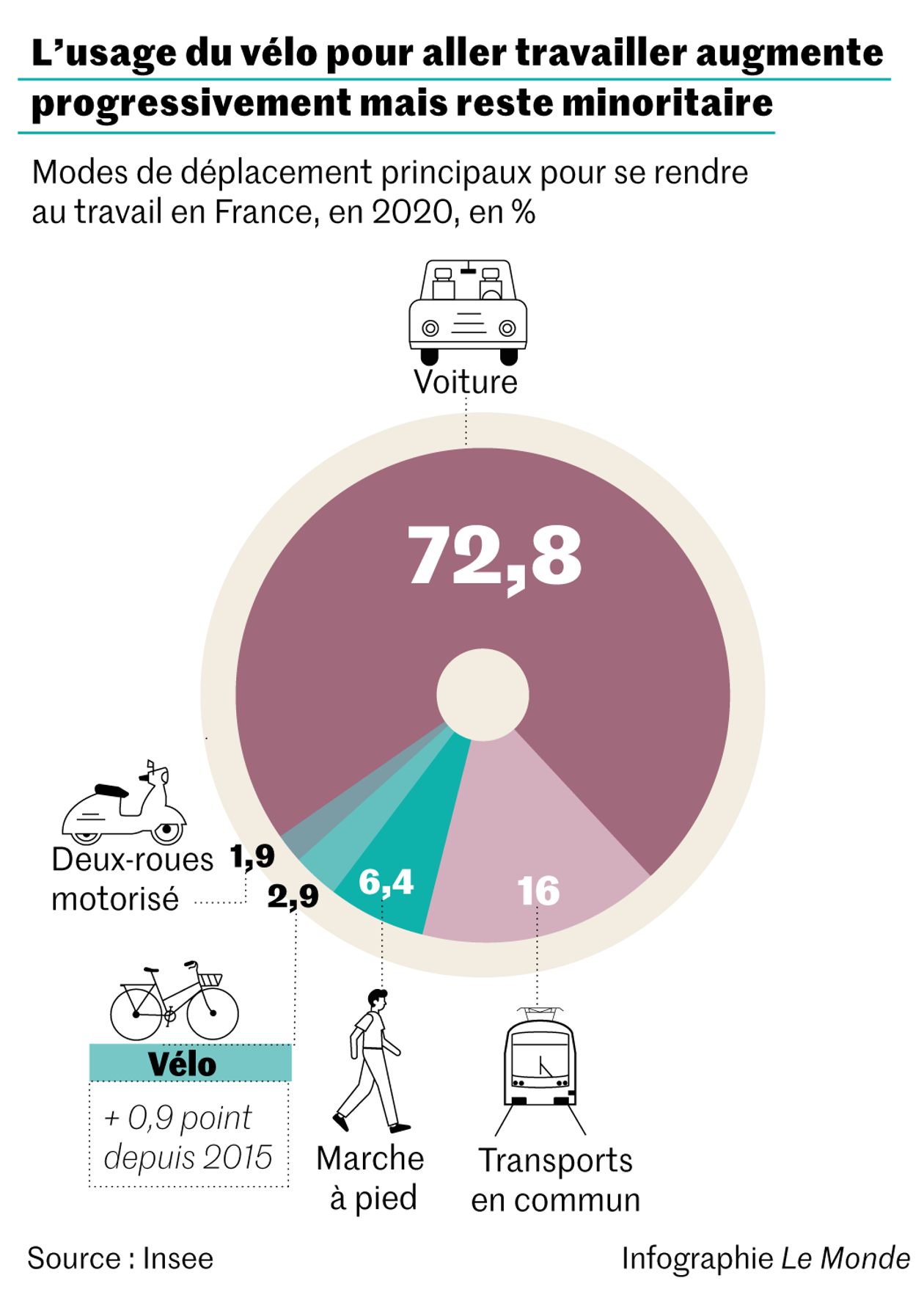 Pedaling is a bit like putting on seven-league boots. Contrary to the distorted vision of Parisian observers focused on the rue de Rivoli, it is less in the hearts of metropolises than in their immediate outskirts, as well as in medium-sized towns, where buses do not pass so often, that the bicycle finds its relevance.
A train station, a shopping center, a high school, located a forty-five minute walk from home, become accessible three times faster when you get there by pedaling. On the handlebars, as if by magic, the "quarter-hour city" – this urban model in which essential services are accessible within fifteen minutes on foot or by bike – reappears in the suburbs, from which it was thought to be excluded. Often associated with a romantic return to slowness, the bicycle thus appears as the instrument of speed.
Train and bicycle, a good hitch
"The potential is enormous"assures the consulting firm BL Evolution, which has produced, based on the distances traveled each day by the French population, a series of maps collected in a study entitled "France 20 minutes away by bike"released earlier this year. "Aiming for 30% of bicycle trips"at the scale of France, against 3 to 4% currently, "would not be utopian"say the consultants.
Thereby, "Almost all primary school students, but also four out of five middle school students and two out of three high school students live less than twenty minutes away by bike" of their establishment. The same calculation was made for hypermarkets, supermarkets, bakeries… The combination of train and bicycle would cover even more needs. In fact, 60% of the inhabitants live "less than twenty minutes by bike from a main train station", defined as a station where many trains stop on a regular basis. In contrast, "reopening stations closed to travelers would only very marginally increase the percentage of the population covered"observe the consultants.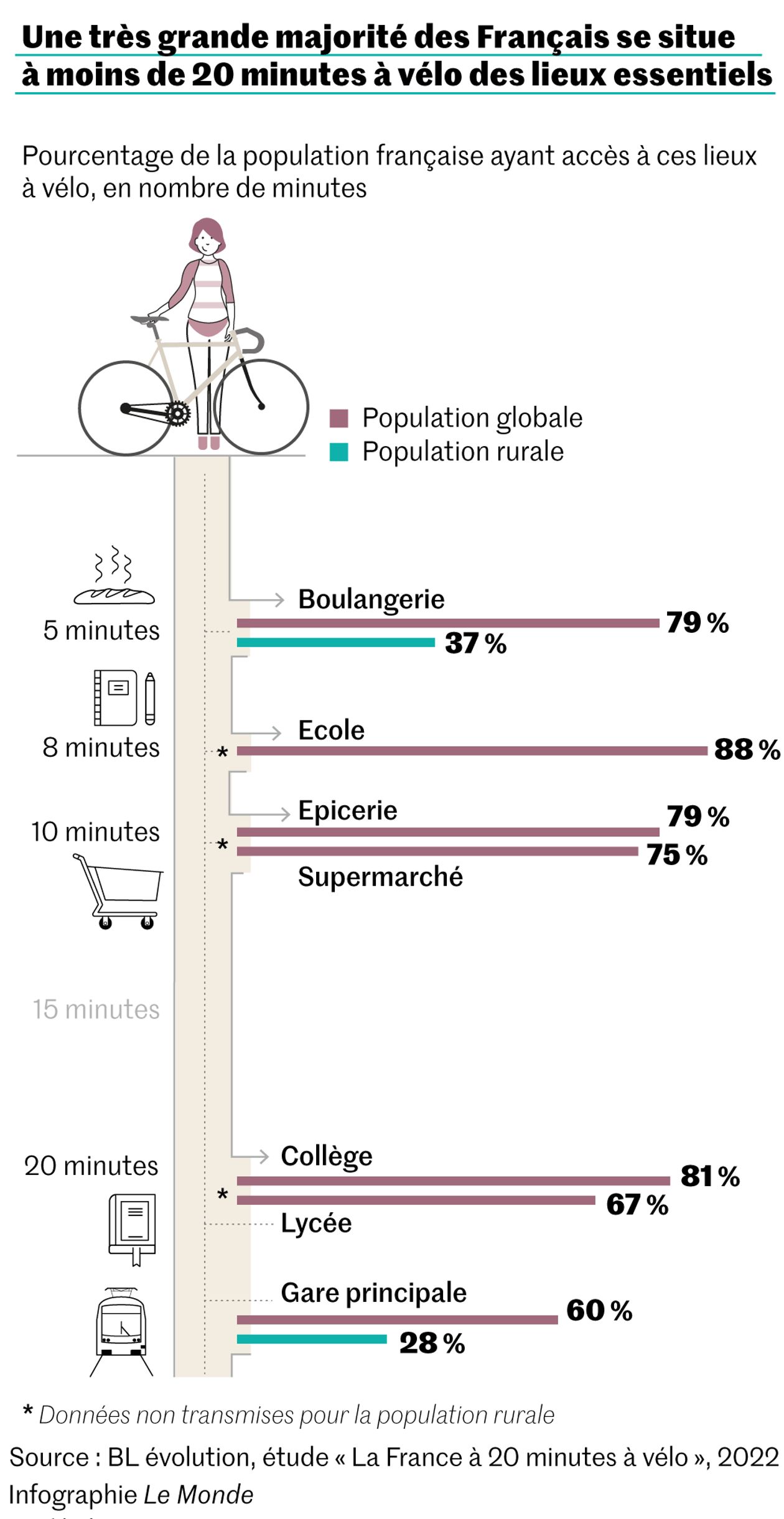 The consulting firm's speech is intended to be reasonable and convincing. "When we discuss with local authorities, the ability of the bicycle to cover the territories is the argument that hits the mark"observed the engineer Guillaume Martin, co-author of the study.
Still it would be necessary not to have the feeling to risk its skin. In Vern-sur-Seiche, Soizic can attest to this. "Most of my route takes bike paths or lanes. But along the departmental, very busy, the track is protected only by shrubs. And, arriving in Rennes, I have to cross a roundabout where the speed of the cars impresses me every time"she says.
"Dutch" crossroads
How to secure the journeys? From 2020, a report published by the Directorate General for Enterprise of the Ministry of the Economy recommended doubling the length of cycle facilities, to reach a total of 100,000 kilometres. This effort would require a state investment of 30 euros per year and per inhabitant, instead of around ten euros in 2019, says the French Federation of Bicycle Users (FUB), which recommends "priority target discontinuities, crossings, entrances to agglomerations, small and medium-sized towns".
Far from the "bicycle plans" of the metropolises, highly publicized, the transition is being prepared, quietly, in Soissons (Aisne), Chevilly-Larue (Val-de-Marne), Périgueux (Dordogne) or Châtellerault (Vienne). Charleville-Mézières, an industrial city where the poverty rate reached 28% in 2019, against 15% at the national level, does not pass for a stronghold of "ecological sores". Mayor Boris Ravignon (LR) however had a "mobility master plan" adopted there last November, by local referendum, including a speed limit of 30 kilometers per hour for most streets and the construction of facilities cycle paths. Less than a year later, "Work on the main axes is in progress, and the city will even have four "Dutch" intersections which provide a protected cycle lane all around the roundabout"explains Antoine Pérardelle, president of the local association Ma ville à vélo 08.
The rise of the bicycle, adorned with its ecological and social virtues, is driven by an influential movement. In 2021, the "Barometer of cycling cities", a national survey designed by the FUB, recorded 270,000 responses, compared to 113,000 in 2017. To have more influence in the political debate, the federations of users and elected officials have created, in February, an "Alliance for cycling" with which they associated the Union sport et cycle, the professional organization of manufacturers and distributors, who rub their hands in observing this new French passion.
New kind of tracks
The movement generates its own debates. Should we transform the banks of rivers and canals, "greenways" conducive to cycle tourism, even if it means pouring bitumen on them? Do bicycles have their place in trains, or rather in stations? Why are the majority of cyclists who ride in cities men, when cycling is meant to be inclusive? This discussion led to the emergence of a concept, "genderless cycle paths", defended in particular by the environmental vice-president of the metropolis of Lyon, Fabien Bagnon. "I no longer refer to it, because it is not understood"now keeps the chosen one.
The conclusion, however, remains the same. On certain cycle routes, which are more anxiety-provoking, men are largely in the majority. The elected official explains this discrepancy by "risk culture", instilled in men. Other courses, more peaceful, attract more women. "They are still the ones who most often take the children to school", observes the chosen one. Therefore, to allow everyone to pedal, Fabien Bagnon recommends "separate cycle paths from general traffic, and better light them". A matter of common sense. In Rennes, Soizic testifies: "At night, on my route, one in two lampposts is out of order. »
"A quarter of an hour in town" is a project of World, produced with the support of Toyota on the occasion of European Mobility Week. Article: Olivier Razemon. Podcast: Marjolaine Koch. Computer graphics: Mathilde Costil, Eugénie Dumas, Sylvie Gittus-Pourrias, Marianne Pasquier. Voice-over: Emmanuel Davidenkoff. Directed by: Josefa Lopez, Eyeshot. Proofreading: Isabelle Hennebelle, Laëtitia Van Eeckhout. Publisher: Guillemette Echalier. Correction: Lemonde.fr. Graphic identity: Marianne Pasquier, Mélina Zerbib. Partnership: Sonia Jouneau, Marianne Wachowiak.