"I have a problem with my image, but I'm getting out of it"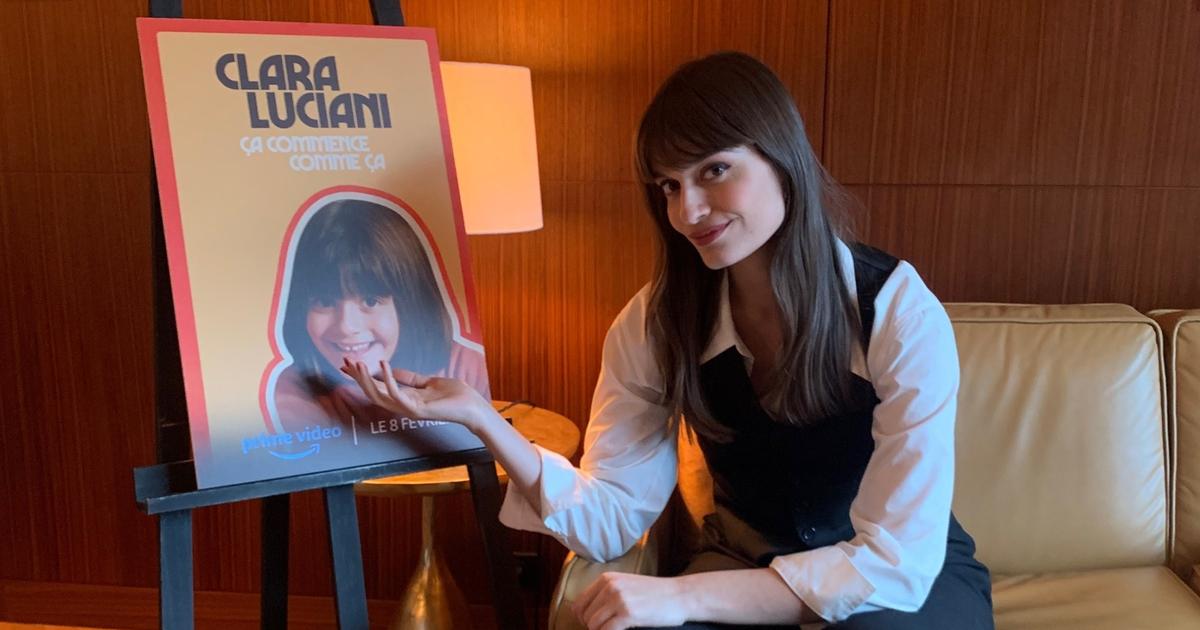 INTERVIEW – The French singer and musician is at the heart of a documentary titled It starts like this broadcast from Wednesday, February 8 on Prime Video. A monster of love.
The unique documentary It starts like this follows Clara Luciani behind the scenes of the development of its second album, Heartwith Ambroise Willaume, his producer and friend in the midst of Covid-19. We rediscover the child who was bothered in the playground because "too big", "too different". She has evolved well and appears to be a sunny 30-year-old young woman. Fully fulfilled? If she shines brightly in her sequined stage costumes, a part of this insecure girl still slumbers within her.
TV MAGAZINE. – Your documentary "it starts like that" comes out today February 8th. How was this project built?
Clara LUCIANI. – It was not an idea on my part, quite simply because I would never have thought that people might be interested in discovering behind the scenes. There was in particular my friend Hugo Clement (co-producer of the documentary alongside Régis Lamanna-Rodat via the company Winter Productions Ed) who had this idea in mind for a while. I met the director, Philippe Lézin, and we got on so well right away that I said to myself "well, if they have a vision, if they see something, why not". And I also quickly understood that it could be a way to tell a very positive story.
Read also"I don't wish my adolescence on anyone": Clara Luciani in tears alongside Frédéric Lopez
What is the message you wanted to convey through this project?
My story is neither more nor less that of the ugly duckling. In a world such as the one we live in right now, it wouldn't hurt to have a little interlude of love and a "success story". That's also what it says. Even if there are obstacles, it's difficult and I'm starting from something a little complicated, in the end it works. I really wanted to convey a message of hope. I would have liked to have this type of testimony when I was 15 and being bullied at school, feeling like I would never get anywhere in life. I tell myself that perhaps this documentary will be watched by other young people and that it will allow them to believe in it in turn. That's really my basic motivation.
The documentary accompanies you over more than 24 months, from the recording of your second album to your concert at the Accor Arena in Paris, including your triumph at the Victoires de la Musique in 2022. How did you experience this cohabitation with the cameras?
I didn't feel like I was in front of a camera, I felt like I was with a friend and I always forgot Philippe (the director's note) so that he was able to capture very intimate moments. For example, there's a moment when we're in the studio and I find the chorus of Breathe again. Well I didn't know he was there. At that moment I said to myself "He's a really good documentary filmmaker" because you have to know how to exploit the space you are given and try to make yourself very small. The shootings were on the go, "Phiphi" was able to film the situations which were, in my opinion, worthy of interest without going into reality TV stuff. He really respected the limits that I set for him and he surrounded me well. He understood that there was really a whole part of my private life that I didn't want to talk about. We are in a generation where people love to show everything they do, everything they experience. From the start, I found it important to delimit. Just because I'm a singer doesn't mean I have to be an influencer.
You manage to keep your privacy intact like a secret garden. Did you have to convince your relatives to participate in this production?
It was very obvious actually. My parents were a little intimidated but they are by this world in general. You see for example when I got my first gold record, I made one in their name and when I gave it to them they were all embarrassed. That's why I like them so much, they don't have an unhealthy relationship at all with this world of fame. They don't care. They had a lot of fun answering questions during the documentary and are proud of the result. It's obviously a documentary about me, but it's also very much a documentary about my family, which talks about our ties.
You say you don't have the shoulders for this job. What makes you think that?
That's what I thought at the time but since I learn. What I meant by that is that I don't have the basic personality to put up with all that. We tend to only see the glitter, but there are plenty of times when it's a job that is extremely violent. I am very sensitive so it is very hard for me. I achieve this thanks to my personal and professional entourage and the love of the public. It really carries me.
Your entourage presents you as "the girl who never loves herself enough". What do you think of this description?
It is true but very contradictory at the same time. I have a problem with my image, but I manage. The fact of talking about it, of explaining why, of decomplexing the thing is important. Basically, I chose to be a singer, not a model, so I didn't see it as a job involving physics and image. It was when I arrived in the reality of my job that I understood that I was going to be confronted with it. As women we are constantly associated with our physique, what we wear, how much we weigh [soupir] and suddenly it pisses me off. [Rires]
Feminism is a theme that is particularly close to your heart. What are the challenges to be met as a female artist in 2023?
For me, it's going to be to stay in time. I have the impression that there is an invisibilization of women after quarantine. For example, the older Benjamin Biolay gets, the more everyone finds him handsome, finds him sexy with his gray hair. Where tomorrow, if I'm his age and decide to leave my gray hair, everyone will be talking about it. And in fact, I will be much less interested. There is a lack of interest in women after forty, it's terrible. I really want to talk about it, I make it a personal fight.
Did this relationship with the camera make you want more projects in this branch?
It would make me laugh to make a film one day. Afterwards, I have the impression that we often offer this to girls who still have the same physique. But I would like to try the experiment, frankly. I don't think I would be very comfortable but I would just like to have fun.



This year I don't need to win

Clara Luciani
You suffer from a neurological disorder called "essential tremor". In 2020, many media have taken hold of this information. Is it a choice on your part not to mention it in the documentary?
I find that we really talk about it a lot in relation to what it is. It's good that we talked about it at some point because there are plenty of people who suffer from this disorder and often we can say "you are shaking because you have been drinking or because you have taken drugs". But to go from there to making a whole subject of it in the documentary is too much. If I had had acne pimples, I would have found it difficult to write a whole chapter about the fact that I have acne.
During the Victoires de la musique 2022, you were convinced of not winning anything. As the 2023 edition approaches, what state of mind are you in? What do you think of this ceremony?
The same but I have a slightly different feeling. This year, I don't need to win. I already received two awards last year and this album has had such a great run, such a great tour… I'm very happy if the Victoires decide to reward other artists and other albums that don't have not yet been. Regarding the ceremony itself, everything is open to criticism. Nothing is ever perfect but I'm not going to spit in the soup insofar as it's a show that gave me very, very great moments of emotion and helped me a lot.
You were godmother of the program "The Artist" distributed by Nagui. Would you like to participate again in this kind of program as a jury?
I don't know. I still feel so new to what I'm doing that it's hard to judge. I myself still feel under construction. Maybe in a few years but there I do not feel the legitimacy. The people who show up on these shows are all talented so I'm a bit embarrassed with that.
What is your relationship to television?
I grew up with it, in the living room with my parents, but I never had one in my bedroom. And since I was an adult and living alone, I've never had a TV. I don't watch it, I'm more on the radio for the news. TV, I feel like I could potentially be addicted, so I prefer not to start. To be completely honest with you lately I haven't had much time to watch anything. It's really been two years that I feel like I'm in a steamroller. There was a lot of work with the tour. There I will soon watch Didier Varrot's documentary on Jane Birkin. I will take the time in the coming weeks.