"I hope the best is yet to come for Paris in 2024"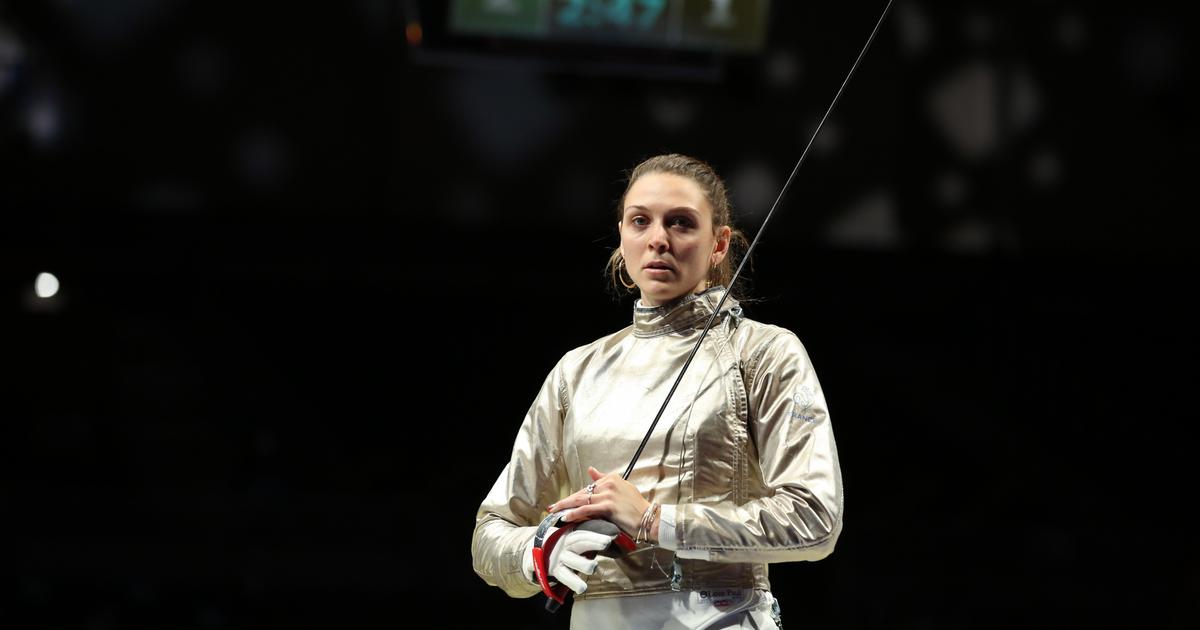 MAINTENANCE - World number 1, change of coach, shoulder injury, onset of depression… The Olympic bronze medalist in saber confides in Le Figaro after a particularly emotional year.
Monday, September 19. Alongside Kévin Mayer, Amandine Buchard and Mandy François-Elie, Manon Apithy-Brunet saw her presence formalized in the Athletes team formed by Bridgestone for the next Olympic Games in Paris in 2024. A logical extension of the brand's commitment with the Olympics, since the tire manufacturer has been a World Olympic partner since 2014 and a Paralympic partner since 2018. For the French saber, bronze medalist in Tokyo in 2021, this partnership comes at a perfect time for her, given the strong choices she did to win gold in Paris in two years. Meet.
Manon, how are you feeling? Is your right shoulder restored?
Manon Apithy-Brunet: It's starting to get better. I took up swordsmanship three months after my operation. The doctors are very happy with the way my shoulder is recovering even if obviously for me it's not going fast enough (smile). Recovery is slow.
Did you have to manage a form of frustration at not having been able to take part in the European Championships, then in the World Championships?
It hasn't been easy, especially since I had surgery just before the European Championships, so I watched all of this on TV before traveling to Cairo for the World Championships to support my husband (Boladé Apithy, swordsman) and the French team directly on site. Even if it wasn't easy on the day of my trials, it still felt good to be there with everyone, to experience it that way.
As a result, you were unable to defend your status as world number 1, which you had acquired shortly before...
Yes, suddenly this status disappeared very quickly since I was just before I injured myself and today I lost a few places (she is 7e from now on). But I will come back...
If we focus on the glass half full, we can say that at the end of the Games, you had piled up confidence with several podiums in the World Cup...
It is certain that having won a medal at the Games (individual bronze), it helped me gain confidence. I've been waiting for it for a long time, whether it's at the Worlds or the Olympics. Nevertheless, when the Games came out, I decided to smash everything by changing training center (Orléans instead of Insep) and above all coach (Christian Bauer Academy now) to try to smash all my habits and look higher. Behind, becoming world number 1 and getting an Olympic partner for the Games, it boosted my confidence.
Was this choice to change matured for a long time or is it more of a whim?
The fact that the most successful saber coach is coming back to France by opening an academy, that made a tilt in my head. From that moment, I wondered if I should go or not. But I was necessarily apprehensive because I had been working with my trainer for eight years. Except that I learned that he was surely going to be fired and then I knew that I had to leave. I just thought it was time.
I was tired of suffering in fact, of having pains all over my body.

Manon Apithy-Brunet
We assume that the mental preparation you follow must also have helped you not to doubt too much, to stress too much...
I did not need a mental trainer to make this choice, nor to accept it. Besides, I also changed it at that time because I might as well change everything. Well no, I didn't change my husband (laughs). There, I work more with a shrink than with a simple mental trainer. Getting back to training so quickly and training harder than before was tough. I felt a strong weariness and I almost thought I was depressed at some point, which led me to see a shrink to put my head back in place. It may seem paradoxical because I had very good results but going to training had become almost painful, not physically, but morally. And I decided to be accompanied until the Paris Games to progress every day.
When did you feel this? Immediately after the Games?
No, right after that was pretty cool. I was happy to go back to training. This bronze medal gave me a boost. But it became more difficult after four or five months. I was tired of suffering in fact, of having pains all over my body. When I said to myself that I had to continue like this for another three years, it seemed unbearable to me.
Wasn't this shoulder injury, in the end, a blessing in disguise in forcing you to take a break?
Anyway, I took it that way. Anyway, I couldn't do anything about it, except push it harder and not have surgery right away to compete in the World Championships. But that would have been very risky. I could have seriously aggravated my injury and suddenly missed the start of the Olympic qualification. It seemed wiser to me to cut everything. And when I say cut everything, I really mean cut everything. I stopped the sport completely. I really rested my whole body, not just my shoulder. Not to mention the head. And there, when I go back to training, I really want to get back to swordsmanship, so it was positive.
To have your husband who also practices the sword helped you? How often do you talk about it at home?
At home, we don't talk about it too much because you have to know how to cut. We already train together so if at home, we debrief all the time… Afterwards, what is certain is that without him I won't be able to do everything I do. Even at the Games in Tokyo, for the anecdote, between my defeat in the semi-finals and the moment of returning to the track for the match for the 3e place, he's the only person who managed to re-motivate me and make me smile. As soon as I have a doubt, I call him. He is my life coach.
Paris 2024 is coming very quickly, but there are still two years left. Would you like it to move faster?
At first, I wanted it to happen very quickly. When I came back from Tokyo and saw this incredible party at the Trocadéro, I said to myself: why not do the Games in Paris tomorrow? (smile) But with this injury and all the changes I've made, I tell myself that I need time and finally I would have liked to have had another three years instead of two.
Financially, having a sponsor such as Bridgestone until the Games should reassure you...
It gives me a huge balance. The fact of having left Insep to take my own trainer meant that I needed money to finance all that. The Insep coach is paid by the French Federation and the ministry, which is not the private structure that is the academy. So my choice is costing me money and Bridgestone's help came at the best time. They will help me progress until the Games in Paris. And I also love this concept of Olympic partner. We train, we hurt ourselves for the result of a day and to have a company that believes in you for this very special day, that helps a lot.
At times, does it put pressure on you to tell yourself that you are doing all this for Paris 2024 and that you must not miss yourselves...
This is also why I see a mental trainer because if I start thinking too much like that, inevitably, I will miss (laughs). So of course, there, it will be in Paris, but I was already under a lot of pressure before Tokyo. I put the pressure on myself, I don't need to have a partner to feel it. I'm already thinking of the Grand Palais, of fencing under this magnificent glass roof...
The Games so far have been rather successful for you, between your revelation in Rio (4th) and the bronze medal in Tokyo…
Yes, it's true. The Games remain fond memories. Admittedly, Rio was very hard to live with after because I dragged this tag of 4th to the Games. But at the same time, that's where I gained self-confidence, that I told myself that I could reach the last four of the greatest competition in fencing. And I hope the best is yet to come for Paris.