"I like the graphic face of Frederick Wiseman, that of a comic book hero"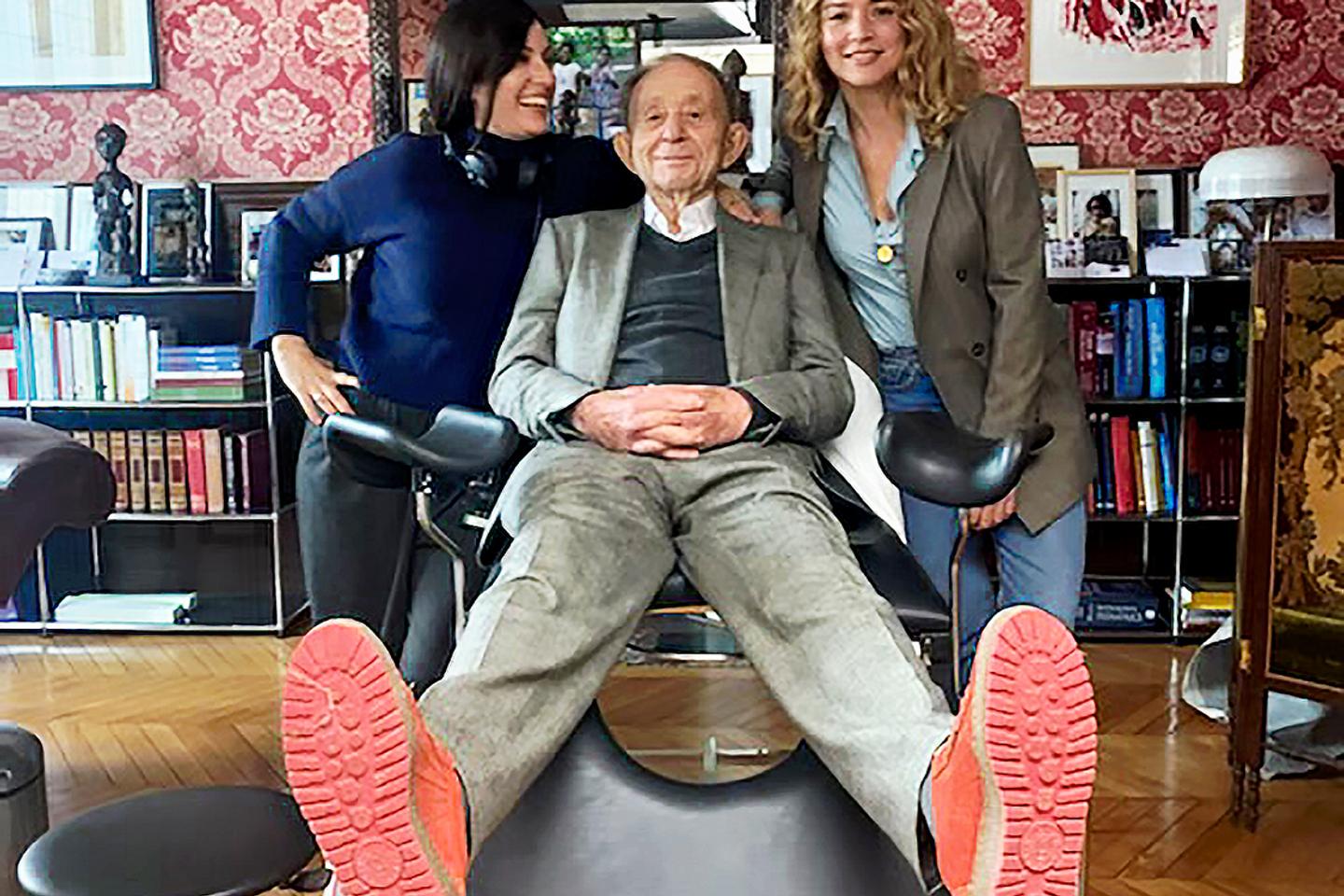 "This photo was taken on the set of my film, in the reproduction of a medical office with, in the center, well installed on the armchair, Frederick Wiseman, who plays a gynecologist, surrounded by Virginie Efira and me.
It's funny because the first time I met Frederick, who is now 92, we talked about shoes. I already knew her cinema very well, having been a documentary lecturer at the University of Lyon, before becoming a director. I loved musical documentaries, those of the Maysles brothers or Jonathan Demme, the films of Robert Kramer or Jean Rouch. Of Wiseman, I of course liked his dives into American institutions and when he was interested in the rich, in department stores, in New York models, in the ski resort of Aspen…
A few years ago, at the Venice Film Festival, I ran into him in the elevator of the Hotel Excelsior. I was in gala dress and shiny shoes; him in all-purpose clothes with practical and comfortable shoes.
I immediately recognized his Yoda face and introduced myself to tell him of my admiration. Embarrassed, he diverts the subject and throws at me: "Nice shoes! » I return the compliment. "Director's Shoes", he replies, pointing to his feet. What I retorted: "Mine are director's shoes too!" » The repartee made him laugh and we sympathized.
In Paris, we saw each other again through mutual friends. He is a young man, open. I know he is a great filmmaker because I know the curiosity he has for the world and for people. One day he asked me where he could ski. I was taken aback: at his age? But I had a plan and so we left together for a weekend in Val-d'Isère. In front of the ski lifts, when buying the passes, the prices were based on age groups. We laughed because, despite his incredible form, he didn't fit into any category!
When I offered him to play in my film, the idea immediately amused him. On the set, he was modest. Facing Virginie, in socks and with her legs apart on the examination table, I saw that he was not used to physical contact with another actor. And then – a peak! – I felt intimidated by the camera. He was perfect for his scenes, key moments that should not be missed, where his character tells the heroine certain truths. I liked his humor, his graphic face that you can clearly see in this photo, that of a comic book hero, and his empathy: I even kept his real name for the character – doctor " wiseman »the "wise man" literally.
When I filmed him doing an ultrasound, I felt that he took pleasure in putting himself in the position of a researcher who would delve into the bowels of a character, he who, in his documentaries, also auscultates his subjects like a doctor. .
At the beginning of September, we ran into each other again at the Mostra. I presented my film, which he appreciated; and him, A couple, his second fiction film in sixty years of career. Finding myself in this way, in the same selection as him, was very moving. I was this student who discovered her work, this lecturer who looked at her films as objects of study, this director who then invited her to her cinema and who now presents her film alongside hers. It is an unforgettable journey of admiration and friendship for me. »
Other people's children (1:43 a.m.), by Rebecca Zlotowski. In theaters September 21.