"I wish I had the power of Jonathan Cohen for an hour or two a day"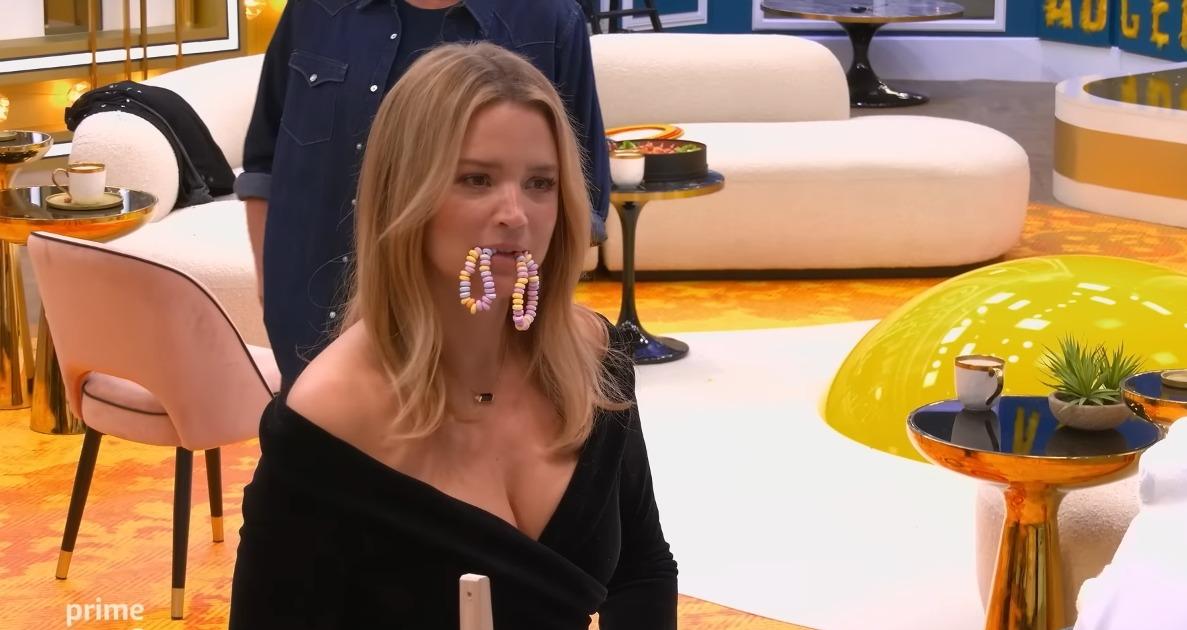 INTERVIEW – The actress, recently Caesarized, is one of the ten personalities who participate in the third season of the Prime Video game.
For the third season of "LOL: who laughs, comes out!" , Prime Video succeeded in bringing together Jonathan Cohen, Leïla Bekhti, Pierre Niney, Géraldine Nakache, Gad Elmaleh, Adèle Exarchopoulos, François Damiens, Laura Felpin, Paul Mirabel and Virginie Efira . The Belgian-French actress, who recently received a César for her role in See Paris again looks back on this experience in which no one expected her, not even herself.
Read also"LOL: who laughs, comes out! », the Pierre Niney revelation
TV MAGAZINE. – How did you end up in "LOL: who laughs, comes out!» ?
Virginie EFIRA. – It was Leïla Bekhti who called me saying: "I think we're going to do 'LOL' with such, such and such a person, it would be great if you came". I answered him : "Yes that would be great but I'm not very funny when there's a group". I can be funny for one or two people but I don't have a technicality of humor that is quite extraordinary, it's the least we can, so I found it odd that they offered me given my reduced abilities.
What made you, despite everything, accept?
I wanted to be with those people. Jonathan Cohen, Gad Elmaleh, Paul Mirabel, Pierre Niney… I projected myself more as a spectator, I was going to be able to enjoy their jokes in an extremely long period of time, I did not think that I would actually be an actress . And while I'm quite a player in life, it made me want to lose so I could really laugh.
You say it yourself in the first episode: you weren't super trained. Nevertheless, were you prepared for the exercise?
You can't prepare for that, you can imagine that you're not going to do a "I've got you, you've got me by the goatee" contest. There is only in Borat where we see a professor of humor. There was no preparation but I would say a lot of recklessness, something presumptuous on my part to believe that it could be okay. How could I have believed that I would have an ease in such a show?
Read alsoCasting, filming, preparation… Everything you need to know about "LOL: who laughs, comes out!" »
However, you did pretty well…
Not inside myself anyway. I couldn't manage to reconcile the double movement which is to refrain from laughing, to be prevented from a form of spontaneity, and at the same time to have to make people laugh. I was completely stuck.
In the cast, there are big names in humor. Weren't you afraid of having to face them?
I hadn't thought of that before, luckily otherwise I wouldn't have done it. I thought too much like a spectator.



"Seeing everyone scatter, I discovered a mental asylum side that I had not considered"

Virginie Efira in "LOL: who laughs, comes out!" on Prime Video
You knew some of your opponents. Was it an advantage or a weakness?
François Damiens, it's an advantage because I'm used to his humor so I'm less disconcerted. I know him and when we meet, I do the same as him. Leïla, it scared me a little because I know her well in real life and I said to myself if she reproduces things we do between us or uses elements of private life, that could make me leave. Jonathan Cohen, it's a bit like all of France, as soon as he makes a half-joke, I'm on the floor. I don't know, he has a power that I wish I had for an hour or two a day.
What was your technique for not laughing?
There is actually no technique. I was trying to be focused on something but it had no television interest at all. At one point, I thought of going to cut fruit, but what's the point of going to cut fruit? You can stand in a corner and stare at the carpet, but it's not wildly daring.
Read also"I think that life is only of interest because we die": Virginie Efira reveals herself in "Les Rencontres du Papotin"
And the one to make you laugh?
I saw my incapacities and that could be funny, especially for me. For example, sometimes I had references that weren't incredibly trendy. It felt like I had a bit of seniority if you know what I mean, so I could have heard myself making references that aren't quite on the show and that could have made me laugh . There were also gadgets on the show that you could use to make others laugh, but that didn't work for me. So suddenly, I wanted to laugh at myself.
How did you feel from the first minutes of the game?
Seeing everyone scatter, I discovered a mental asylum side that I had not considered. There is something that prevents you from being in a natural, normal and spontaneous state. So everyone is there, normally, and then after everyone's bodies burst in all directions, everyone starts moving, it seems like everyone is in some obsessive thing. Everything is a bit absurd and I said to myself: "Everyone has a blow to the head here, it's not going at all".
For your joker card, you have decided to rally the ego of actors/actresses. Why this idea?
The irony is perhaps one place that is less engaging. If I had been told to do somersaults or a comedy sketch, I would have been incapable of it. I feel more comfortable with euphemisms to say stronger things.
Did you write the text?
No, I was offered things and I rewrote them. At that time, I hadn't fully grasped what the show would be like and I thought it was a brilliant idea to force people to put caps on their heads. But in fact, people have found themselves in so much more ridiculous situations than that.
Who was the most formidable?
Jonathan! He has something that I can't… He has projections that are extraordinary with always a form of sympathy.
Which joker card made you laugh the most?
It's not the joker cards that make me laugh the most because it was prepared. What makes me laugh the most is when things go a little off the rails.