In Belgium, strong mobilization for purchasing power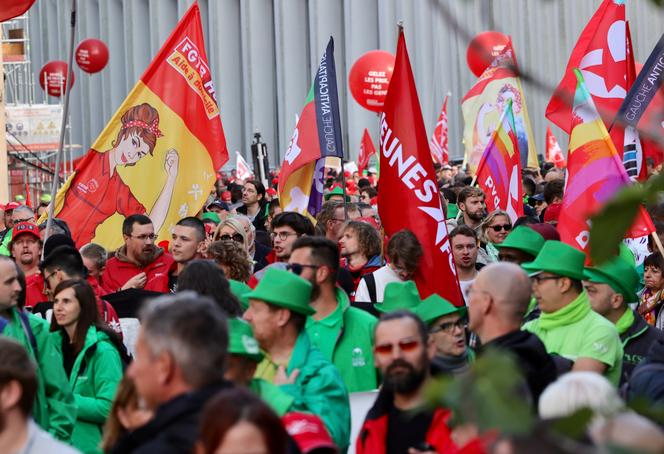 Initially, it was to be only a "mobilization" intended above all to measure the state of commitment of the militants, before a general strike scheduled for November 9. Their anger and disbelief at the dizzying rise in their energy bills, however, prompted the leaders of Belgium's three major trade unions to transform their action into a demonstration bringing together some 10,000 people in the heart of Brussels on Wednesday 21 september.
This common front parade of Christian, socialist and liberal organizations ended without incident, close to the headquarters of the employers, the Federation of Belgian Enterprises (FEB).
The demand of the unions was, already in June, to obtain a revision of legal provisions dating from 1996 and framing wage increases, in order to preserve the competitive position of the Belgian economy. The energy crisis has reinforced the demand for an increase in purchasing power, even though a good number of companies already fear a significant increase in their costs, due to the automatic indexation system: galloping inflation (9 .94% in August, 9.4% forecast for the whole of 2022) should lead to several wage adjustments over the coming months.
On Wednesday, the unexpectedly large mobilization, one of the themes of which was "Freezing prices, not people", reflected an increasingly perceptible fear in the three regions of the country: according to the Grand Barometer The evening-RTL-Ipsos, published Monday 19 September, 64% of Belgians – and 70% of Walloons – say they fear not being able to pay their gas and electricity bills this winter. The amount of these has already tripled, quadrupled, even quintupled for households, and craftsmen, traders and SME managers are increasing the cries of alarm.
"Fridays of Rage"
The slogans of the demonstrators demanded a blocking of energy prices, measures at European level and stronger decisions by the federal government. The latter adopted, on Friday, September 16, a plan quickly deemed insufficient by most observers, the unions and the radical left, which announced the launch of "Fridays of Rage".
The federal government, led by the Flemish liberal Alexander De Croo, has, after long negotiations, announced the introduction of a rebate of some 200 euros on bills for a large part of households. The wealthiest (those who receive more than 5,000 euros net per month) will however have to retrocede part of this sum in the form of tax.
You have 40.59% of this article left to read. The following is for subscribers only.